Black Design Leaders Outline Needed Change During Novita's Diversity in Design Panel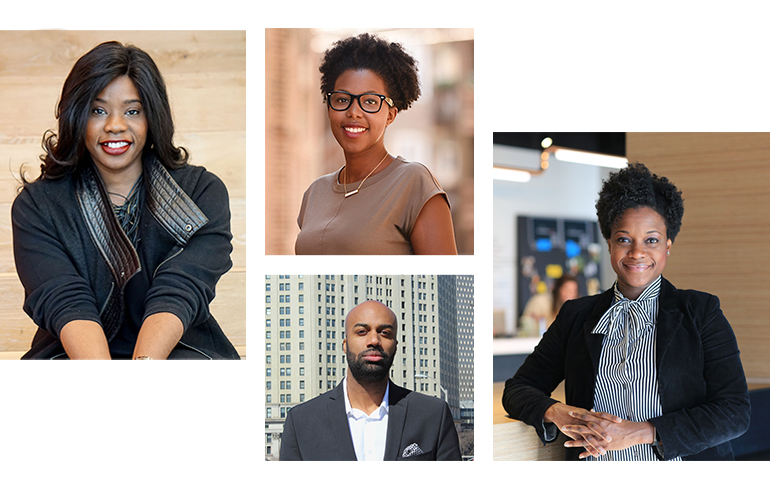 This past week was tumultuous. As people rallied in support of racial equality across the globe, thoughts and emotions were brought to the forefront that had long been seething for members of the black community. In the midst of widespread protests and calls to action, Joseph Cephas, SVP of Novita, took just 24 hours to create a webinar, putting an intimate face on the issues black designers face in their daily lives with ideas for solutions offered by three erudite panelists.
Dr. Angelita Scott, Ph.D is assistant professor at Georgia Southern University where she teaches various courses within the interior design program. She is also from Minnesota. Ronnie Belizaire combines business and design acumen as corporate real estate manager for Daimler and has held leadership positions in IIDA. Maya Bird-Murphy, associate AIA, is a designer, teacher, and maker. The 27-year-old founded Chicago Mobile Makers, a non-profit bringing design-focused skill-building workshops to underrepresented communities in her native city. Vacillating between grief, pride in local communities and state governments, and the hope that comes with the difference and vast reach of these protests, the panelists spoke their minds. Interior Design recaps some of the conversation.
First up was discussing design's role in social justice. In the past, panelists said urban design contributed to racial inequality. Think white flight and underserved service areas. Now, people are talking about food insecurities given economic hardships, but lack of proximity to grocery stores and fresh produce has been a fact of life for decades within black communities, not to mention lack of green spaces with playgrounds and clean toys for kids. What about housing and its policies? Where housing is located, if near factories and wiring for example, has historically led to suffering—physical and otherwise—for the black populace.
Why is it that such terms as well design, evidence-based design, and biophilia are not part of the conversation when it comes to designing for black communities? Designers and developers "don't even think about the people living there, or talk to them, which is what evidence-based design is all about," say Dr. Scott. Adds Belizaire: "The challenge with receiving black input falls to the designers and urban planners." To which Dr. Scott emphatically adds: "Representation is huge." Huge, too, is education, according to Bird-Murphy: "Start them young in learning how to solve design problems."
Black students need to see design as offering viable professional options, alternatives to more traditional—often deemed more secure—career paths. How can young black kids dream of careers they don't know exist? Or dream of careers that are not considered a privilege of the elite, but vital to their lives. There will be obstacles aplenty. "Entry is expensive," says Dr. Scott. "So are tools, books, and hardware." Then architecture accreditation is "hard to attain in terms of steps and money," notes Bird-Murphy. But ways exist. Belizaire cites historically black colleges and universities as options. "Survival tactics in our communities," adds Scott. And the sine qua non across all boards: communication, representation, and exposure.