Brace: A Solid Wood Story from Davis Furniture
Every heirloom has its first owner. The idea of creating these lasting furnishings may seem to be a bygone concept in favor of trendiness, yet many designers understand that creating enduring contemporary forms made from sustainable materials gives future generations products that will last for lifetimes. Davis Furniture has spent the last decade focusing on ending the cycle of fast consumption through their line of solid wood products that embraces this concept. The Brace Table collection by jehs+laub is their newest addition.
The story of Brace begins when Davis Furniture sources the raw lumber from foresters in France, Germany and Switzerland. These experts are a part of the generations-long practice of tending to the ancient forests of Europe. For centuries, they have worked within the natural environments to aid in the growth of these precious resources. The harvesting process includes consciously choosing trees up to a hundred years old. These trees, at the end of their natural lifecycle, are removed to allow the continued healthy growth of the forest. After trees are chosen, two saplings are planted in their place in order to continue the legacy of their predecessor.
The sustainability practices carry over to the saw mill where the lumber gets treated. Once the logs are processed, great care is taken to guarantee that any unusable elements of the trunk are used in a purposeful manner to ensure a zero-waste harvest. The cut lumber is stacked in the exact formation of the original tree and air-dried. Every board is carefully monitored for two years until each piece achieves the perfect moisture equilibrium needed for Brace's construction. After this extensive curing process, Swiss craftsmen select their material from a single tree and individually configure the timber to provide the basis for each piece of furniture.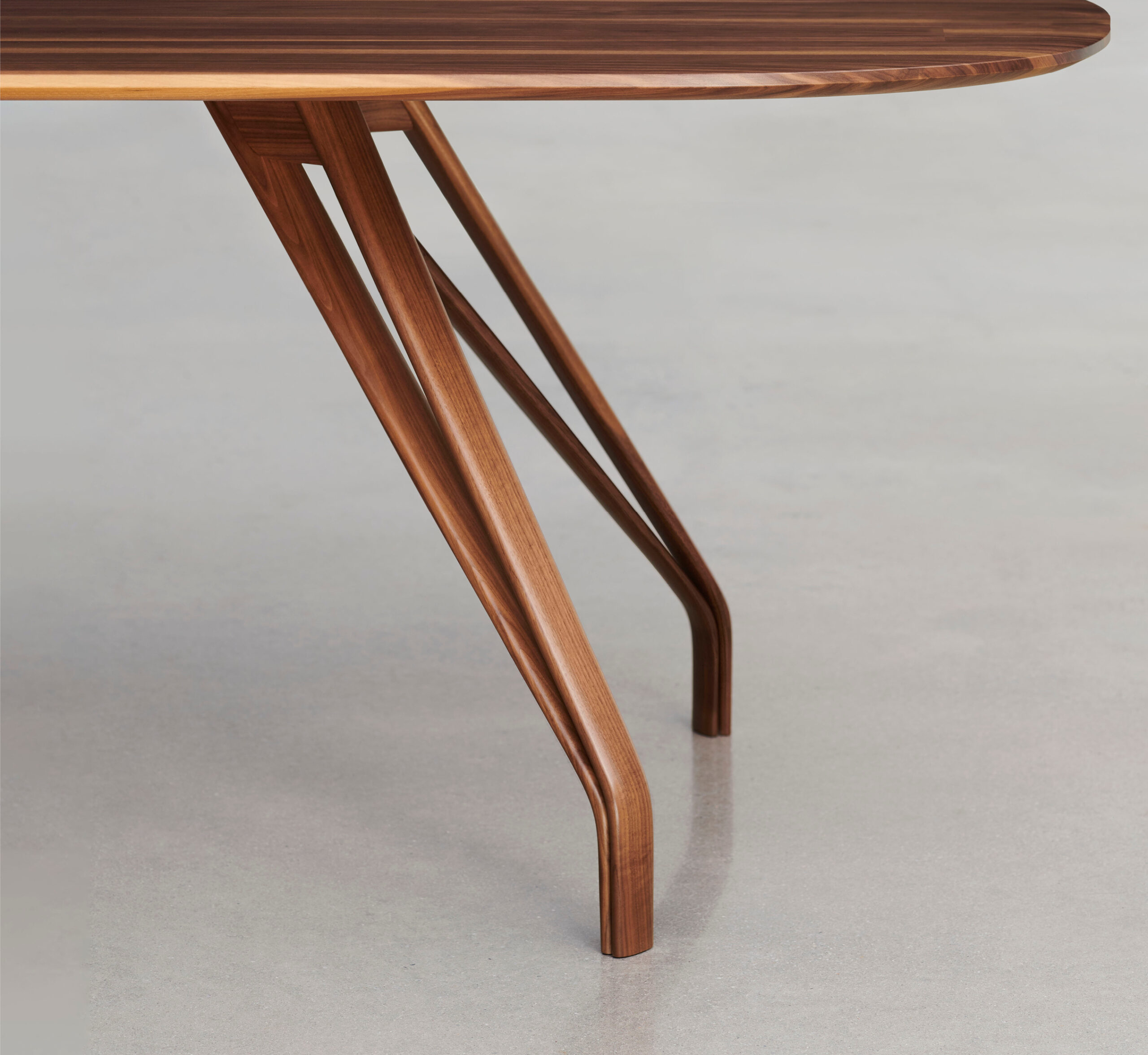 Brace's architectural legs form a minimalist base for this statement piece. Constructed from either steam bent solid wood or 10-millimeter angled solid steel, this sculptural foundation creates an element that is both physically and visually strong. The name, Brace, was inspired by this unique leg detail, lending a perfect balance between the table's aesthetic and structure, as it supports the exquisite 28-millimeter thick solid wood top. This top, which displays the natural beauty of solid wood, can seemingly last forever with proper care. "Brace showcases years of history in front of you." Jürgen Laub says.
When designing this table collection, jehs+laub began by reflecting upon the honesty and authenticity of the materials from which it is made. The mindful care that is applied to creating the table is implemented to make it a piece that lasts for generations while minimizing their carbon footprint and environmental process. This same credo applies to all of Davis Furniture's solid wood offerings, from credenzas to seating.
Defined by the intersection of strength, minimalism and innovative technology, Brace's design encompasses simplicity of form and function by appealing to a sense of timelessness while maintaining an avant-garde edge. This handcrafted, heirloom furniture is constructed with the highest-quality materials illustrating Davis' commitment to environmentally friendly harvesting practices and craftsmanship.