Brazil's Claudia Moreira Salles Exhibits at Espasso
After a single glance at the natural wonders created by Claudia Moreira Salles, it becomes clear why she's often considered Brazil's leading interior and furniture designer. New Yorkers can finally have a chance to enjoy Salles first solo show outside of Brazil at

Espasso

gallery through the end of the summer. The show also serves as a celebration of her second book,

Claudia Moreira Salles

, an elegant survey of her recent work.
Born in Rio de Janeiro, Salles established her own studio in 1988, after stints at the Industrial Design Institute of the Museum of Modern Art of Rio de Janeiro, furniture designer Escriba, and design firm

Nanni Movelaria

. Her designs have been exhibited in Brazil's major cultural centers, leading to a recent sculptural exhibition and booth for the

Gagosian Gallery

's first show at

ArtRio

.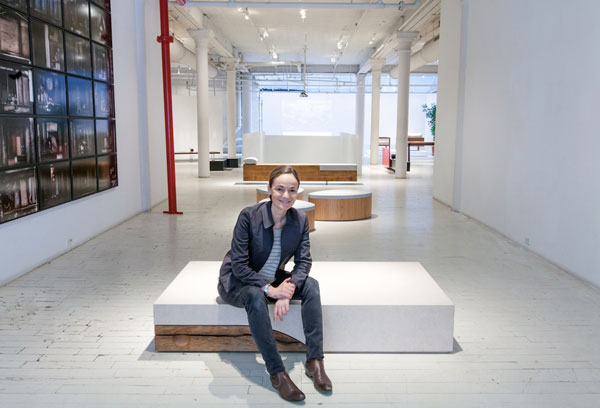 Claudia Moreira Salles at Espasso gallery in New York, atop her Texturas coffee table. Photo by Eliseu Cavalcante.

"Most of the time what inspires me," Salles says, "is the investigation of the pieces' function and the possibilities of form and construction of a chosen material."
These materials couldn't be simpler—wood, concrete, aluminum—but Salles's expert deployment of form elevates them into luxurious shapes, with surprising bursts of color or patinas to keep viewers on their toes.
"As a furniture and interior designer," Salles continues, "I seek simplicity, functionality, lightness and the exploration of different shades and textures of materials." Basic ideas, with extraordinary results.

Salles' Pacman tables features a wood block and a concrete top. A niche disguises the joint. Photo by Eliseu Cavalcante.