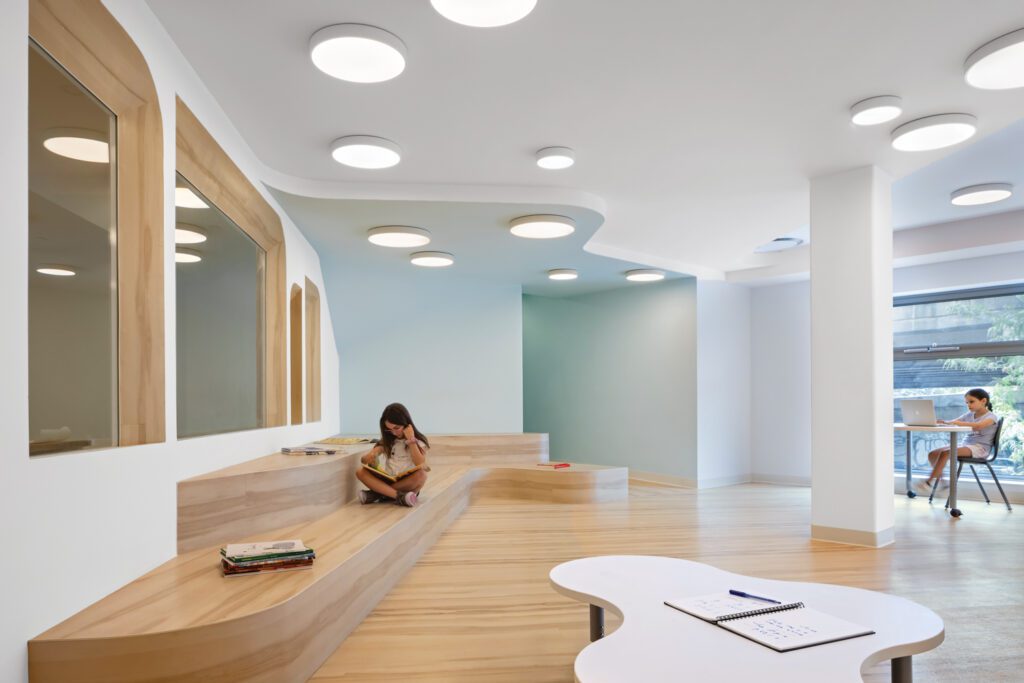 Brooklyn Architect Alexandra Barker Helps New Yorkers Endure, Pivot, and Adapt to Pandemic Realities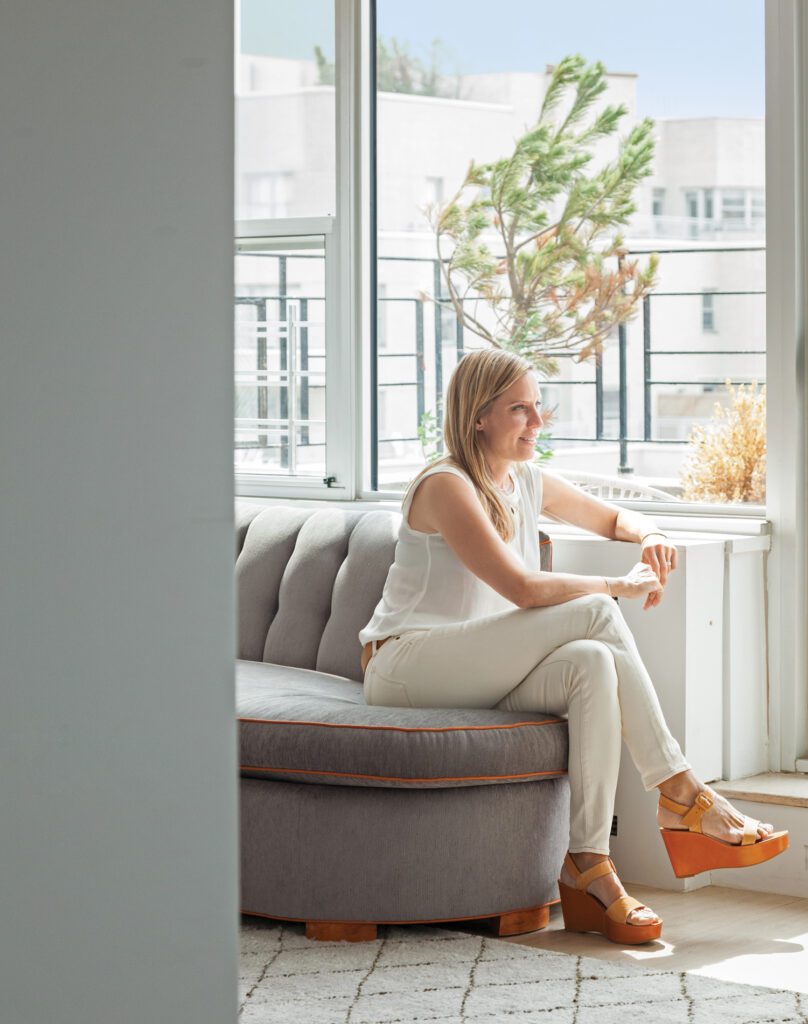 Over the past 18 months, life as we know it has moved to an ever-fluctuating model. Shops shift their inventory between indoors and out, students shuffle between learning at school and at home, and social gatherings are as likely to occur in parks as in places of residence.
For Brooklyn-based architect Alexandra Barker, who is also the assistant chair­person of the graduate architecture and urban design program at Pratt Institute, these changes have made for fruitful—and not entirely unfamiliar—design challenges. Her firm, Barker Associates Architecture Office, has long embraced hybrid thinking, overlapping different scales and disciplines to develop flexible solutions that address multiple needs simultaneously. Take, for instance, the cat staircase she thoughtfully incorporated in a Brooklyn row house's built-in bookcase.
With her ongoing community work, Barker considers an even broader range of experiences. "The pandemic has made me more aware of my surroundings, and how small things can have a big impact," she says. City Kids, a recently completed Williamsburg preschool with COVID-friendly ventilation and a warm, domestic feel, is playfully scaled down to toddler proportions, yet also comfortably accom­modates older students for after-school programming. Meanwhile, as part of Design Advocates, a collective dedicated to pro-bono initiatives, Barker is helping Washington Heights businesses to embrace pandemic-savvy outdoor retail strategies and working on open-air learning spaces for Concourse House, a transitional housing shelter in the Bronx. Evidently, Barker's knack for operating at the intersection of various ideas is exactly the approach that 2021 calls for. She tells us more.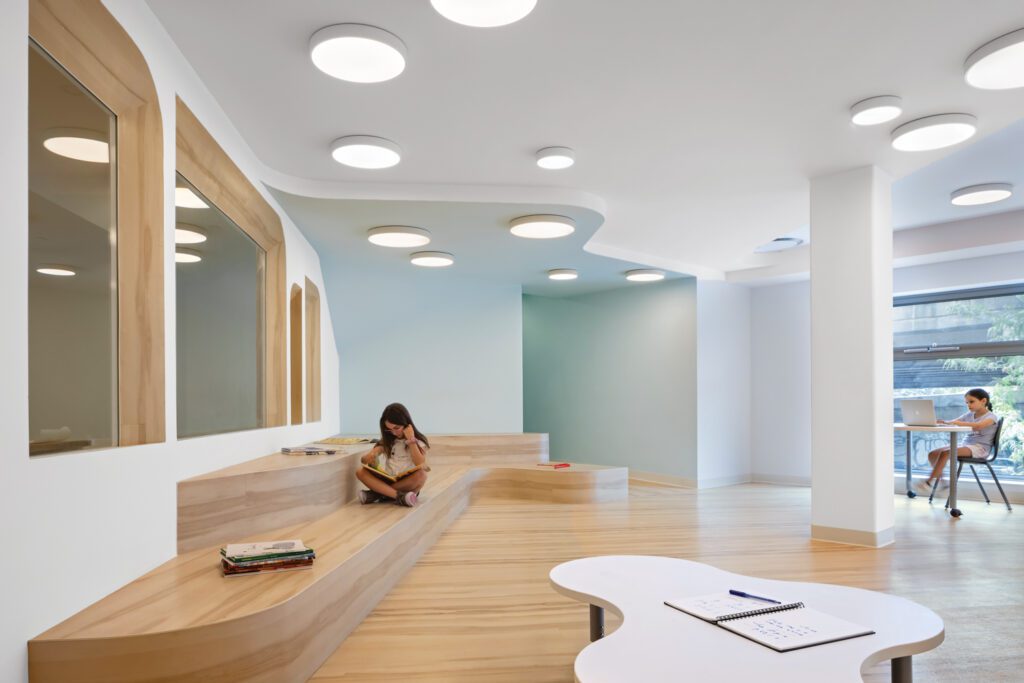 Interior Design: How does City Kids rethink preschools for the COVID era?
Alexandra Barker: When construction paused at the beginning of the pandemic, we made some changes to address needs that were becoming clear: adding operable windows, increasing circulation flow, and finding ways to either contain or expand connections between rooms. Those adjustments have been integral to keeping the school open.
ID: The half-height walls and other low elements seem designed with a toddler's perspective in mind.
AB: At 5 feet, 4 inches tall, I'm sensitive to things that are not the right height for me and always thinking about where a space becomes problematic because of the scale. Anytime something is conceived to work specifically for a certain population, it turns the design into more of a background element by helping people do their job. In this case, the job is learning and gaining confidence.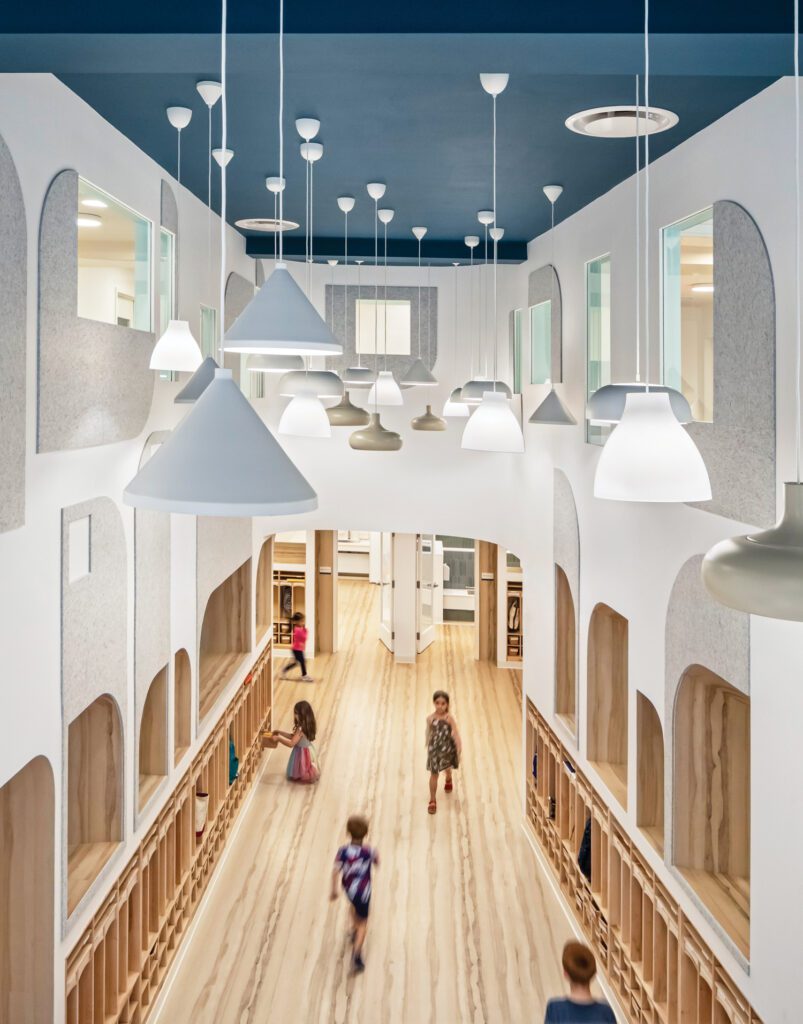 ID: How did you arrive at the idea for the double-height lobby space, which visually links the preschool to the after-school community spaces upstairs?
AB: It's sort of an indoor-outdoor experience. I thought of it like an Italian piazza, with multiple apertures looking into a central courtyard and borrowing its light. The ceiling—painted a dark blue-green, with glowing white pendant fixtures—is like an artificial sky.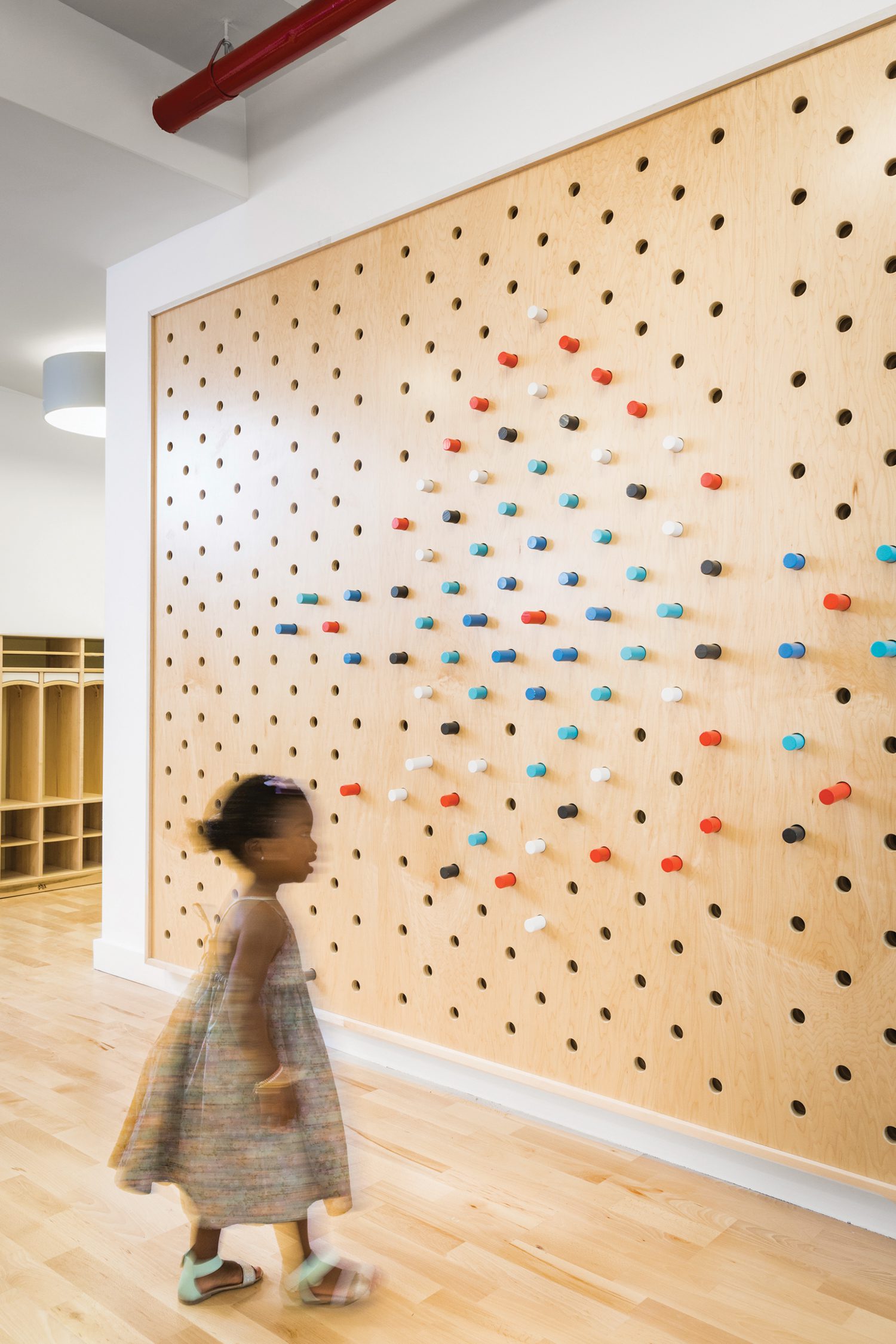 ID: You're also working with Design Advocates to improve real streetscapes in Washington Heights. What's your approach there?
AB: Design Advocates was started by architect Michael Chen and other friends of mine to help communities that are urgently looking for ways to adapt to the pandemic. I collaborated with several members on a proposal for Sisters Uptown Bookstore, a minority woman–owned business that has some ad hoc bookshelves outside for browsers but wants something more formalized and built-in. We decided to add lively outdoor seating, too, because community residents like to hang out there. It's so much more than a bookstore—the shop hosts events, classes, and speakers—and this proposal reflects that social component.
ID: For another Design Advocates project, you're working with Concourse House—a transitional housing facility for mothers with young children in the Bronx—introducing garden pavilions. What's their function?
AB: A lot of the children there don't have ways to deal with homeschooling during shutdowns, so we're trying to expand the use of outdoor spaces for workshops and social gatherings. They're interior-scaled outdoor rooms for the residents that will turn what is now just some fenced-in grass into a totally different landscape.
ID: What drives you to pursue these community outreach projects?
AB: It's interesting to think about the needs of different populations. With public projects, you can't know every single person who will experience a space, but hopefully there's something in the design that will resonate. It's great to see people being a part of the discussion process, so that they feel ownership over having helped to make something happen.