Bruce Munro Brings Light Field to Cheekwood

Bruce Munro

's second large-scale (to say the least) U.S. art installation is on view through November 10 at

Cheekwood

, a sweeping 55-acre historic estate, and now museum and gardens, in Nashville, TN.
"Installation art begins with the meeting of the person and the space," says the lighting designer. Pieces like "Light Shower" and "Bell Chandelier" were created with Cheekwood's 1920's Georgian-style mansion in mind, by Munro's team of 13 designers and technicians. "You need to contrast ornate with simple in design," he says.



Bruce Munro, Field of Light, installation view, 2013. Photo by Kyle Dreier.

Munro has spent nearly 30 years working with light, and all 10 exhibits on view at Cheekwood are fetching, but it's

outside in the gardens

where the synesthesia Munro references starts to make sense. Walking up and down the hills and rocks, surrounded by 20,000 lighted, grounded glass spheres and miles of fiber optics—there are more than 40 halogen projectors in the fields, emitting 100 watts each—it's easy to lose track of what is what.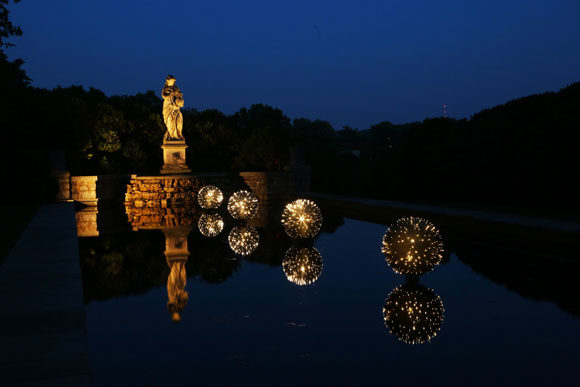 Bruce Munro, Fagin's Urchins, installation view, 2013. Photo by Mark Pickthall.

The

shimmering, tent-like "Light Reservation"

was inspired by structures Munro remembers as protecting chickens from foxes.  A trek through Australia's outback is behind much of the work here. "Light should be magic, should create something different," says Munro.
Some elements of "Light" were repurposed from last year's run at Longwood Gardens in Kennett Square, PA. But reconfiguring to the new landscape and damage to the fibers by ultraviolet rays means most everything in Nashville is new.
There are 10 exhibits, inside and out. Munro suggests visiting as the natural light changes, though everything was created to make sense in daylight as well as darkness. And it does.



Bruce Munro, Bell Chandelier, installation view, 2013. Photo by Mark Pickthall.