CertainTeed Architectural Open Plenum Ceiling Systems Make Waves
Great design makes heads turn in all directions—even up. To add dynamism to built environments, designers often seek to create statements that go beyond the four walls, but finding the right approach to draw the eyes upward can prove challenging. CertainTeed, a manufacturer of building materials for all types of construction, is raising the bar quite literally when it comes to versatile design possibilities with its High Profile Series™, a range of ceiling design systems that add a layer of drama and intrigue to commercial spaces.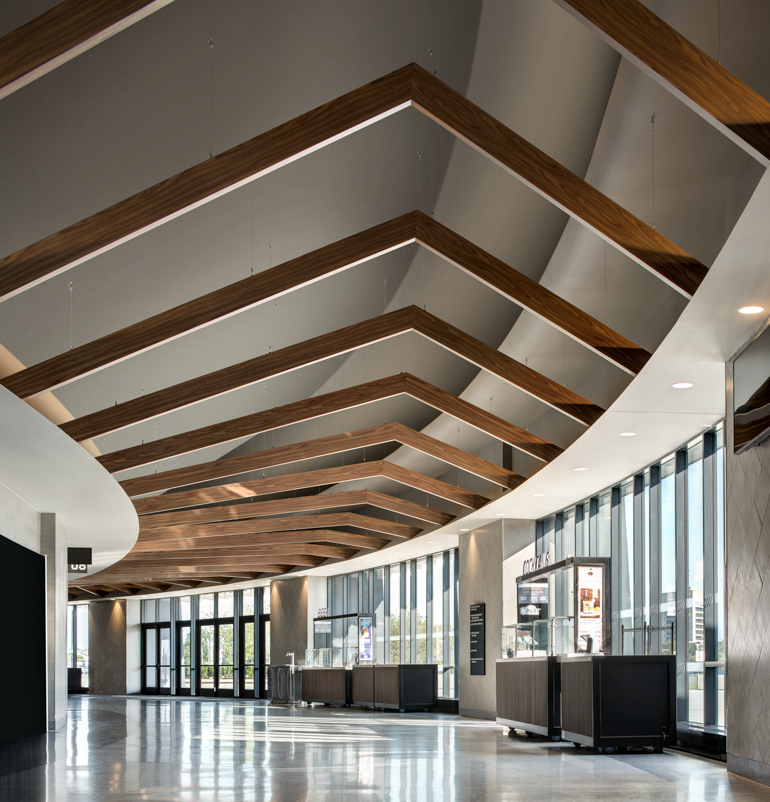 The collection from CertainTeed Architectural includes Hunter Douglas Ceiling & Wall Products and offers commercial and contract designers an unlimited world of creative possibilities with seamless extruded aluminum beams and baffles that can be configured into a wide range of unique exposed ceiling looks. Product forms and profiles in the collection offer modern design with exacting fits and finishes, plus a variety of installation options.
Playful and contemporary open-plenum ceilings are easily created with Extruded Aluminum Beams. To construct sculptural and angular gestures, Straight Baffles can be installed level, at angles, or in joined A-frames. Designers also can create sinuous, wave-like forms with Horizontally or Vertically Curved Baffles, which come in a variety of curved arcs and radii, heights and profiles. Designed to meet the most demanding design challenges, custom-engineered Frameworks beams are offered as well.
The company also puts sustainability at the forefront with its stylish designs. All High Profile Series™ products are GREENGUARD Gold Certified, made of recycled content, and free of volatile organic compounds. Standard finishes include natural aluminum and an array of wood veneer, wood-look and stone-look finishes, as well as classic black and white hues. High Profile Series™ can also be customized to match any color spec for the utmost design control. Backed by expert in-house design support, the High Profile Series™ enables designers to bring their sky-high creative visions to life at an affordable cost.