Christen Sorenson, Designer of Keilhauer's Iconic Respons Chair, Dies at 93
Danish industrial designer Christen Sorensen passed away earlier this summer at the age of 93. He was perhaps best known for his design of Keilhauer's iconic Respons chair, a fixture for decades in offices around the world.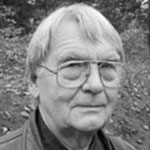 A graduate of Denmark's famed Kunsthandwaerkerskolen, or School for the Arts and Crafts, Sorensen studied under a who's who of Danish modernism, including Hans J. Wegner, Borge Møgensen, and Bender Madsen. Upon graduation, he opened his own studio; furniture designed and produced there were exhibited at Milan's Triennale in 1955.
Sorensen moved to Montreal the following year, working on major commercial and transportation projects, and eventually becoming involved in the design of three pavilions in the legendary Expo '67.
His elegantly minimal Respons chair was introduced by Keilhauer in 1990. Twenty five years later, it is still in production. "Chris was a mentor and influenced me greatly," says Mike Keilhauer, the company's president. "I am happy that I knew him and grateful that he touched my life."
Sorensen spent the last decades of his life in Spain with his wife Marie Thérèse, retiring in 1995 though still continuing to design. Outside of Respons-filled offices, his work lives on in permanent collections around with the world, including the Centre Pompidou in Paris.