CIDA Innovative Education Awards Showcase Digital Media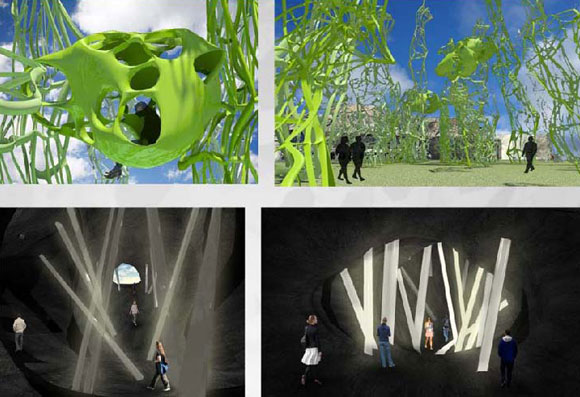 The first design project in Chandrasekera's class, titled Monument for Love, encouraged students to develop a design based on their favorite song



Tilanka Chandrasekera, recently announced first place winner of the

Council for Interior Design Accreditation (CIDA)

Innovative Education Awards, showcases the value of digital media in a design-based curriculum. "I like to experiment with different technologies and tools to see if it can make life easier," he says. "There is no use teaching the same thing, the same way it was taught 100 years ago. Teaching methods need to be updated and should relate to students."

Chandrasekera is a professor at

Oklahoma State University's Department of Design, Housing, and Merchandising

. His entry, titled "Designing with Digital Media" examines the use of digital tools—blogs, YouTube videos, mobile apps, QR codes, and digital design software like 3Ds Max and Sketchup—in his classroom. Students were encouraged to create Augmented Reality digital models rather than build physical ones. "Rather than being a traditional narrative of how students have or are using software for design, this is an attempt to see how these new digital methods can be incorporated as educational tools to help the instructor and the students," Chandrasekera explains. He also teaches students about building and maintaining an online presence to support their careers, as well as the value of a digital portfolio and of professional social networking.

The CIDA Innovative Education Awards were launched in 2010 to celebrate innovative achievements in interior design education. "Interior design is fortunate to have many outstanding educators whose work contributes to a promising future for the profession," says Heather Robertson Corrigan, chair of the CIDA Board. "The Innovative Education Award is one way for CIDA to recognize these achievements and promote excellence in education."