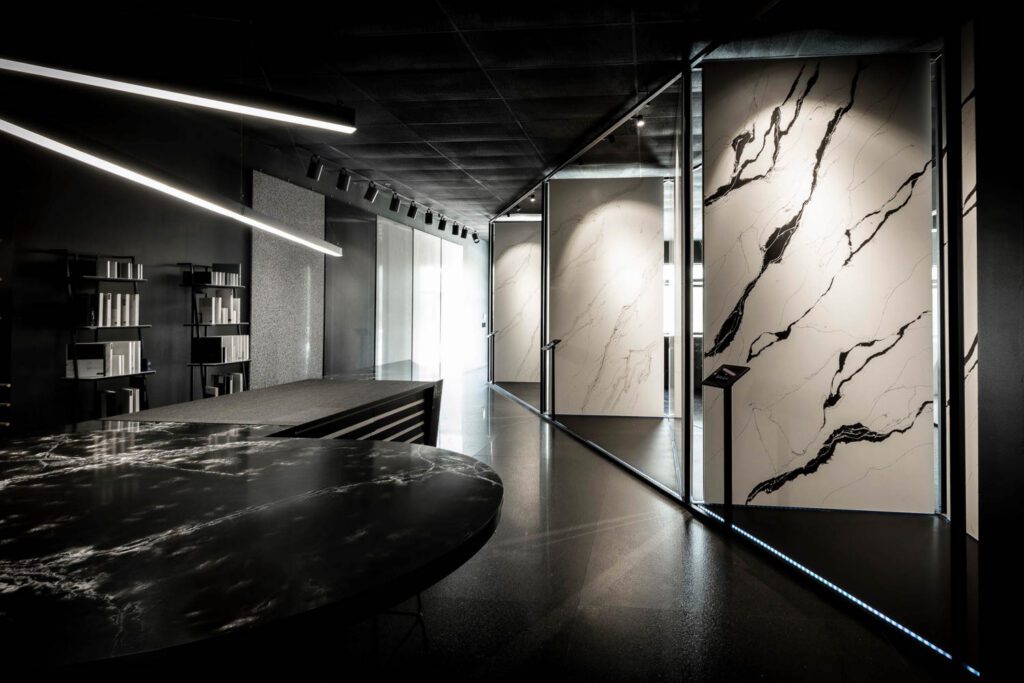 Compac Opens its New Salon in Miami
The Spanish engineered stone maker Compac celebrated the opening of its new exhibition space in Miami last week and offered a look at its newest quartz surfaces by Israeli designer Arik Levy. Rather than a showroom, the company calls the new space a salon to reflect the artistry and craftsmanship behind its innovative product development.
CEO Paco Sanchis was on hand to talk about the ideas and inspiration behind Levy's newest products, including Ice Max Black, Ice Ink, Ice Gold, Ice Viola and Ice Green, which were inspired by the way light reflects off of fractured arctic glaciers. A selection of sculptural new kitchen and bath products also were showcased at the event, including Quartzrock and Waterstorm—a vanity and washbasin designed by Levy—and Rhea, and an outdoor kitchen island designed by Sicilian architect Elisa Ossino. A solo cellist set a sophisticated tone as Prosecco, blinis and pulpo were passed among attendees.
During the event, Sanchis emphasized the company's longstanding commitment to sustainable practices, including its use of rainwater, recycled post-consumer materials, and natural dyes, as well as its unique approach to biomimicry. By working with designers and artists, the team has explored what Sanchis calls "a new meta nature that relies on innovation to explore the tension between what exists today and the possibilities of tomorrow." The party continued with drinks and classic Spanish fare at a gathering space near the company's adjoining warehouse amid lively sounds of Latin jazz musicians.