Cooper Hewitt Announces Winners of 2018 National Design Awards
Cooper Hewitt, Smithsonian Design Museum has announced the winners of the 2018 National Design Awards, which recognize design excellence and innovation across 10 categories. The White House Millennium Council launched the awards program—including its special events, panel discussions, and workshops—in 2000 as a way to promote design as a vital tool in shaping the world. Award recipients will be honored at a gala dinner and ceremony on Thursday, October 18, in the Arthur Ross Terrace and Garden at Cooper Hewitt.
"All 10 of this year's winners present a powerful design perspective and body of work that is at once inclusive and deeply personal, accompanied by great achievement, humanity, and social impact," says Caroline Baumann, director of Cooper Hewitt. An interdisciplinary jury of design leaders and educators selected the winners after reviewing award submissions from nominations submitted by design experts and enthusiasts. This year's jury consisted of Diane Jones Allen (Design Jones); Jeffrey Bernett (CDS); Valerie Casey (Applied Theory); Rand Elliott (Elliott + Associates Architects); Adi Gil (threeASFOUR); Jenny Lam (Oracle); Doug Powell (IBM); and Ann Willoughby (Willoughby Design).
See the winners in each category below.
Lifetime Achievement: Gail Anderson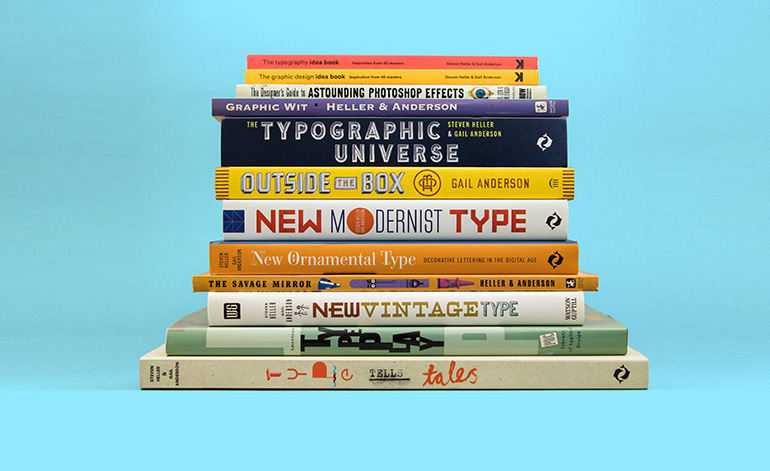 Gail Anderson is a New York–based designer, writer, and educator, who serves as creative director at Visual Arts Press, the School of Visual Arts's in-house design studio. She is also a partner at Anderson Newton Design and previously served as creative director of design at SpotCo, an advertising agency that creates artwork for theater, and as a designer and senior art director of Rolling Stone. Anderson has co-authored 14 books on design and popular culture.
Design Mind: Anne Whiston Spirn
Anne Whiston Spirn is an award-winning author, landscape architect, photographer, and the Cecil and Ida Green Distinguished Professor of Landscape Architecture and Planning at MIT. For 30 years, Spirn has directed the West Philadelphia Landscape Project, which was recognized at a 1999 White House conference on Imagining America.
Corporate & Institutional Achievement: Design for America
Design for America (DFA) is a national network of innovators working together to improve local communities through design, which began as the brainchild of Northwestern University faculty member Liz Gerber and three of her students in 2009. The network has tackled hundreds of challenges—ranging from accessible healthcare to drinkable water—and has inspired more than 4,000 students, educators, and design professionals across the country.
Architecture Design: WEISS/MANFREDI
Founded by Marion Weiss and Michael A. Manfredi, Weiss/Manfredi expands the territory of architecture by connecting it with landscape, art, and infrastructure. Projects include the Seattle Art Museum's Olympic Sculpture Park, Brooklyn Botanic Garden's Visitor Center, Penn's Nanotechnology Center, Cornell Tech's Tata Innovation Center, and the U.S. Embassy in New Delhi, which all seamlessly fuse architecture and nature.
Communication Design: Civilization
Civilization was founded by Michael Ellsworth, Corey Gutch, and Gabriel Stromberg in Seattle in 2007, and builds identity systems, digital experiences, printed materials, environmental graphics and exhibitions. Working with those committed to creating positive change, the studio's clients include the National Head Start Association, The Nature Conservancy, Shout Your Abortion, The Museum of History & Industry and The Biennale of Sydney.
Fashion Design: Christina Kim
Christina Kim is the co-founder and designer of dosa, a Los Angeles-based clothing, accessories, and housewares company established in 1984 with a focus on rethinking conventional fashion-industry production and sustaining artisan cultures. In-house production enables an evolving system for efficient use of natural resources, recycling and creative reuse. Kim draws on traditional handwork techniques, particularly in India, Mexico and Colombia, engaging local artisans and communities in long-term collaborations.
Interaction Design: Neri Oxman
Neri Oxman is an architect, designer, inventor, and professor at MIT, where she is the founding director of The Mediated Matter Group. The group combines commissioned work with scientific research exploring ways in which digital design and production techniques can enhance the relationship between built and natural environments, operating at the intersection of computational design, robotic fabrication, materials engineering and synthetic biology. Oxman coined the term "Material Ecology" to describe the study, design, and digital fabrication of buildings, products, and systems that integrate environmentally aware, computational, form-generating processes and digital production.
Interior Design: Oppenheim Architecture + Design
Founded in 1999 by Chad Oppenheim, Oppenheim Architecture + Design is an architecture, planning, and interior design firm specializing in hospitality, commercial mixed-use, retail, and residential buildings worldwide. Based in Miami with offices in New York and Basel, Switzerland, the firm creates spaces that evoke the senses. Projects include the GLF Headquarters in Florida, the Enea Headquarters in Switzerland, and the Ayla Golf Academy and Clubhouse in Jordan.
Landscape Architecture: Mikyoung Kim Design
Mikyoung Kim, FASLA, is the founding principal of Mikyoung Kim Design, an international landscape architecture and urban design firm based in Boston. Over the past two decades, the firm has crafted an exceptional body of award-winning work that redefines the discipline of landscape architecture and inhabits the intersection of art and science. Its projects—from large to small—solve challenging urban resiliency issues while always considering the unique character of place making.
Product Design: Blu Dot
Blu Dot was founded in 1997 by college friends John Christakos, Maurice Blanks, and Charlie Lazor. Based in Minneapolis, Blu Dot's mission is to design and manufacture furniture that is useful, affordable, and brings good design to as many people as possible. Recognized for its inventive use of materials, fabrication technology and assembly methods, Blu Dot produces furniture that is determined by an economy of means while maintaining a playful sensibility.