Cooper Hewitt Names Winners of 16th National Design Awards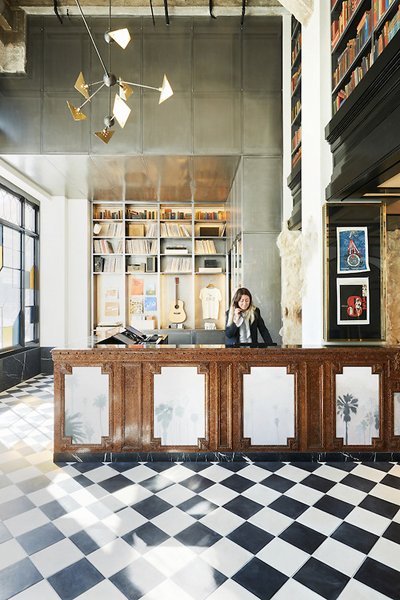 Commune's Ace Hotel in Los Angeles (2014). Photo by Spencer Lowell.




Yesterday, the

Cooper Hewitt, Smithsonian Design Museum

revealed the 11 winners of the 2015 National Design Awards, which recognize excellence and innovation across a variety of disciplines. The award recipients will be honored at a gala dinner October 15, at Pier Sixty in New York. First Lady Michelle Obama serves as the Honorary Patron for this year's National Design Awards.

The White House Millennium Council launched the awards program—incuding its special events, panel discussions and workshops—in 2000 as a way to promote design as a vital tool in shaping the world. "With the reopening of the museum this past year, Cooper Hewitt is scaling new heights to educate, inspire and empower our community through design," said Cooper Hewitt director Caroline Baumann, in a statement released by the museum. "I am thrilled and honored to welcome this year's class of National Design Award winners, all of whom represent the pinnacle of innovation in their field, with their focus on collaboration, social and environmental responsibility, and the fusion of technology and craftsmanship."



Element House by MOS Architects, a modular building designed to operate independent of public utilities in Star Axis, New Mexico (2014). Photo by Florian Holzherr.




A jury of design leaders and educators from across the country, convened by the museum, reviewed submissions resulting from nominations submitted by the general public (except for the Director's Award, which is bestowed by Baumann). Winners are selected based on the level of excellence, innovation and public impact of their body of work. This year's recipients are:


Michael Graves

for Lifetime Achievement. Michael Graves was a renowned architect and industrial designer, credited with broadening the role of architects and raising public interest in good design as essential to the quality of everyday life. He established Michael Graves Architecture & Design in 1964, and he served as principal until his death in 2015.


Jack Lenor Larsen

for Director's Award. Jack Lenor Larsen is an internationally renowned textile designer, author and collector, and one of the world's foremost advocates of traditional and contemporary crafts. He founded his eponymous firm in 1952, and the company has grown steadily to become a dominant resource for signature fabrics.


Rosanne Haggerty

for Design Mind. For 30 years, Rosanne Haggerty has worked to demonstrate the potential of design to improve the lives of people living in poverty through affordable housing and human services. Based in New York, she currently serves as founder and president of Community Solutions, an organization that assists communities throughout the United States in solving the complex problems facing their most vulnerable residents.


Heath Ceramics

for Corporate & Institutional Achievement. For more than 60 years, Heath Ceramics has been known for handmade ceramic tableware and architectural tile that embody creativity and craftsmanship, elevate the everyday and enhance the way people eat, live and connect. Founded by Edith and Brian Heath in 1948, the historic company is now led by Catherine Bailey and Robin Petravic, who purchased and refounded the company in 2003, placing a strong emphasis on design while preserving Heath's handcrafted techniques and designer-maker legacy.


MOS Architects

for Architecture Design. MOS Architects is a New York-based architecture studio, founded by principals Hilary Sample and Michael Meredith in 2005. Sample and Meredith teach at Columbia University and Princeton University, respectively, and their academic research occurs in parallel to the real-world constraints and contingencies of practice, informing and elevating both.


Project Projects

for Communication Design. Founded by Prem Krishnamurthy and Adam Michaels in 2004, Project Projects is a graphic design studio in New York, N.Y., focusing on art, architecture and culture. Combining a rigorously conceptual approach with innovative modes of visual communication, the studio's work encompasses a wide range of contemporary graphic media.


threeASFOUR

for Fashion Design. Recognized as one of the most innovative fashion labels today, threeASFOUR was founded in New York City in 2005 by Gabriel Asfour, Angela Donhauser and Adi Gil, who hail from Lebanon, Tajikistan and Israel, respectively. Having worked together since 1998 (under the label AsFour), the trio uses fashion to promote the need for human coexistence and collaboration and fuses technology with traditional craftsmanship.


John Underkoffler

for Interaction Design. John Underkoffler is a user-interface designer and computer scientist. His work insists that capabilities critical to humans living in a digital world can come only from careful evolution of the human-machine interface. He is cofounder and CEO of Los Angeles-based Oblong Industries, whose products and technologies embody this idea to offer new forms of computation.


Commune

for Interior Design. Commune is a Los Angeles-based design studio with a reputation for working holistically across the fields of architecture, interior design, graphic design, product design and brand management. Founded in 2004 by Roman Alonso, Steven Johanknecht, Pamela Shamshiri and Ramin Shamshiri, Commune is noted for its eclectic assemblages that work in harmony with their surroundings, while paying homage to historical, traditional and international design.


Coen + Partners

for Landscape Architecture. Founded by Shane Coen in 1991, Coen + Partners is a renowned landscape architecture practice based in Minneapolis. Through a process of collaboration, experimentation and questioning, the firm's work embraces the complexities of each site with quiet clarity and ecological integrity.


Stephen Burks

for Product Design. For more than a decade, Stephen Burks has dedicated his work to building a bridge between authentic craft traditions, industrial manufacturing and contemporary design. Since 2005, Burks has consulted with nonprofits, including Aid to Artisans, the Clinton Global Initiative and the Nature Conservancy, uniting the artisan, the designer and global brands in a triangle of immersive development.