Crystal Clear: Illumination is the Focus of the Latest from Saint-Louis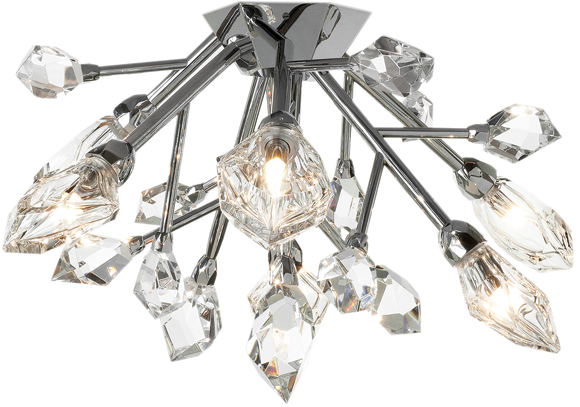 Excess 20-light Chandelier








Illumination is the focus of the latest entries by

Saint-Louis

.

Godefroy de Virieu

and

Stefania Di Petrillo

regard their Apollo series as a modern fairy tale, an especially apt description for the 15-light chandelier, 34 1?2 inches high, and the 21-light version, 62 inches high. Graceful crystal bells dangle at random heights inside a birdcage like chromed-brass framework.
In the bantam table lamp, just 11 1?2 inches tall, a frame in the same metal acts as an industrial foil to the delicacy of the crystal, subtly textured with Venetian ribbing. In the Excess series,

Hervé Vander Straeten

mimics rock crystal, as lamps of hand blown crystal mingle with diamond-cut versions, all sprouting from stems of nickel-plated brass. The abstract spray is available as a 20-light chandelier, 55 inches wide and 34 1?2 high, as well as a 6-light ceiling fixture, 18 inches high and 28 3?4 wide.

Finally, the manufacturer revisits Renversant—which literally turns the traditional chandelier upside down—by dressing it in the new Flannel colorway. As before, it's available with six, eight, or 18 lights.