Daniel Libeskind Reveals 2015 Berlin Residences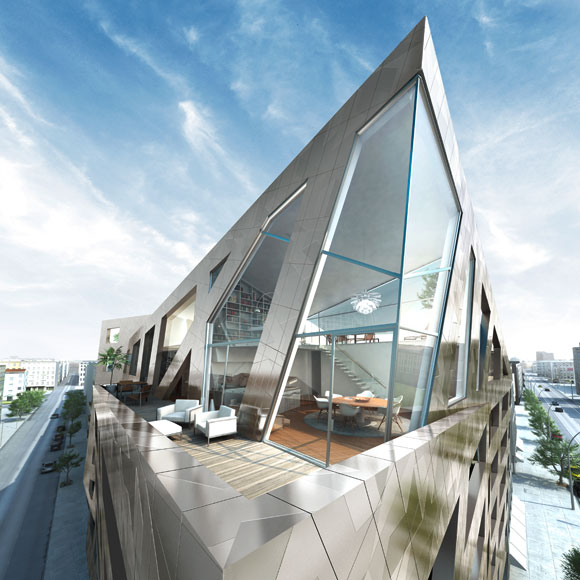 Renderings courtesy of Studio Daniel Libeskind.






Studio Daniel Libeskind

has unveiled its design for a sleek, slivery residential building in central Berlin scheduled for completion in 2015. The Chausseestrasse 43 project brings Libeskind back to his interest in building homes in a city he refers to as "a Mecca for great experiments in architecture," a belive evident in several recent projects—chief among them the internationally acclaimed

Jewish Museum

.
Celebrated for the dramatic, bold architectural angles represented in such highly lauded buildings as the extension of the Denver Museum of Art and the Military History Museum in Dresden, Libeskind executes these complex ideas on a smaller scale to equal effect for Chausseestrasse. "With this modest project, I sought to rejoin the architecture of Berlin across the voids and gaps, with a building that affirms both the sky and the ground of the city. The structure is clad in a brand new three dimensional porcelain tile developed with Casalgrande Padana and baked with a metallic finish bringing a new sense of light and vibrancy to the street." In a nod to environmental concerns, the ceramic panels possess sustainable properties for self-cleaning and air purifying.
Located on a corner block occupying a rectangular lot less than one-half acre, eight levels and 73 units extend over 107,000 square feet and will accommodate ground-level retail shops, underground parking, and provide a common outdoor area.
A high-end penthouse perched on the prow of the building embodies the current trend for indoor-outdoor living space and a double-height living room lined on one side by a sloping wall of obliquely shaped windows leads to a roof terrace with city views. Other coveted features: asymmetrical windows catch maximum light and a floating stairway ascends to an open-plan living area. Chausseestrasse 43 is expected to add a touch of dash to the location given its proximity across from Germany's Federal Intelligence Agency.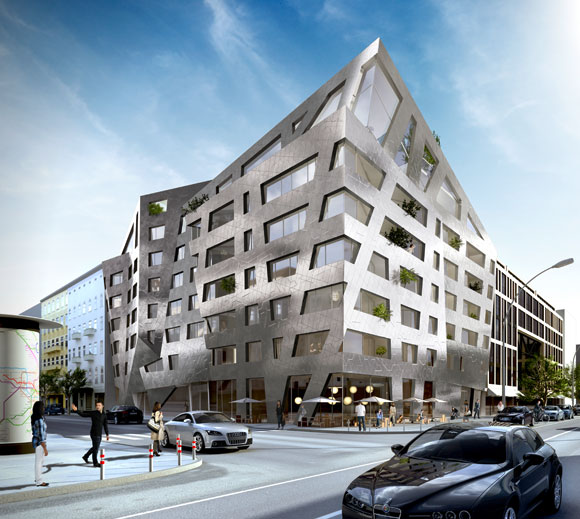 Renderings courtesy of Studio Daniel Libeskind.