Danish Brand Howe Relaunches in the U.S. Market



40/4 chair by David Rowland for Howe.



More than two decades after moving its base of operations from the United States to Europe, Danish furniture manufacturer

Howe

has relaunched its brand stateside. Several generations of European designers have contributed to Howe's current collection, some of which the company showed off at a relaunch party at the Royal Danish Consulate General's Residence in New York last week, high above the city on the 76th floor of the Frank Gehry-designed 8 Spruce Street tower.
Harold Howe founded the company nearly 100 years ago in Trumbull, Connecticut, with a line of folding furniture including card tables and cribs. The company gained momentum by developing folding tables for clients including the Waldorf Astoria before entering the architecture and design market in the 1950s, when it developed the 500 Series folding table for a

Skidmore, Owings, Merrill

project.
Tina Pilgaard, the Consulate's senior commercial advisor of furniture and design, said Danish design continues to become more popular in the United States as clients aspire to purchase goods and furniture that have longer lifespans. "In Denmark these brands are part of our daily life, but when they come to the U.S. they are very special," she said. "It's a fantastic thing as a nation to bring something like that to the states."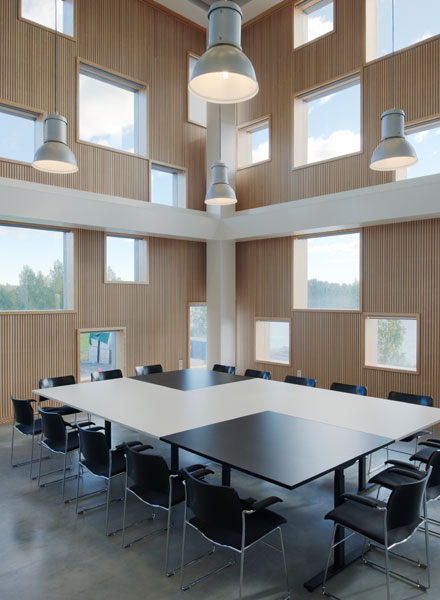 40/4 chair by David Rowland for Howe.



In June 2013, Howe acquired the North American rights to sell the 40/4 chair by David Rowland—the chair's success in Europe and Asia provided the impetus for the U.S. relaunch. In production since 1964, 40/4 has been used in iconic venues from St. Paul's Cathedral to the Louvre for a while; it adapts to small venues as well thanks to its sculptural stacking design that doesn't need to be hidden in a storage closet. The easily collapsible Simpla table and the SixE series of chairs designed by

PearsonLloyd

—with legs available in any custom color—have also been popular in a wide range of schools and offices around the world.
"Our architect-led brand with American heritage and Danish design culture—simple aesthetics and high quality—make us sure that our brand is highly relevant for the North American contract market also," said Lars Bruntse, the company's global head of marketing. "We see a shift towards high quality and simple aesthetic solutions which are easy to work with and which underline a certain design attitude."
With a new assembly plant in Michigan, Howe is offering American designers four- to six-week lead times, versus the ten to twelve weeks it normally takes for Danish furniture delivery. And while work of the relaunch is keeping company executives busy for now, New York can also expect its own Howe showroom sometime in the near future.