Darren Walker and Lisa Kim Talk About Their Bold Choices For the New Ford Foundation Gallery
Since its 1936 launch, the Ford Foundation has been a trailblazer in promoting human rights, equity, and justice, growing ever more global in purview and wide-ranging in impact over the decades. When it opened the doors of its Kevin Roche John Dinkeloo and Associates–designed Midtown headquarters in 1967, the 12-story tower of glass, granite, and weathering steel, centered on a soaring atrium planted with lush greenery, was nothing short of groundbreaking, inspiring a new paradigm in architectural urban space.
That's why around 2013, when the City of New York told current foundation president Darren Walker that the landmarked building had to be brought up to code by 2019, he greeted the news as an opportunity to re-imagine the building and mission for a new century, rather than as a costly, if necessary, nuisance.
Gensler was charged with leading the upgrade, which required installing all new systems and meeting ADA requirements, which Walker asked the firm to exceed. Sustainability was forefront, with legacy furnishings and fittings refurbished wherever possible in pursuit of LEED Platinum certification. Warrenlike work spaces were transformed into airy, non-hierarchical realms with atrium views for all. An adjoining exterior wall that obstructed the interior garden from the street was removed, and, right inside, former private office space was replaced by a welcome lounge with a coffee bar and "mission wall."
Gallery director Lisa Kim, a former director of New York's Percent for Art program and private collections manager/director of exhibitions and operations for Larry Gagosian, was hired to direct the building's new Ford Foundation Gallery, which has rotating exhibitions open to the public, and assemble a permanent collection of contemporary art expressive of the entity's calling throughout the dozen floors. Her bold choices humanize an interior that still evokes the corporate cool of the site's mid-century roots. Kim and Walker discuss how art came to take center stage in what's now the inclusive and eminently inviting Ford Foundation Center for Social Justice.
Interior Design: Did the foundation always collect art?
Darren Walker: Yes, but it was composed primarily of 17th-, 18th-, and 19th-century works by European artists. There were few women represented, and no people of color, which seemed odd to me for a foundation committed to social justice.
ID: How did you rectify the situation?
DW: I believe that the arts and humanities help build empathy. And, in order to have more justice in society, we need more empathy in society. But we could not use any grant dollars to attain new works. Consulting with board chair at the time Irene Hirano Inouye, who was the founding CEO of the Japanese American National Museum and former chair of the American Alliance of Museums board, we came up with the idea of a deaccession, selling art to buy art. We then presented to the board a new art collection and gallery together as being essential to the re-imagining of the building and they agreed. And the gallery is totally accessible. There's no $20 barrier.
ID: What criteria did you use for choosing the artwork?
Lisa Kim: There were natural links. We named some of our convening spaces after social justice leaders. So, for the Mandela room, there are works connected to Nelson Mandela, such as Mandela, a collage by Philip Kumah. It wasn't so much about being obvious as much as being emotive of the values of these leaders and expressive of our values. We were also sensitive to where art was installed and who would interact with it. Darren wanted Hank Willis Thomas's I Am A Man in the lobby. It's hung with an actual flyer that one of the sanitation workers on strike was holding. The actual poster and a photograph by Richard Copley of the sanitation march were installed together next to the security desk on the way to the gallery. That piece embodies the mission of the foundation. So, too, does Kehinde Wiley's portrait of Wanda Crichlow in the entry, which offers the most grand welcome. That's the power of what an art collection can do and its relationship to who we are.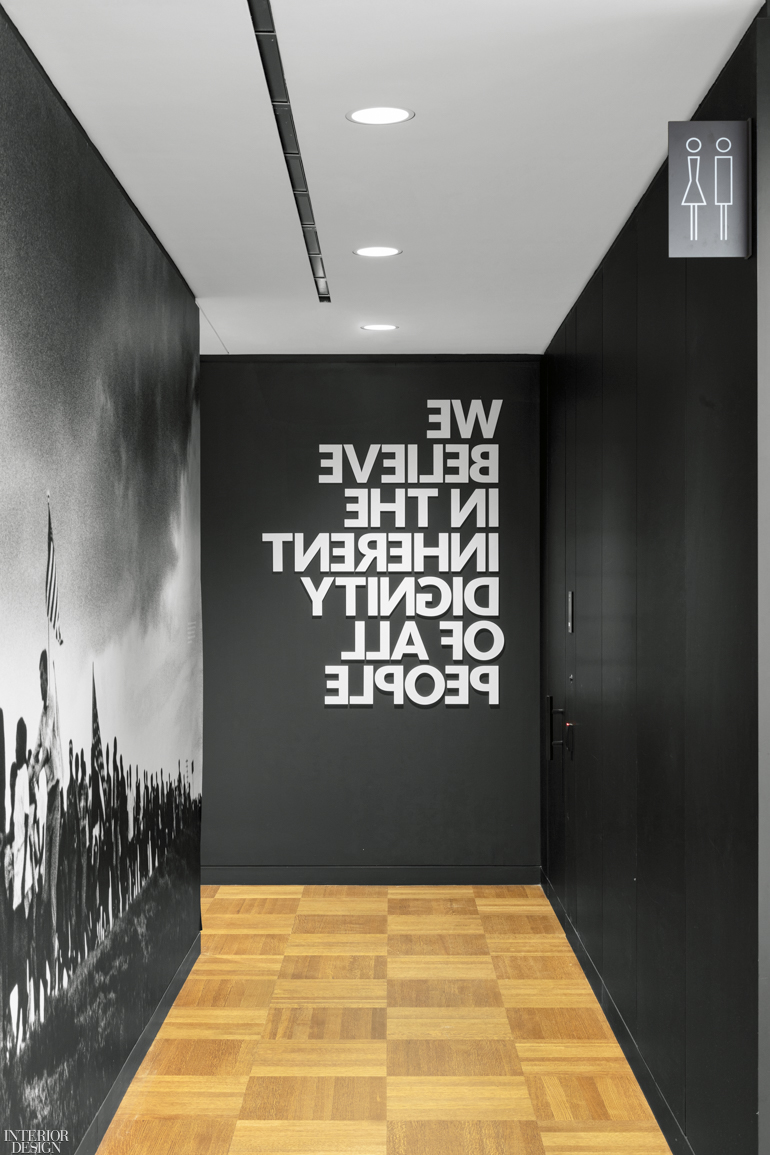 ID: How did the graphics program develop?
DW: Gensler was integral. Lisa and I worked closely with John Bricker and Andrea Plenter from the firm, and they really understood the purpose of the art program and how best to integrate that purpose into a brand that permeates the built environment. They took inspiration from the building and leveraged the past but also built off how the brand should be expressed today.
ID: How so?
DW: Their strategy was what they called a 'bold whisper,' bringing the brand to life in a large-scale manner, but quietly. They created branding that is independent of, but complements, the art program. It's a powerful ally in our fight for social justice.
ID: Your second exhibition just closed. What has the response to the gallery been like?
LK: Incredible. We didn't know who would come because we're not in an art district, plus we're inside the building and we don't advertise. Yet we're tracking over 100 people a day. We're hoping for the same response when "Utopian Imagination" opens later this month. What's been satisfying for me is that people come into this art space and they see something different than in a commercial gallery, and it's much more intimate than going to a museum show.
ID: In which way?
LK: We're not bringing in household names. This is not a celebrity gallery. This is about the content, about artists pushing for social change. And the artists are cross-generation and cross-geographic. That dialogue is really important.
DW: Art has provided oxygen for the center. It has given new life, more meaning, and more urgency to our work. It's so vital and enriching to be in the building. Art and social justice go hand in hand.
Keep scrolling for more images >
Gensler Project Team:
Robin Klehr Avia; Madeline Burke-Vigeland; Ed Wood; Lydia Gould; Ambrose Aliaga-Kelly; Johnathan Sandler; John Bricker; Bevin Savage-Yamazaki; Jonas Gabbai; Karen Pedrazzi; Thomas Turner; Meghan Magee; Kris Gregerson; Anthony Harris; Ian Korn; David Briefel; Lissa Krueger; Craig Byers; Andrea Plenter; Kevin Carlin; Jocelyn Mastroianni; Corina Benatuil;
Jose Troconis.