Debut Noguchi Award Honors Lord Norman Foster and Hiroshi Sugimoto



Ambassador Motohide Yoshikawa, Hiroshi Sugimoto with the Isamu Noguchi Award, and Lord Norman Foster. Photography by David X Prutting/BFAnyc.com.







At the 10th annual

Noguchi Museum

spring benefit, the inaugural Isamu Noguchi Award was presented to Lord Norman Foster of

Foster + Partners

and photographer

Hiroshi Sugimoto

. Several years in the making, the award recognizes individuals who share Isamu Noguchi's commitment to innovation, global consciousness, and Japanese/American exchange. As Noguchi Museum Director Jenny Dixon said, "It serves to establish a dialogue with Noguchi's profound legacy of innovation." The landscape architect and artist passed away in 1988—the new award will not only preserve his memory but also keep his ideas well alive.

Ambassador Motohide Yoshikawa, permanent representative of Japan to the United Nations, presented the awards before an audience of 300 esteemed guests. Yoshikawa, readily admitting that he was not an expert in architecture or the arts, spoke in admiration of the work of the two honorees. Foster's remarkable projects span the globe, including such landmarks as the Great Court of the British Museum, Beijing Capital International Airport international terminal, and restoration of the Reichstag in Berlin. In New York, his most identifiable work is Hearst Tower, which is distinctive for the triangular framing pattern of steel and for being the first "green" high-rise in the city. Sugimoto, an untrained architect, is better known for his photography. Understanding photography as a form of time machine, his long-exposure shots seem surreal, a suspension of reality.

Dixon pointed out the difficulty in choosing the inaugural honorees for the award, but it is evident that Foster and Sugimoto are not only adequate choices but outstanding ones.



Sculptor Mark di Suvero with Norman Foster. Photography by David X Prutting/BFAnyc.com.






Benefit chair Karen McDonald and Anki Leeds. Photography by David X Prutting/BFAnyc.com.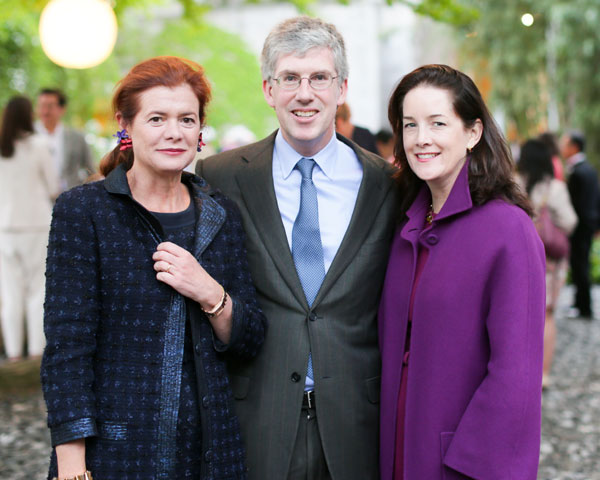 Lady Elena Foster with Michael and Tara Rockefeller. Photography by David X Prutting/BFAnyc.com