Defining Excellence: A Guide to Green Standards
The most well-known benchmark for sustainability—but perhaps not the most understood— Leadership in Energy and Environmental Design ( LEED) is an internationally recognized, voluntary program that provides third-party verification of green buildings. In January 2013, the United States Green Building Council (USGBC) released its annual list of the top 10 states for LEED , based on per-capita square feet of LEED space certified in 2012. Washington, D.C., though technically not a state, was No. 1 on the list , with 36.97 square feet certified per resident last year. Here, we break down the system to bring you up to speed.
LEED NEWS: A report from the National Research Council says the U.S. Department of Defense should continue to require that its new buildings or major renovations to facilities be designed to achieve a LEED-Silver or equivalent rating. See more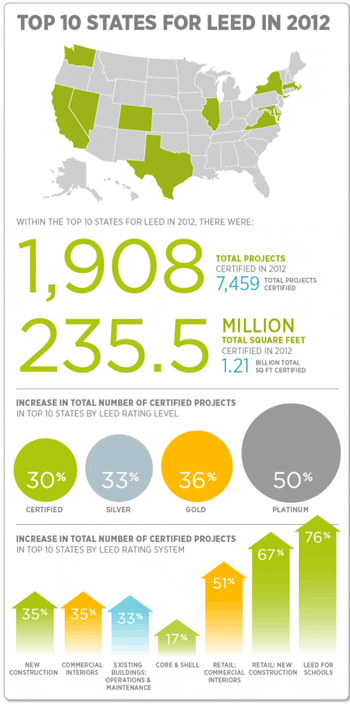 Understanding LEED
LEED certification is available to all building types, but each market segment has its own criteria (a school is not like an office, and so forth). Successfully LEED-certified buildings lower operating costs, increase asset value, reduce waste sent to landfills, conserve energy and water, are healthier and safer for occupants, reduce harmful greenhouse gas emissions—and qualify for tax rebates, zoning allowances and other incentives. Sound like a handful? Here's where the stringent requirements come in.
To earn LEED certification, commercial buildings and neighborhoods must satisfy all LEED prerequisites and earn a minimum 40 points on a 110-point rating scale , while homes must earn a minimum of 45 points on a 136-point scale. The five main credit categories are: sustainable sites, water efficiency, energy and atmosphere, materials and resources, and indoor environmental quality. Points achieved in each credit category are tallied for a final score. The higher the score, the higher the certification level earned. And there are bonus categories, too, like innovation in design and innovation in operations. Six bonus points are available in this category.
The Latest Model
LEED v4 is the newest iteration of the LEED green building rating system. It's sixth and final public-comment period—offering the public one more chance to provide feedback on the system before the members vote in June—began March 1 and will end March 31. The new rating system will launch around the time of the Greenbuild Conference & Expo in November in Philadelphia.

Infographic courtesy of USGBC.
The USGBC says LEED v4 reflects the organization's position that the LEED system must constantly evolve to meet the ever-changing needs of the marketplace and drive transformation in the built environment. LEED v4 is more technically rigorous than its predecessor, and it will see the addition of new market sectors—including data centers, warehouses and distribution centers, hospitality, existing schools, existing retail and mid-rise residential—offering specific technical solutions for a wider swath of the market than ever before. LEED v4 also aims to reduce certification complexity by introducing new support tools and resources, including simplified submittal requirements, step-by-step reference guides and more intuitive submissions forms.