Denise Scott Brown and Robert Venturi :1992 Hall of Fame Inductees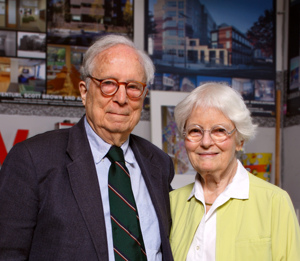 When

Robert Venturi

was awarded the 1991 Pritzker Architecture Prize, the statement of the jury that selected him was appropriately enthusiastic and laudatory. "He has expanded and redefined the limits of the art of architecture in this century, as perhaps no other has, through his theories and built works," it said in part. High praise indeed, and certainly well deserved. The only thing missing was the direct acknowledgement of the work of Denise Scott Brown, Mr. Venturi's equally deserving partner and wife for 25 years. Through their collaboration, the two architects have fundamentally altered the ways in which both the public and design professionals approach the built environment. Eschewing the strictures of canonical modernism, Mr. Venturi and Ms. Scott Brown have cultivated a more inclusive design approach-one that happily embraces symbolism and allusion in order to express more fully the relationship of buildings to their inhabitants and surroundings. The impact of their work-writings, university professorships, and, or course, built projects-has been profound.

Mr. Venturi's 1966 treatise Complexity and Contradiction in Architecture is generally recognized as a milestone in architectural theory. In it he argued for an architecture based not on highbrow theoretical pretension but on humanistic, realistic responses to the tangled web of issues that buildings must address. Because of his willingness to accept popular styles and his unorthodox manipulations of scale and ornament, Mr. Venturi is often cited as a father of postmodernism. His work, however, has always been characterized more by thoughtfulness and depth than by hollow stylist pastiche: while others were tarting up their projects with faux neoclassical dunce caps, Mr. Venturi continues to make buildings with grace and wit, artistry and economy.

An architect and planner,

Denise Scott Brown

has helped to broaden architectural discourse to encompass a broad range of contextual issues beyond the property lines of any given project. Under her direction, the firm's planning and urban design work has been widely recognized for producing implementable plans where thorough consideration is given to social, economic, financial and political factors, as well as to aesthetics and image. At a time when clients and the public are increasingly concerned with the social responsibility of architectural work, Ms. Scott Brown can proudly point to decades of research and practical experience in that area.

Like their projects, professional affiliations and writings, the prizes awarded to Mr. Venturi and Ms. Scott Brown are too extensive to list. The fruits of their collaboration continue to dignify the profession.

Ms. Scott Brown's recently completed projects include the University of Pennsylvania's Perelman Quadrangle; the Mielparque Kirifuri resort in Kirifuri National Park near Nikko, Japan; and the French Department de la Haute-Garonne provincial capitol building in Toulouse, France. Past projects include development of program requirements for the Smithsonian Institution's National Museum of the American Indian and campus planning for the University of Pennsylvania, Dartmouth College, and Bryn Mawr College. Ms. Scott Brown has developed urban plans for South Street and Old City, Philadelphia; Miami Beach; and Memphis, Tennessee.

In 2002 she directed the University of Michigan Ann Arbor Campus Master Plan, plans for the University's two medical campuses, and design of its Life Sciences Institute, Commons Building and Science Instruction Center. In addition to the planning projects at the University of Michigan, Ms. Scott Brown was also directing planning for a University of Kentucky campus extension that included a biological sciences laboratory as its first increment; a campus plan for the Radcliffe Institute of Advanced Studies at Harvard University; and one for Williams College. Bob and Denise are now retired from the practice of architecture. While Bob continues to visit the office daily, Denise writes and interviews from home with an occasional lecture.