Design Legend Charles Pollock Honored at Pratt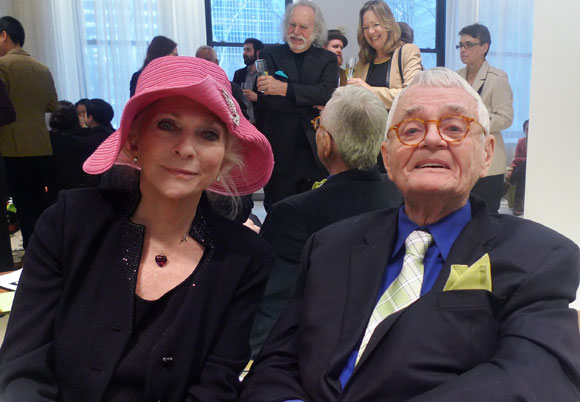 Judy Collins, musician and activist, with Charles Pollock



Walking into the

Bernhardt

showroom in New York last week, we were immediately greeted by a crowd of students and graduates, professors and administrators, and longtime supporters of

Pratt Institute

. Reclining in the midst of the gathering—on his very own CP.1 chair, no less—was the evening's honoree, Charles Pollock.

Pollock with Thomas Schutte, president, Pratt.

Pollock received the school's

Rowena Reed Kostellow Award

—backed by a fund established in 1988 to carry on its namesake's educational impact—for his outstanding work in industrial design. Pollock was one of Rowena Reed Kostellow's early students. Tucker Viemeister, chair of the fund, introduced Pollock to the crowd, saying, "He's one of Rowena's legacies. He understands the beauty and poeticism of dimensionality. . .His work has influenced the style concepts of our era." Among his most successful designs is the

Pollock Executive Chair

, praised as the best-selling executive chair in the history of office design.

Steven Diskin, chairperson of Industrial Design at Pratt; Myonggi Sul, professor of interior design at Pratt; and Peter Barna, provost of Pratt.

After Viemeister handed Pollock his trophy, which was designed by adjunct professor Kathryn Filla and Pratt student Robin Oglesbee-Venghaus, the group eagerly awaited a speech. Quick to shift attention to others, Pollock said that he was "filled with thanks." He turned to the younger designers in the room, saying, "If you want to do something, stick to it! You may have to live on oatmeal for a year or two, but it will be worth it to produce your design." At age 83, Pollack has a great passion for design and for those who wish to follow his example.



Tucker Viemeister, chair of the Rowena Reed Kostellow Fund and industrial designer.