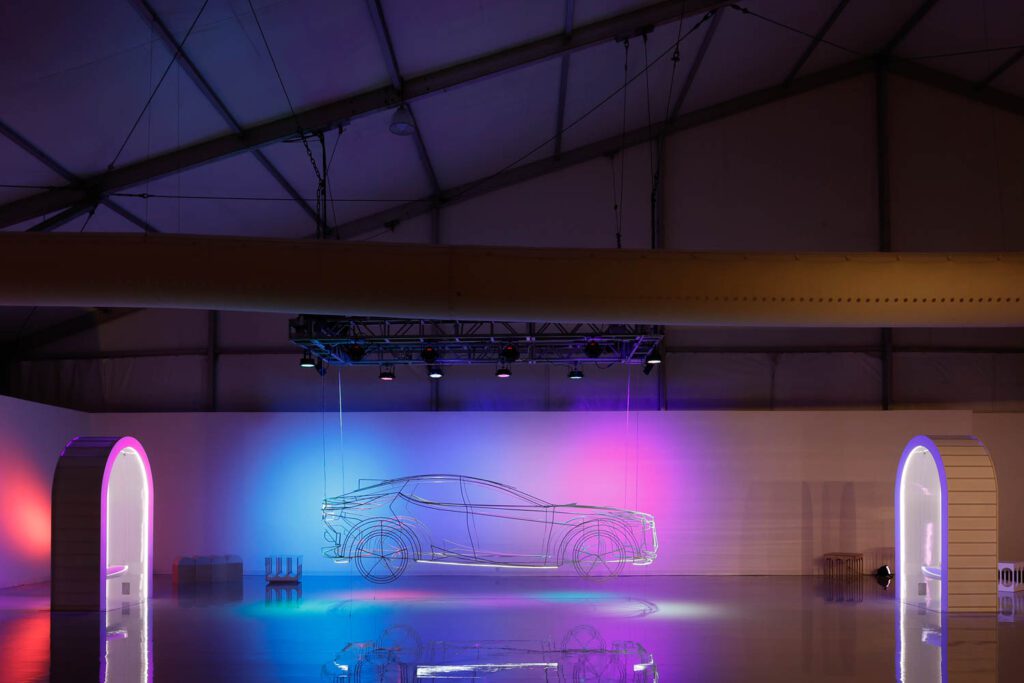 Design Miami/ 2021 Spotlights Socially Conscious Designs
While Art Basel Miami Beach anchored Miami's boasting week of art, design and fashion last week, Design Miami/, right across the street at the Pride Park, determined the busy calendar's design trajectory. With the return of the in-person affairs, the fair's 17th iteration did justice to the missed interactions and dialogues around design today. 
Under the supervision of its incoming curatorial director, Wava Carpenter, this year's event had the umbrella theme "Human.Kind," which shed light on socially- and environmentally-conscious design under the impact of an ongoing pandemic. "The pandemic has led many people to really consider how they live and the pieces that they chose to surround themselves with," says Grela Orihuela, vice president of fairs. "We're seeing this reflected in the work here at the fair: thoughtful pieces that reflect the current times and respond to social movements as well as a strong showing of more organic shapes and softer textures—a trend towards comfort."
Besides numerous established design galleries, such as Future Perfect, Les Atelier Courbet, Hostler Burrows and Salon 94 Design, this year's Curio section hosts nineteen exhibitors that challenge the notion of a design gallery with focused presentations mostly dedicated to a single studio. "This is an exciting platform that allows us to welcome a wider range of voices and ideas at the fair, nurture this talent, and expand their audience," says Orihuela. She also notes that some of the former Curio participants joined the main Gallery program this year. Additionally, a number of collaborations between designers and design-adjacent companies demonstrated the ever-challenged borders of imagination and testing of materials through innovative thinking.
Take a look at Interior Design's six picks from the fair, in case you missed it.
Kohler x Daniel Arsham
Wisconsin-based manufacturing giant Kohler has tapped artist and designer Daniel Arsham for an exclusive commission that disrupts the visual definitions of a typical sink with a heavily sculptural form. Arsham's prolific practice spans sculpture, drawing, product design, fashion, and furniture. With a cult following, he plays with objects' chronological cues and renders them as equally futuristic and archaic. The larger portion of the sink, titled Rock.01, is rendered with a laborious 3D-printing technology and serves as the main bowl, while a smaller bronze bulb contributes to the sculptural silhouette. Created in an edition of 99, the mysterious-looking sink holds traits from both its production methods, with a layered surface on the larger portion and smoother finish in the other.
Lexus x Germane Barnes
Design Miami/ provides the opportunity for giants from different sectors to support innovate designers with an exhibition platform and production means. Japanese car manufacturer Lexus has been participating in the fair for the last four years as the automative sponsor with an annual collaboration with a designer. Founder of Studio Barnes and assistant professor at University of Miami's School of Architecture, Germane Barnes is this year's selectee with a poetic look at mobility as a form of freedom, resilience, and a question mark. The installation's anchoring piece is a steel outline of Lexus's LF-Z electrified car. Suspended from the ceiling, the car offers a starting point to discuss transparency and visibility in design today. Barnes, whose work is heavily rooted in social justice and collaboration with disenfranchised communities, pulls the fairgoers with his intriguing design to think further about the future, and participation is the key. Two swings hung from round and light-lined arches invite visitors to activate the setting with movement while a group of Art Deco-inspired furniture, which is available for purchase, offer a moment of slowing down.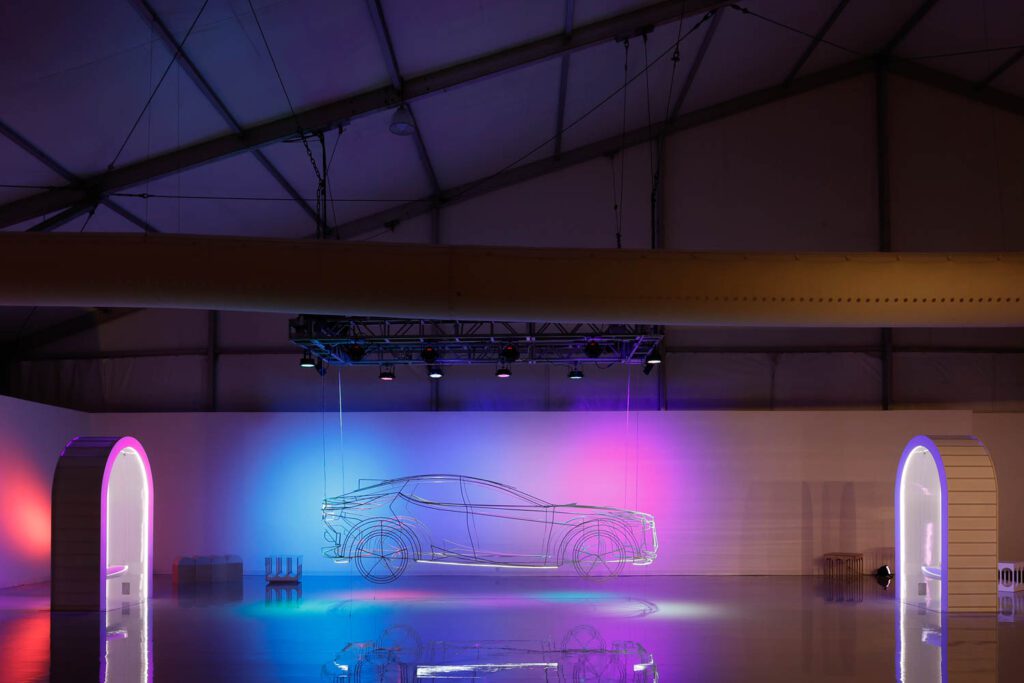 Harry Nuriev, The Bedroom
Harry Nuriev's magnetic The Bedroom installation continues his sleek exploration of design's relationship with everyday subconsciousness. His former furniture line, The Elevator, at Design Miami/ Basel earlier in the fall was inspired by our temporal moments inside a lift. Now, the New York-based designer invites us to a metallic bed covered with same-color padded walls which serve as blurry mirrors. Similar to an elevator, Nuriev is interested in our shifting mental state and habits inside a bed and proposes an immersive multi-person repose which also functions as a seating arrangement. Besides furthering the designer's play with dualities, such as hard and soft or matte and reflective, the installation is a humorous take on intimacy, function, and beauty in the age of cyber connection.
R & Company
New York's design powerhouse R & Company joins the affair with a large scale booth where numerous names from the gallery's roster, such as Katie Stout, Studio Job and Joyce Lin, deliver notable statements. The scene-stealer of the show, however, is the late sculptor and wood master Wendell Castle's 1962-dated furniture, Chest of Drawers. Flirting between art and sculpture as well as use and decoration, the seemingly minimalist wooden chest is adorned with tentacle-like branches that both function as legs and handles. Their curvaceous and serpentine forms contrast the three-drawer chest's sharp sleekness. On the other hand, a recent storage unit by Serban Ionescu or Jolie Ngo's vessel tap into the contemporary sensibility of seeking joy in isolation and uncertainty.
Twenty First Gallery
Another standout from the Curio section is Tribeca's Twenty First Gallery where young Polish designer Marcin Rusak's four cabinets pair a contemporary approach to materials with the traditional aesthetic of the floral pattern. Born into two generations of flower growers and based between London and Warsaw, Rusak filters the iconographies of his upbringing with an homage to Josef Frank's Flora Cabinets from the mid-20th century. Fittingly titled Flora Contemporaria, the four limited edition cabinets have single steel or oak base forms that uplift translucent black resin bodies filled with arrays of real flowers. The still life painting effect on the surface is elevated by resin's sleek finish. Flowers in bold tones of red, purple or blue float in front of a black background—they seem frozen in time yet alive and painterly.
PELLE
Flowers also claim the center stage in the first time exhibitor PELLE's booth. The Brooklyn-based lighting design studio dazzles in its Miami debut with four distinct lighting structures decorated with timeless aesthetic of botanical patterns. The husband and wife duo Jean and Oliver Pelle join forces in each piece and marry Jean's interest in organic forms with Oliver's fascination for contemporary lighting techniques. A standout is Nana Lure Chandelier, replicating a large plant with generously bloomed leaves. Hand-cast by Jean Pelle, cotton linter petals and the stem hold delicate light fixtures that demonstrate the potential of cotton paper, a material that the studio has been exploring for five years. Spring colors are celebrated in Lure Eden Mirror Post and Light which carries cast cotton flowers with lights surrounding the mirror in the middle.