Design Within Reach Contract Offers Designers Comprehensive Solution Services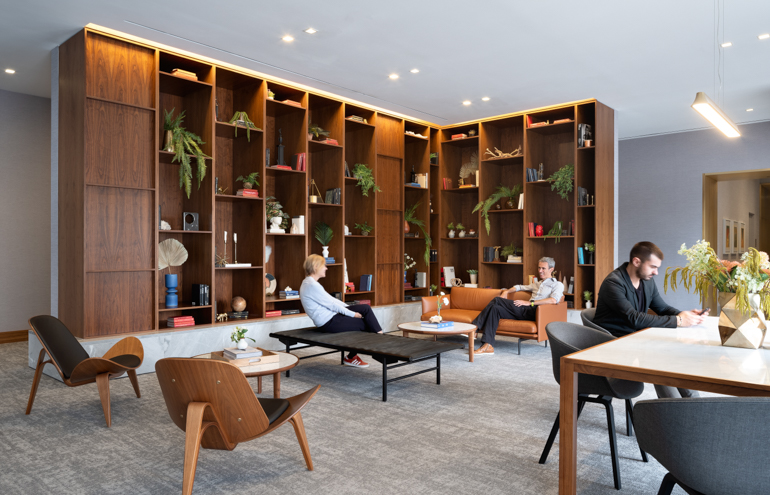 Sometimes a professional partnership is the key to making a project blossom. For 75 Park Lane, a newly constructed 37-story residential tower in Jersey City, Jeshua Paone, design director at Strategic Capital, had a tight timeline to complete the interior design for the building's amenity spaces. Tasked with managing the purchases and acquisitions for the project, Paone worked with dealers who sourced reproductions of designer pieces as a last resort in order to meet the tight deadline. Seeking a better solution, he made a phone call to Design Within Reach Contract.
Searching for a single furniture company that could provide all the furnishings for the project at hand, Paone mentioned his interest in Hay, which opened up the opportunity to explore the breadth of DWR Contract offerings during his call with a DWR Contract representative. Given that its complimentary service supports specifiers from design concept to completion, DWR Contract enabled Paone to solve his design challenge, ensuring quality furnishings from respected manufacturers around the globe arrived in a timely manner and on budget.
Whether saving time or money, DWR Contract's services enable architects and end-users to find the most efficient way to complete large-scale projects. With access to exclusive pieces and, in some cases, the entire breadth of a manufacturer's oeuvre, DWR Contract is equipped to meet the needs of any design project. The representatives also take note of taste and style preferences, building unique portfolios for each user to ensure the process goes as smoothly as possible every time a designer connects.
Leveraging its extensive network of coveted design brands and commitment to quality service, DWR Contract is revolutionizing product specification. With the ability to manage client expectations, customizations, and installation needs, and offer the latest in design, designers will never have to scramble or sacrifice quality to implement a design plan under deadline.