Designer Murray Moss Creates His Own Art Gallery From His Connecticut Basement
Even though I've lived in Hamden, Connecticut, for seven months, I'm only beginning to become aware of those differences between my old burg and my new burg that are somewhat less obvious than the scenery, the good-natured neighborliness here on Blake Road—what's a Block Party?—and the fact that ants are not an Alternative Truth. Social discourse, for example, as limited as it is at the moment, is beginning to taste different here rather than there. (As is the general quality of the pizza. Don't look at me—it's really a big deal here, and. . .oh, forget it.) At the few dinner parties, drinks parties, and more ad hoc encounters we've had with the local townsfolk, Art, a subject as ubiquitous in New York chitchat as is the aforementioned pizza in my adopted metropolis or the weather during the ski season in Aspen, has rarely come up and, when it has, has usually been at our initiative. In spite of the Constitution State's history of rubbing elbows with the likes of Jasper Johns, Sol LeWitt, and Alexander Calder and the plethora and quality of nearby museums, such as the Yale University Art Gallery, the Yale Peabody Museum of Natural History, and the Yale Center for British Art, in my experience to date, Art ranks about as close to the top of the Conversation-Starter List as do I to the British Throne.
So, is there something New York–centric about Art? Is Art, to be even more precise, Manhattan- centric? Is Art as incestuous a topic in old New Amsterdam as is Junior's cheesecake in Brooklyn? Is Art as topical in Topeka as Taffy is in Atlantic City?
These were the Neo-Shakespearean questions that flooded my mind (alas) when I finished painting the laundry room in the basement two evenings ago. A warren of scary, mostly wooden rooms filled with furnaces both in and long out of use, workshops, and what appears to be an orphanage for unwanted window screens, this unfamiliar Zone also houses the dismal, spidery, pipe-y, old laundry room, with its huge stone utility sink, once used for washing clothes and now used to drain the Maytag. The whole issue of redecorating came up because of the look on our precious and perfect housekeeper's face when I first introduced her to her new home-away-from-home: Are you acquainted with the facial expression No Way, Renée?
Against my better instincts, having no better idea of my own other than Battleship Gray, I went with Franklin's "vision" of pure white. I mean Blizzard White. I painted everything except the dead mice. I painted the unforgivable: hinges. I painted the old toilet stall. I painted behind everything that had a front.
Oops. Having painted myself out of the basement, I emerged and went to bed.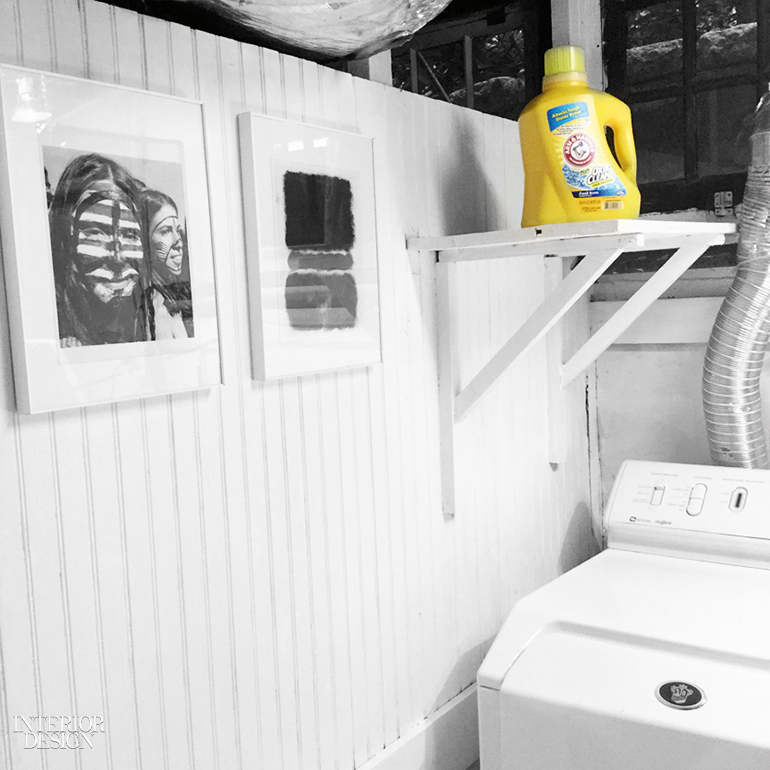 Oops. Morning, and I go down the dry white Busby Berkeley steps to the new Leo Castelli Gallery in Hamden. The first thing I notice is the Robert Gober sink, which has somehow been installed where our old washing sink was. Also, for this inaugural exhibition, the Gallery has obviously borrowed a heretofore unknown work of the illustrious Jasper Johns, Basement, created soon after he had completed his masterpiece, White Flag.
I had, consciously or unconsciously, opened a Gallery of Art on Blake Road. I went right up to the attic and began selecting work for my next basement show, which will be on vintage Press Photography. I hung a few works yesterday that I'm sure Mr. Johns would not have objected to.
Conversations grow like moss—only in the right conditions, with nourishment and, face it, tenac- ity. Our country was born in Connecticut, because the soil was right, or was it the light? I don't know (yet) why my part of the world is America's pizza capital, but surely the large Italian popula- tion had something to do with it. Why does the Mountain Laurel, our newly adopted "state flower," flourish here? Were there seeds accidently transported on the Mayflower? It's easy to crash a conversation. All you need is to go grab a brush and begin. Yes, we needed to first paint the basement, but that was the easy part.
Easier, certainly, than to start a new nation.
Maybe someday the Mountain Laurel will be replaced by a Black Iris in honor of Georgia O'Keeffe. Call me a diehard New Yorker or whatever, but I'd rather talk to my intelligent and highly accomplished new neighbors about what I see in an O'Keeffe flower than what I don't see in the Mountain Laurel. (As lovely as it is.)
After all, if one wants to contribute something new to the Conversation, someone needs to declare independence from the old one, no? Moss is already growing in our basement.
I'm certainly no John Hancock, but I'm ready to sign first.