Designers Dish on the Rise of the Modern Food Hall



Plaza Food Hall in New York by Jeffrey Beers International.




It's no secret that the rise of the modern food hall is in full swing. Taking advantage of the New York appetite for these trendy markets, several hospitality heavyweights came together this week for "Food and Design: The Rise of the Nouveau Food Hall," a discussion organized by culinary trade organization

Culintro

,

AvroKO

partner Adam Farmerie, and Jeffrey Beers of

Jeffrey Beers International

. Representatives of the

Plaza Food Hall

and

Gotham West Market

joined in at the NYIT Auditorium in New York to speak about the re-invention and popularity of the food hall.

The talk began with a look toward the past, when collective eating spaces with multiple vendors took root in the souks of Marrakech, which date back hundreds of years. The Hawker markets of southeast Asia and

Harrod's Food Halls

were also cited as examples of dining scenes similar to the halls now so popular in New York—Eataly, anyone? Food naturally brings people together, but gathering several restaurants and merchants together to present a united front is a unique phenomena. Naturally competing organizations become one under monikers such as "food hall" or "market." Farmerie made the astute observation that "getting the right mix of vendors is like organizing a good dinner party—it's about the right people and the right placement within the space."

Beyond the focus on food, designers stressed the importance of providing guests with an immersive experience. The event was a reminder that design—just as much as food—brings people together.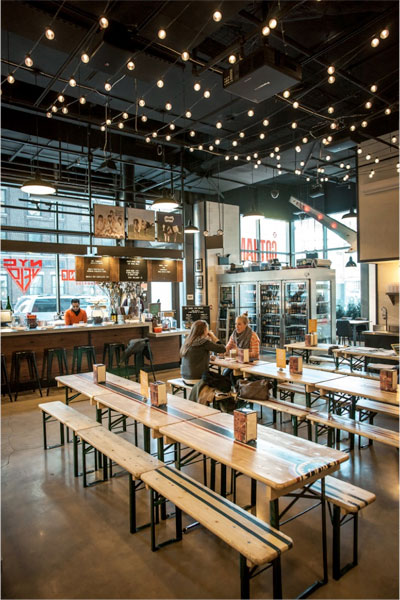 Gotham West Market in New York by AvroKO.