Designers Share Strategies for the New Normal
As the architecture and design community finishes up another week in the midst of the COVID-19 pandemic, infections are on the rise in many parts of the United States but stabilizing in other countries. Projects remain on pause, but meetings and plans for the future continue—as do Interior Design's global dispatches, which today feature voices from Hong Kong, Paris, and U.S. cities.
Editor's note: This story is the third installment in a series of conversations with designers, industry leaders, and architects around the globe, examining how our community is staying connected, inspired, and proactive about solutions during the current pandemic.
India Mahdavi, India Mahdavi, Paris, France
I closed my whole organization on Monday, March 16—this includes my two showrooms, the petit objets store, the new gallery, [and] my studio, all located on Rue Las Cases. All the designers are working from home. I am lucky that my studio is a three-minute walk from my apartment, so I go in nearly every day, but I am there alone. I have Zoom meetings several times a day with the design team, but also with my clients, who are more available than usual. Most of the construction sites have been shut down, if not closed. Most of our collaborations with brands are on hold. But the design process continues, and creating through shared screens is a novelty.
Without becoming "hygienist," I do believe hygiene will become more important. It might even affect the public space layouts, the same way that 9/11 changed our way of traveling. This might affect restaurant layouts, public gatherings, etc. Hopefully, we will become more sensitive to the sourcing of materials, of manufacturing, to ensure the whole chain of production complies with the values which are respectful of the environment and are in line with our real needs.
This is obviously the very first crisis of this type, but maybe not the last one. So we need to be prepared for teleworking. I think we will be spending more time at home in the future, so our homes will adapt as well. Everyone is spending a lot more time on the phone or using shared-screens for meetings, which can be disruptive in a family household. We need to create dedicated working spaces at home, bringing the office to the home instead of bringing the home to the office. Employers maybe will need to stock the gear to protect their employees, masks and gloves, etc. And teleworking will definitely affect the creative side. For instance, I work with a lot of models, which is not so easy through screens. There is something about the here and now that is removed.
Joe Cheng, CCD/Cheng Chung Design, Hong Kong, China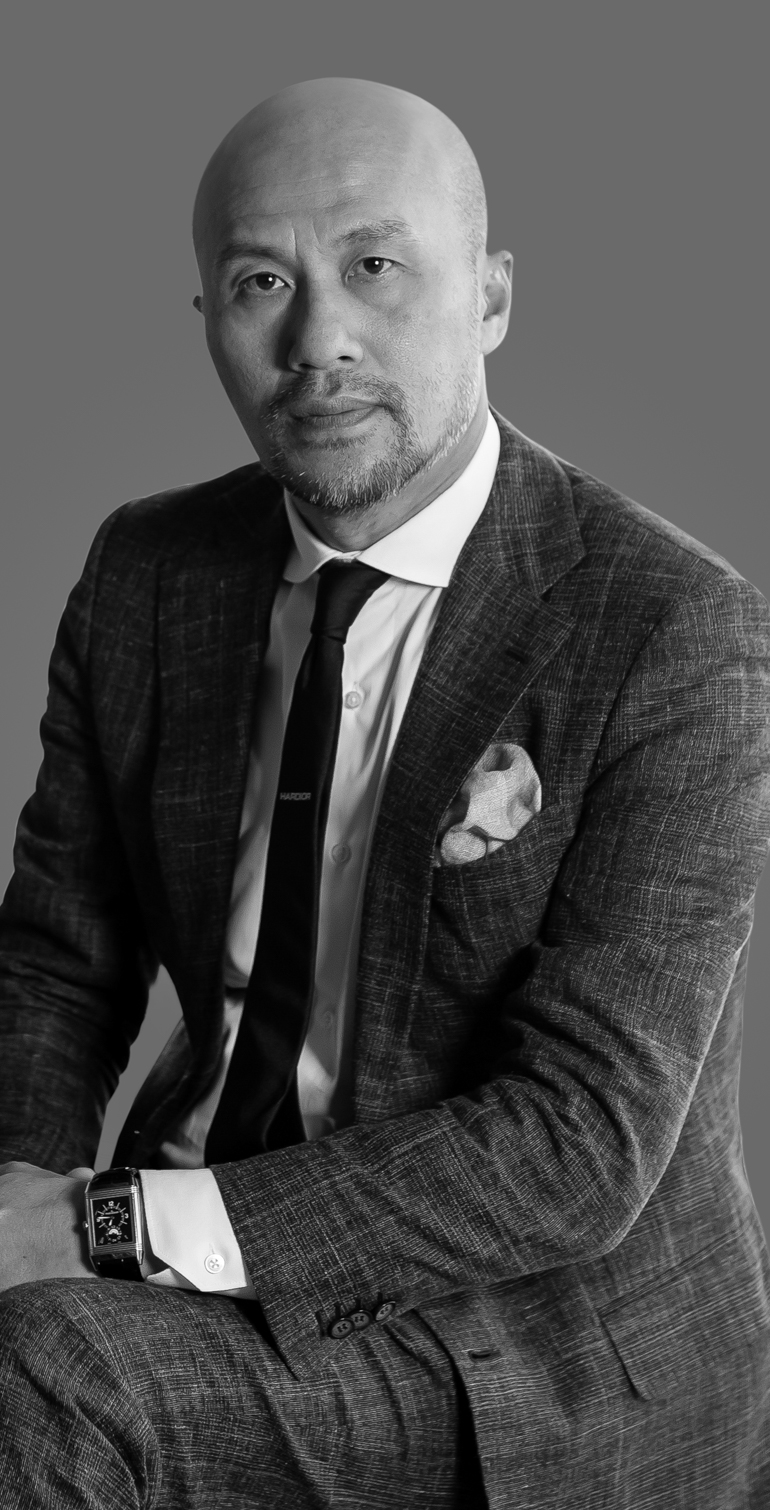 I and my partner Mr. Ken Hu were originally scheduled to speak at the Ambiente trade fair in Frankfurt [Germany] on February 10. Back then, there were no restrictions on international flights, but we decided to cancel the trip and greet the audience through a recording, considering severity and spread of the virus—and it turned out to be a right decision. The world is a community with a shared future, so everyone should put their own and others' safety in the first place in this special period…
The whole company started working online since February 3… Recently, we have been mainly working on existing projects, and no project is canceled. As a design company, we take services first, and try our best to communicate and coordinate with our clients. The clients are concerned with the progress of projects, so we're making great efforts to advance the design work, with a view to saving more time for construction…
In addition to participating in donation campaigns organized by industry associations, CCD voluntarily supported hospitals and communities by contributing goggles, self-heating meals and hygiene supplies…Actions and responses of the design industry in face of the COVID-19 outbreak fully demonstrate humanistic care and social responsibility. Designers who had projects at hand worked hard, while others would take this opportunity to learn, share, and improve expertise. Under the crisis, Chinese designers showcased optimism, confidence and a dutiful attitude…
This [pandemic situation] should be carefully taken into account as designers conduct spatial design practices. In fact, the design community has started to think about epidemic prevention strategies. Take residences, for example—they are considering creating a sterilization area where disinfection carpet, face masks, alcohol and other relevant supplies are placed at the entrance, enhancing natural ventilation, adding exercise spaces, setting spaces for placing bulletin boards and disposable tissue in elevator halls or stairwells, etc.
Kyle Gaffney, SkB Architects, Seattle, U.S.
We started to catch wind of [the spread of COVID-19] in late January/early February. But when it really was noticeable was when Amazon went to remote-working. Our studio is three blocks from Amazon in Belltown [Seattle] and when they pulled out, you can only imagine, I don't know how many workers were just gone. I would say that's one of the spookier moments. And of course it's even worse now.
We really started to act about three weeks ago, in terms of social distancing. Our firm is really reliant on materials and our library is a constantly evolving critical aspect of who we are as a firm, but we had to say "no" to vendor presentations or they had to call in advance. We canceled all social events and lectures and stopped all our travel. All our meetings went remote; we told our clients we're going virtual and this whole time we were working with our IT department to bolster our remote capabilities. We also told staff who take public transportation that if they elected not to do it, we would pay for their parking. And then we started to send emails to our clients and let them know: Here are the steps we we've taken to ensure that we'll be able to deliver and still work on projects, and that we should not be impacted because we are working remotely. That was a good thing to do. When the public schools closed, some of the stuff we had set up came to fruition, because we have 10 people with young kids. We found out one afternoon the schools were going to be closed, so those people could just pick their kids up and work from home.
A few projects have been postponed—they will go forward, but due to the uncertainty, we're just going to pause until we get through this. We've said we're just going to do this until we as a company decide it's okay to go back to normal practices. But I'm intrigued about how this changes our society, our nation; how it changes us as a global society; and how values change. What we do at our practice is architecture and design, but it's also art. Human experience drives our practice. We've never been object driven, it's always been about the experience. We are social beings. People are like, "Oh we're all going to work from home after this," but inherently you can't deny that we are social beings and I don't think this is going to change that. It didn't change when we had the flu epidemic in the 1800s or 1918. What we do as architects, designers, practitioners, and creatives is about interacting with each other, and it's important for us to work individually and share it socially.
David Galullo, Rapt Studio, San Francisco /Los Angeles/New York City, U.S.
As a studio that was fully engaged with work across the globe, working remotely was already a daily occurrence. We had spent the time, energy, and money to allow for this kind of eventuality over the last several years, so work is continuing much like it already has. That being said, this situation has put a bright light on the aspects of work that are lacking when everyone is disbursed. The ability to gather and "white board" a problem, to sketch, pin, and repeat ultimately surrounded by a catalog of the groups thinking in sketch form—it's a bit muddled in this new, totally virtual world.
As for projects, our work in Asia in most cases had been stopped, but is now beginning to start up again. Construction has been halted in the Bay Area, but continues in other areas. We have had some projects "pause" and are concerned for the short term.
While most of our learnings here are around governmental response time to a pandemic, I do believe that we as designers should be paying close attention to other lessons. All of what we do hinges on our ability to understand how people interact with others. We rarely have the opportunity to see those aspects of human interaction under such a stress test. I have witnessed a very quick and incredibly powerful "opening up" of those I work with daily. We say, in our experiences in workplace and retail and all experiential design, that if we are successful our work will allow for people to "bring their whole selves." To fully engage and not just walk away with a fully-realized experience, but offer something to it, making it greater than the sum of its parts. In my interactions with my coworkers and clients over the past week, they are presenting themselves from a home office or dining table. The great unifying background of the physical workplace has disappeared, and each person's personal space is on display. Now what was once relegated to the lunchtime chat is front and center. A new understanding of "where a person is coming from" is quietly being woven into your perception of them and new levels of relationships are being built.
There are lessons here I hope we take heed of: The remnants of compartmentalization that were key to presenting your "professional self" have fallen away and a new, more honest, and transparent relationship can be born. As designers and empathetic observers, there is much to learn and use, moving forward, about the resiliency of people and how we show our best selves in times like these. The key is to know how to capture it and design for it.
Read more from this series:
Designers Look Toward the Future in Uncertain Times