DesignTV by SANDOW Spotlights Design Giants
This week on DesignTV by SANDOW, Design Giants ruled all. Each episode of Interior Design's programming focused on some of the industry's biggest and brightest stars, starting with a transportive film clip of each designer talking with Editor in Chief Cindy Allen (recorded before the pandemic) followed by a virtual chat.
5/11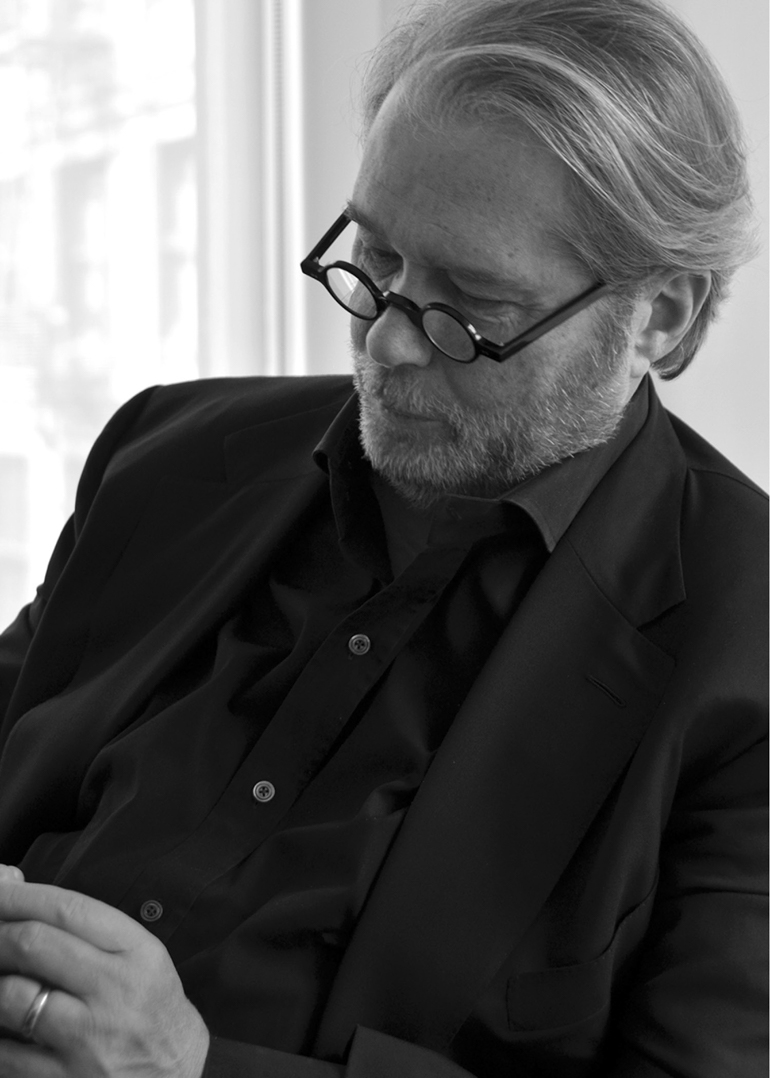 Monday's segment highlighted the work of Michael Vanderbyl, a Hall of Fame inductee, with a look at the documentary made to celebrate his induction. "Design is the strategy," Vanderbyl says in the film, noting how integral it is to his business. "I come from a point of view that everything communicates," he adds, explaining how his career evolved from his start as a graphic designer in the communications industry to creating the products, showrooms, and advertising for ESPRIT.
The episode then shifted to a live virtual chat between Allen and Vanderbyl. On working throughout the quarantine, Vanderbyl says that after discussions with his team and clients, he will often "do a sketch–the old school way—photograph it on my phone, email it to them," and the process goes on from there. Not only is Vanderbyl working on translating his visual ideas into words, one of his current projects has him designing a canned wine, the original bottle and label he developed with some peers a few years ago. When he's not working on projects for Vanderbyl Design, Vanderbyl is participating in critiques and developing projects for the California College of Arts.
Watch the Design Giants segment with Michael Vanderbyl:
5/12
Tuesday saw Allen travel once again (for the pre-filmed portion of Design Giants that is), presented in partnership with Patcraft. This time, Allen talked with Brad Zizmor and Dag Folger—2016 Hall of Fame inductees—in New York City about their company, A+I. A+I stands for "architecture plus information," and the way they have changed the thinking on what an office can look like cannot be understated. "When I see this space I think hospitality," Allen said about the rooftop lounge on top of their office. Asking clients unexpected questions like "what's your favorite hotel to stay in and why?" and "where do you mostly fight in the office?" has guided them to design countless innovative and aesthetically pleasing offices.
And now, in the time of COVID-19 and social distancing, Zizmor and Folger had plenty to say about the future of office design to Allen over a video chat. Learning about how we work away from our desks has been a "fascinating, troubling, exciting, and scary" experiment for A+I.
Folger described this time as the largest experiment in workplace history, and he hopes it will accelerate some of the strategies they have been trying to promote for years.
Watch the Design Giants segment with Brad Zizmor and Dag Folger:
5/13
To top off the week of DesignTV by SANDOW, Interior Design hosted a third Design Giants segment. Allen was joined by the men behind the Jouin Manku agency, Patrick Jouin and Sanjit Manku. The episode began with a pre-taped clip of Allen sitting down with Jouin as he took her through some products, like a pasta pot with a handle that's built to fit a spoon and consequently minimize mess. "Very often there is a critique about consumerism," Jouin says, "but we cannot stop inventing things. We have to invent things." Not just invent, but innovate—a mantra especially applicable to Jouin Manku's designs for the restaurant in the Eiffel Tower, where total product weight had to be under one kilogram.
"It's a real strange mix of emotions," Manku told Allen during their video chat about working from home and not getting to see and casually converse with his team everyday. More family time help, that and the fact that Jouin Manku's team and clients have been "unbelievably supportive" during this time. Together, the three friends went over some standout projects and people, laughing during their virtual meetup. Throughout the segment, viewers were treated to an inside look at the creative process from sketch to reality—a nod to the collaborative nature of design.
Watch the Design Giants segment with Patrick Jouin and Sanjit Manku:
Read next: DesignTV by SANDOW Programming and Schedule