DesignTV by SANDOW Week 2 in Review
The second week of Interior Design's programming on DesignTV by SANDOW began with a Design Giants interview between Cindy Allen and the three founding partners of LTL Architects. The pre-taped segment, originally made for the trio's induction into the Interior Design Hall of Fame, highlights the three partner's office, projects, and ethos when it comes to design. They want their projects to be original and "declarative," and with that boldness comes great collaborative spirit. Marc Tsurumaki speaks for his partners, identical twins Paul and David J. Lewis, when he says, "an obsession with drawing has remained as a DNA of the firm."
One of the secrets to their success is how much fun Paul, David, and Marc have together. The clip outlines the personal and professional history of the three partners, including some of Cindy's favorite projects. But with no time like the present, viewers accompany Cindy as the architects guide her through one of their latest projects, Poster House. From slanted floors to inspiration from the bare bones of the building, the innovative thinking that comes from the heads at LTL is displayed in plain sight.
The episode ends with a Zoom call that was recorded more recently. An LTL office move had to be postponed due to the pandemic, leaving the firm understandably concerned. Nonetheless, separation anxiety has largely been quelled by the various digital communication technologies available. Families from the firm even came together to host an online talent show!
Since all three partners also hold academic positions, Paul points out that the part of a studio education that involves drawing "goes pretty well with digital technologies," since students can send their work directly to the inboxes of peers and instructors for constructive feedback. And while isolation is not the same as normal city life, these men have been thinking ahead, especially in terms of the social aspect of space, and are putting community at the fore of all their ideas.
Another day, another Design Giants interview! On Tuesday, father daughter duo Tony and Alison Chi were featured in a digital interview with Interior Design Editor and Chief Cindy Allen. Alison stayed in NYC, holding down the fort as many of their offices are in the city and surrounding areas, whereas Tony couldn't exactly get home from Taipei after a months-long trip through Asia, so he joined happily the call from there.
Tony's global clients in the hospitality industry are having a mega setback. Some clients have taken the opportunity to progress further, and projects accelerated faster than before. "It's wonderful," Tony gushed, he continued, "it's all about believing in something," whether it's country, industry, or your working partner.
Alison, as the next generation, is the reigning queen of leveraging technology in a way that works from there. Having to work quickly across platforms and devices, bringing all partners and clients on board with them has been top priority. Luckily, it was a smooth process with internal workshops happening before everyone left the studio for work. "Remaining positive and staying positive is the most important for us," she said.
While this situation is temporary, Tony emphasized that the relationships they cultivate and work they produce is absolutely not. Thinking into the future of how the design world will see change post COVID-19, Alison remarked that houses are like machines, and "some people's houses aren't working for them." Her solution? Clients—new or old—brushing up on their interior design vocabulary so they can be informed and come to the consultation table knowing what their wants and needs are in a way that works for both parties. And, of course, they'll help: For the Chi's, family values extend to their partners.
David Rockwell was Wednesday's guest for Interior Design's 1on1 interview hosted by Cindy Allen. The architect and founder of the interdisciplinary and award-winning Rockwell Group joined Cindy to talk about both his day-to-day and charitable work. While it is a surreal moment that has posed new challenges to everyone, designers "exist to create possibilities" so social distancing has pushed Rockwell and his team to be resilient. Being aware of shifting priorities allows the Rockwell group to keep learning and stay in good and close contact with their partners and team members.
"A leader among leaders" is how Cindy described Rockwell's charitable work. He was most recently celebrated for his work with Meals on Wheels, a charity that gives food and personal connections to the elderly. "Long before this awful moment, there were a million causes that were looking for help… and designers are the first ones that say we're going to rally some way to create a different point of view," Rockwell shared. Having been chairman for 12 years at DIFFA, Rockwell's belief is that one should dig deep and stay dedicated to a few organization and causes to do meaningful work rather than spreading oneself and resources too thin.
While Rockwell's main claim to fame were his hospitality designs—ever heard of the W Hotel? He designed the first one—he managed to pivot his career to his personal passion and designed sets for Broadway shows! After a presentation about the connection of theater and architecture, Rockwell went on to design sets for Rocky Horror and Hairspray. The theater community is struggling right now and Rockwell points to the essential collaboration needed for theater, from lighting technicians to choreographers, as inspiration for how a design can be a piece of a bigger puzzle.
The interview ended with Rockwell tickling the ivories, as they say, playing a piece that ended up being in the documentary about Seymour Burns that Ethan Hawke produced, Seymour: An Introduction. The process of Rockwell mastering the song and working on the film was another example of collaboration and connection. Whether it's a community of designers, theater enthusiasts, or piano players, Rockwell is a devoted team player anyone would be lucky to have.
Thursday's DesignTV by SANDOW episodes were back-to-back Interior Design programming. First on the docket, Cindy interviewed Paula Wallace for the Design Giants feature. The segment began with a clip originally produced for Wallace's induction into the Interior Design Hall of Fame, when she also won an award for her leadership in the field, one example being founding the Savannah College of Art and Design (SCAD), essentially reimagining the city. The video is the best campus tour out there! Wallace, is not an artist or a designer but saw the need for students to be trained so that design could be a real career option. 40 years on, SCAD provides many opportunities across the world for students and hearing their success stories is Wallace's favorite part of the day.
The conversation moved to a video-chat interview between Cindy and Wallace that was recorded more recently. This quarter on campus is difficult and a virtual learning environment has been created for SCAD students. From classes to the beloved Sidewalk Art Festival, Wallace and the students are putting their heads and hearts together to make the most of their current digital situation. Alumni and students alike are doing their part, such as designing and producing masks, to help those on the frontlines effected by COVID-19.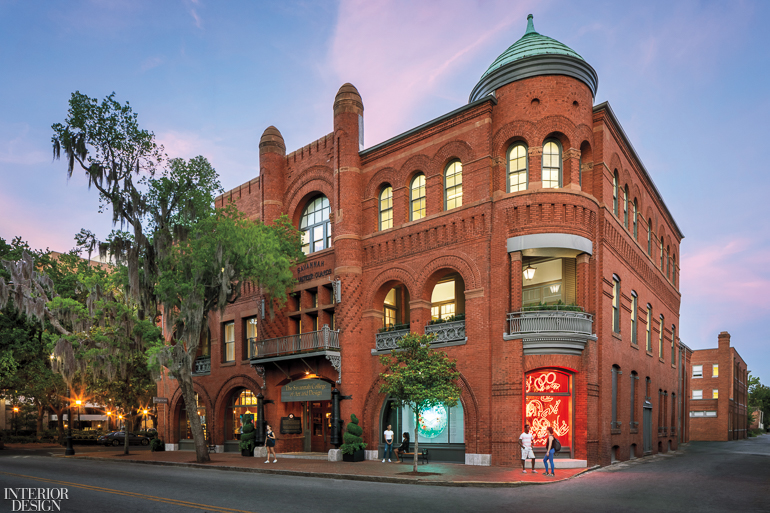 Next, Cindy interviewed John Stephens in partnership with Shaw Contract where he is the VP of marketing for a 1on1 interview. It's a tough time for the global organization but by focusing on what they can do within their community and with clients, they are establishing a new normal. Working for a company with 20,000 employees, the Shaw Contract offices in China set a precedent in leadership and support when it comes to dealing with the stresses and remote working due to the Coronavirus. Communication and self-care tips have been shared across the world within the company which has shown a gratifying community ethos.
Cindy shared a LAUNCH page that featured Shaw from Interior Design's April issue. In the new LAUNCH package, as Cindy demonstrated, hovering one's phone camera above the QR code opens up a webpage with the product featured on the print page and allows designers to customize and learn more about said material or collection, with contact information provided as well. "A great technology for today and the future," Stephens is also looking at innovative ways to connect across mediums.
In the meantime, Shaw Contract is doing whatever it takes to get their work done. That means giving small businesses more time to complete invoices, complimentary self-care sessions for their clients, and even delivering samples to home addresses. On staying inspired and creative during this time indoors, Stephens noted that "the importance and impact design has on all our lives and the optimism that that's going to continue" has helped him keep his chin up.