Double-Decker Bus Takes Design on the Road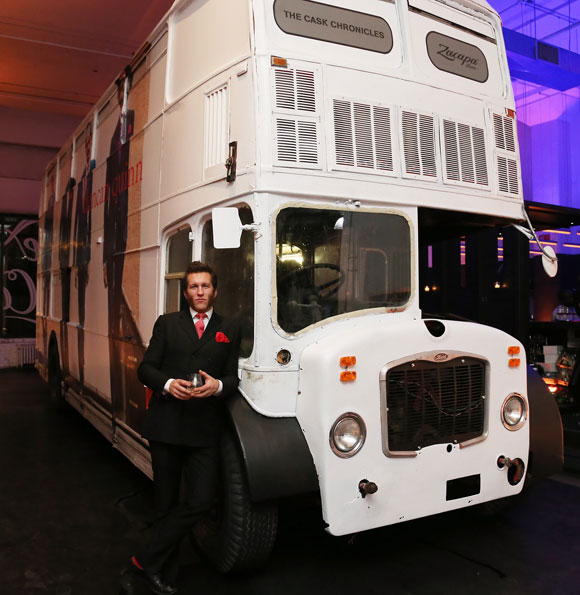 Duncan Quinn in front of his mobile boutique.



Bespoke menswear designer

Duncan Quinn

has transformed a 1966 Bristol Lodekka double-decker bus into a (slightly eccentric) mobile boutique and speakeasy. In 2009, Quinn spotted the bus gathering dust in the parking lot of

Churchill's Pub

, a bar nearby the pop-up shop he was running in Miami's design district. Quinn saw an opportunity, envisioning a vastly different future for the weathered and timeworn vehicle.
To drive Quinn's dream, the bus had to make a 1,200-mile journey—at only 35-45 miles per hour—from Miami to a garage in New York. Of course, the relic broke down halfway to the destination, and an 18-wheeler was called in to tow the behemoth into the city. Once there it went through a complete overhaul including new flooring, replaced steel sub-framing, and fresh upholstery by

Furniture Joint

.

Wine glasses comprise a chandelier on the upper level.

The result "emulated the New York location, making clients feel at home," says Quinn. The project—which only took 19 days to complete—was dubbed "The Cask Chronicles," alluding to the designer's desire to create stories for his clients. Quinn acted as head mixologist, blending fashion retail with restaurant design in only 500 square feet.

The speakeasy serves bespoke cocktails by Quinn.

The ground floor is now a Duncan Quinn boutique where customers can be fitted for bespoke clothing. The second floor hosts a cozy—16 seats to be exact—speakeasy, complete with cocktails by

Zacapa Rum

and a chandelier of hanging sipping glasses.
After its debut in New York, the bus motored back to its hometown of Miami. Beginning April 2, the bus will make its final tour in Los Angeles. From there, Quinn will announce the "final resting place" of his two-tiered experiment.



The lower-level boutique.