E-Design Surges During the COVID-19 Era
While e-design has been around for some time now, 2020 has proven just how prevalent and valuable virtual business has become. As designers are being forced to rethink the way they interact with their clients and conduct their work in a safe manner, E-design has clearly become a solution that has long-lasting business benefits. According to the National Kitchen & Bath Association's quarterly Kitchen & Bath Market Index (KBMI), 86 percent of designers have been able to make progress on new or existing projects through the pandemic by using virtual meetings, remote work and/or E-design. One-quarter of designers surveyed began engaging in E-design work as a result of COVID-19, driving the share of designers who practice E-design up to 60 percent.
Designer Arianne Bellizaire, owner and principal designer at Arianne Bellizaire Interiors, started offering E-design services five years ago, but has since expanded it to become a design concept service—a hybrid of virtual and in-person (when possible) meetings with their clients. Once that service is complete, the clients roll into a project management service.
"E-design allows us to work with clients anywhere in the world," stated Bellizaire. "Having a system in place to conduct virtual calls, streamline our measurement and drawing process, etc. really positioned us to thrive during the months that the country was locked down due to the pandemic."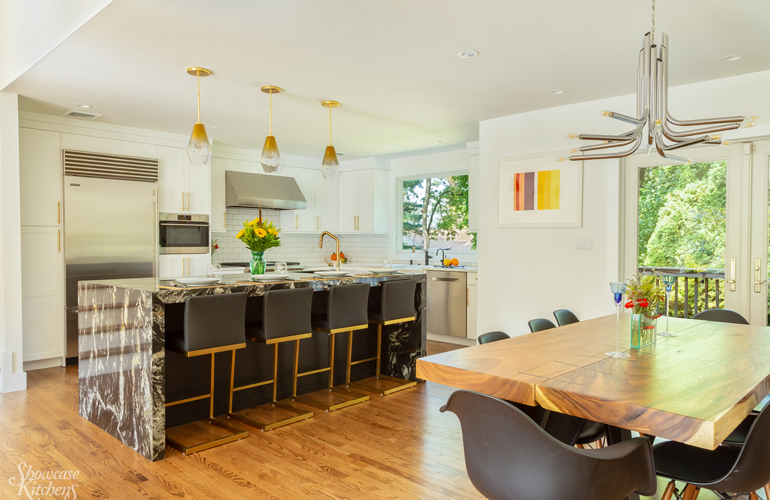 While there are many advantages to E-design, the KBMI stated one in five designers emphasize that the inability to be physically in the space they're designing is an obstacle that has hampered their progress. Technology issues are cited as another disadvantage.
"We are completely at the mercy of the tech," said John Starck, ACSD, PKBP, president & CEO of Showcase Kitchens. "The server goes down or the internet is slow, it can really throw a monkey wrench in the process."
For K&B professionals who are new to the E-design world, Bellizaire and Starck advise mapping out a clear design process listing all deliverables and deadlines; educating oneself on the various technology platforms available and what works best for all involved, and thoroughly learning the business model and structure being serviced to ensure it's priced appropriately for its value and profitability.
To learn more, watch NKBA's Brave New Business episode on e-design here.