Ed Keilhauer Dies at 75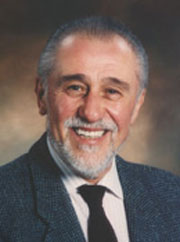 Ed Keilhauer, father of Mike, Ron, Mark, Rick, and Steven, the five founders of Canadian furniture manufacturer

Keilhauer

, died July 19th at the age of 75. A furniture designer, as well as a pioneer in the contract furnishing industry, Keilhauer created some of the first products sold by his sons at the family-owned firm.
"My father's skill and knowledge of the upholstery craft and contract furnishings continue to influence the development of Keilhauer products today," says Mike Keilhauer, president, Keilhauer. "Without his help shaping the expertise, knowledge and skills of myself and my four brothers, Keilhauer would not be the respected seating industry innovator it is today."
Ed Keilhauer had his start with saddle-making and upholstery in Europe in the late 1940s, before immigrating to Canada in 1951. There he started his own company, Fine Art Upholstering, in 1955. Collaborating with product and interior designers, his firm developed custom products for commercial interiors and performed upholstery work for several commercial furniture manufacturers in the early 1960s.
The year 1981 marks the founding of Keilhauer–and Ed Keilhauer's designs were some of the first the firm offered.
He is also survived by his wife Linda. A funeral service was held on Sunday, July 22, 2007. Donations in memory of Ed Keilhauer may be made to Southlake Regional Health Centre Foundation, 615 Davis Drive, Suite 304, Newmarket, ON L3Y 2R2 Canada.