Elvis & Kresse Teams with FLOR for Woven Scrap-Leather Rugs
Photography courtesy of Elvis & Kresse.
Eco-friendly carpet-tile manufacturer FLOR has partnered with London-based sustainable luxury brand Elvis & Kresse to create a collection of rugs made using discarded scraps of leather. The naturally tanned, vegetable-dyed leathers are sourced from fashion houses and tanneries across the United Kingdom that would otherwise throw the unwanted materials away. Instead, they're being repurposed into functional—and stylish—sustainable rugs.
Each individual piece of leather is cut using machinery into what resemble jigsaw-puzzle pieces; the finished rugs are woven by hand and come in a range of three colors of interlocking leather pieces, which include black, dark brown, and caramel. Because each individual piece comes from a different source, every rug exhibits a unique patina and texture.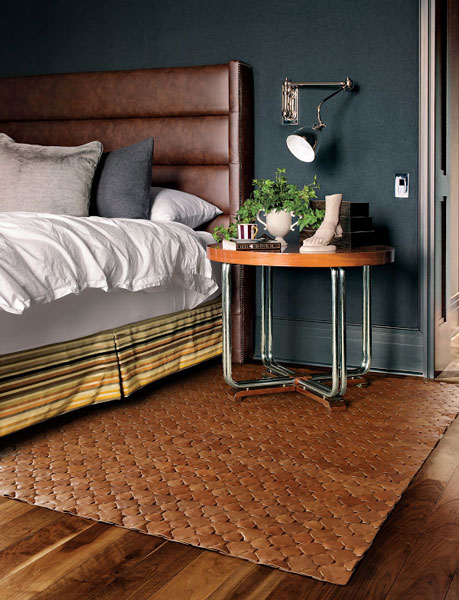 Photography courtesy of FLOR.
According to Elvis & Kresse, each year Western Europe produces more than 30,000 tons of leather scraps that could otherwise be retooled into usable pieces like the rugs it's creating with FLOR. Globally, that number climbs to 180,000 tons per year.
"The sheer volume of waste is incredible because there's only so much space available [on our planet]," says Rick Kilmer, president of FLOR. "The end-of-life story of products is critical. Waste is a product that everyone can relate to, so we wanted to figure out a new ending for leather scraps and turn them into something beautiful."
Photography courtesy of Elvis & Kresse.
Both FLOR and Elvis & Kresse have been instrumental participants within the sustainable design industry for years, with FLOR creating eco-friendly carpet tiles and Elvis & Kresse creating a grassroots market for decommissioned fire hoses by turning them into bags, accessories, and other goods.
"It's exciting to see how our FLOR stores are rallying behind this new product," Kilmer says. "It's a different material [than what we're used to selling], and we're beginning to hear new conversations about the sustainability story. It's compelling and creates an optimistic conversation."
Photography courtesy of FLOR.