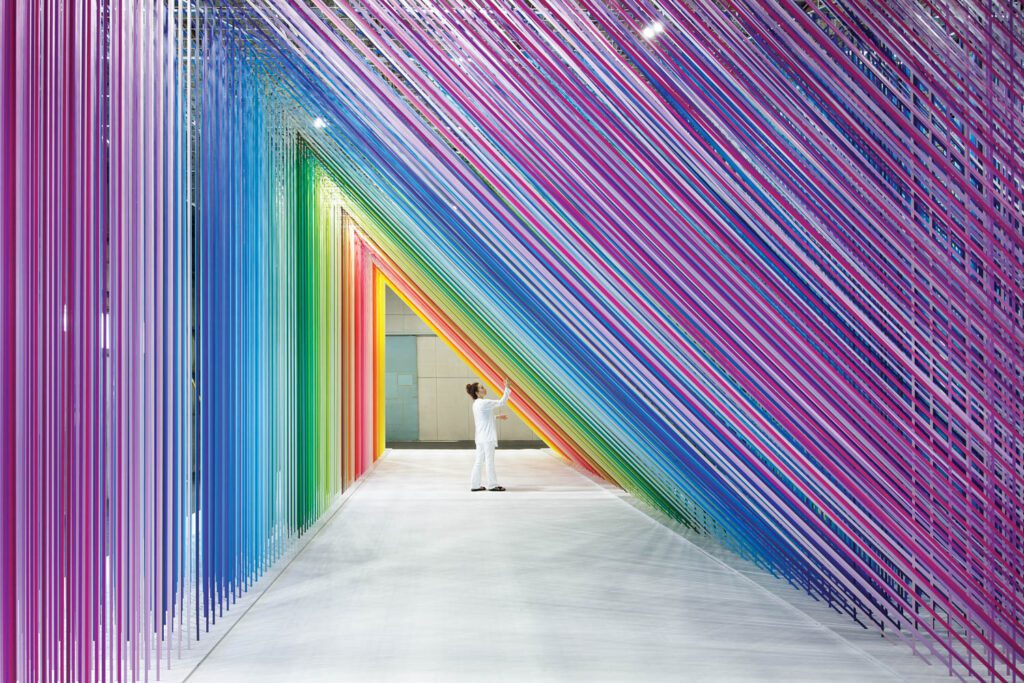 Emmanuelle Moureaux Unveils New Installation for a Japanese Masking Tape Manufacturer
French-born, Tokyo-based designer Emmanuelle Moureaux began her long-running 100 colors series of installations in 2013 to investigate ways of dividing space with different shades, a concept she dubs shikiri. The latest iteration, by her namesake firm Emmanuelle Moureaux Architecture + Design, is 100 Colors no.35 for Japanese masking tape manufacturer MT. At the company's factory in Kurashiki, 6,000 slender strips of washi tape, 17 miles total, are thoughtfully spaced out in rows hung vertically and diagonally, forming a gradated rainbow moiré tunnel through which visitors can stroll and immerse themselves in a joyous setting of hue on hue on hue.
Moureaux's work is inspired by her first moments in Tokyo, where she moved in 1996 and where "store signs, flying electrical cables, and flashes of blue sky framed by various volumes of buildings created three-dimensional 'layers' in the city, building up a complex depth and intensity in the space," she says. Now, Moureaux channels that intangible energy into mesmeric site-specific art.