Eric Lloyd Wright Joins Three Squared As Lead Architect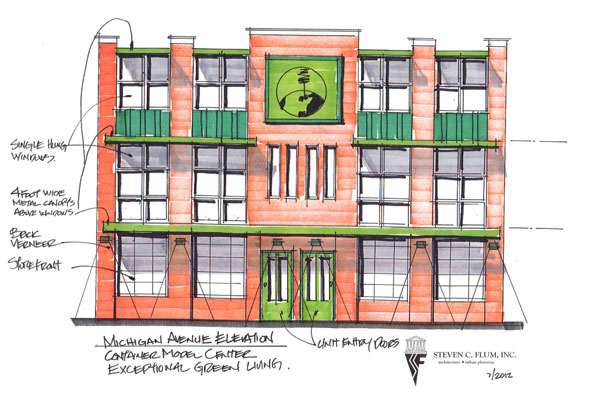 A drawing of Three Squared's Detroit Model Center.




Detroit-based

Three Squared

, a firm notable for its use of shipping containers to create sustainable architecture, has announced the appointment of Eric Lloyd Wright as lead architect. Wright served as apprentice to his grandfather, Frank Lloyd Wright, for almost 10 years, working as draftsman and construction supervisor for iconic architecture like New York's

Solomon R. Guggenheim Museum

. He then founded

Eric Lloyd Wright Architects and Planners

, acting as architect for the restoration of a number of his grandfather's major achievements like the Storer and Ennis residences in Los Angeles.


Wright now joins Three Squared as the firm readies over $1 billion in projects slated for completion over the next three years, including its flagship Rosa Parks condominium complex. The 26,000-square-foot complex utilizes 93 shipping containers in a total of twenty units on four stories. Three Squared estimates that the complex's ductless heating and air systems and tankless water heaters will reduce each unit's energy costs by up to 80 percent.

Wright says the firm will go far beyond installations like Brooklyn's DeKalb Market, which positioned containers in urban hubs to form temporary food courts and shopping plazas. "We will be striving for beauty and harmony with the site, neighborhood, and the material pallet on every project," he says. "Our buildings will not feel like container boxes."

The Detroit Model Center, for example, now slated for completion this February, will be "a building that works with nature, is sustainable, and adds beauty to the site where it is placed. Beauty is one of the most important aspects of sustainability, you see: whatever we see as beautiful, we love. What we love, we care for. What we care for endures."

And, he says, "because we use recycled storage containers as our primary building blocks, our buildings will also be inherently strong and durable, while proving comfort and affordable luxury. I am excited to bring this technology and building methodology to mixed use urban environments where beautiful affordable living conditions are direly needed."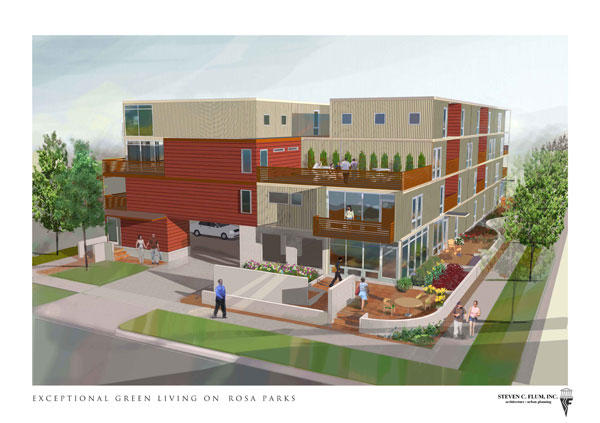 A rendering of the Rosa Parks complex.