Eventscape Crafts Graceful Geometry Overhead
The first time in an unfamiliar room is a chance to let the eyes rove, vacillating between focus on the small details and the composition of the whole space. But how many times has a ceiling made anyone stop for more than mere milliseconds, or even let out a small gasp? If it's a ceiling feature built by Eventscape, the answer is probably more than once.
The Toronto-based custom fabrication company has been in the business for over 20 years, with examples of their gravity-defying work across the globe. They've garnered multiple ARIDO and ARE awards for their graceful and dynamic projects. They've partnered with big-name architectural firms like Gensler and Diamond Schmitt, as well as internationally renowned artists like Jason Bruges and Jaakko Pernu.
"Ceilings are just a small portion of what we do," explains Steve Haniewicz, executive project director and Eventscape's first employee almost 20 years ago. "There's no limitation to what we can create with regards to scale, form, material, performance…and we'll do it anywhere in the world!"
Creating special projects for ceilings creates unique challenges. "When we do ceiling work, we're competing with gravity," says Haniewicz. "We build a suspension system for each project, and because all of them are custom, and each venue is different, that system has to be different each time. More often than not we discover that there are weight limitations with the particular ceiling we are working on, or other essential building systems, like electrical and mechanical, in the way. "
Despite these challenges, it's ceiling work where the firm can really stand out. Two recent examples at the RBC Convention Center in Winnipeg and Saks Fifth Avenue's New York flagship store showcase delicate geometry that is at once bold in its simplicity and expert in its design.
The Winnipeg project, a joint venture with LM and Number Ten Architects, is a 30,000-square-foot custom design for the main conference room. Designed by LMN Architects and inspired by ice crystals, Eventscape engineered, fabricated, and installed 324 identical steel modules that form a sophisticated, tessellated monohedral pattern of snow-white "crystals" against a matte black ceiling. Eighty-one custom fabricated lights bring vibrant color and brightness to the convention center during the evening, and the floor-to-ceiling windows carry that dynamism out to the street level.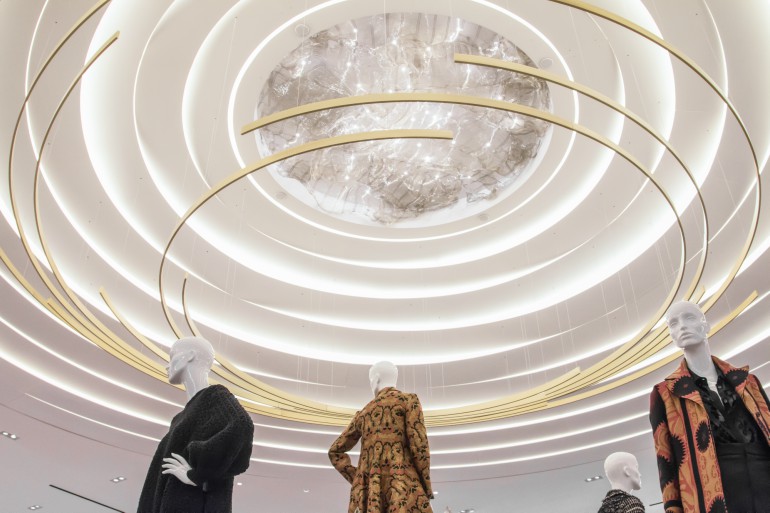 The Saks Fifth Avenue project has a smaller footprint, but its structure is no less graceful. Measuring 30 feet in diameter, Eventscape was contracted to engineer, build, and install a custom dome feature that would not only lighten the room, but communicate the aesthetic and brand character of Saks. The project comprises concentric laser-cut aluminum arcs inspired by spiral patterns cut from paper, making it seem as though it was being pulled from the finished ceiling. Concealed LED tape lights provide bright, but not blinding illumination. Delicate steel accent rings with a bronze-plated finish hang below.
With Eventscape on board, architects and interior designers are able to turn the merely functional into art with their eclectic and adept designs. When the work is done, clients can rest assured that roving eyes will linger a little longer on their ceilings. They may even hear a small gasp.