Farrow & Ball Introduces 9 New Paint Colors
British paint manufacturer Farrow & Ball has expanded its color card with nine new shades. Carefully chosen to balance Farrow & Ball's curated core palette of 132 colors, the new additions will replace existing shades to preserve that number, a mainstay of the brand. Like the existing shades, the new collection will be low-odor, eco-friendly, and available in a range of high-performance finishes. The new colors will launch globally at the London Design Festival, which wraps on September 23. Browse the new introductions below.
Farrow & Ball's School House White No.291
The new group's lightest color, School House White is a soft off-white shade reminiscent of the color used in old school houses.
Farrow & Ball's Treron No. 292
Treron is a dark green version of Farrow & Ball's classic Pigeon—hence being named after the green variety of the same species. Traditional in feel, it complements modern residences that make use of natural materials.
Farrow & Ball's Jitney No. 293
Jitney, though muted, is meant to evoke lazy days by the sea, hence being named after the bus that whisks New Yorkers to the similarly colored sandy beaches of the Hamptons.
Farrow & Ball's Paean Black No. 294
This Georgian-inspired red-based black forges a sense of intimacy in contemporary residences while conjuring the shade of old leather hymnals, hence being named after a song of praise.
Farrow & Ball's Sulking Room Pink No. 295
A muted rose, Sulking Room Pink's soft, powdery feel evokes colors often used in boudoirs, a room named after the French word bouder (to sulk).
Farrow & Ball's Rangwali No. 296
Named after the bright powder thrown during the Holi festival of colors in India, Rangwali has an absorbing depth of color achieved by adding a small dose of black pigment.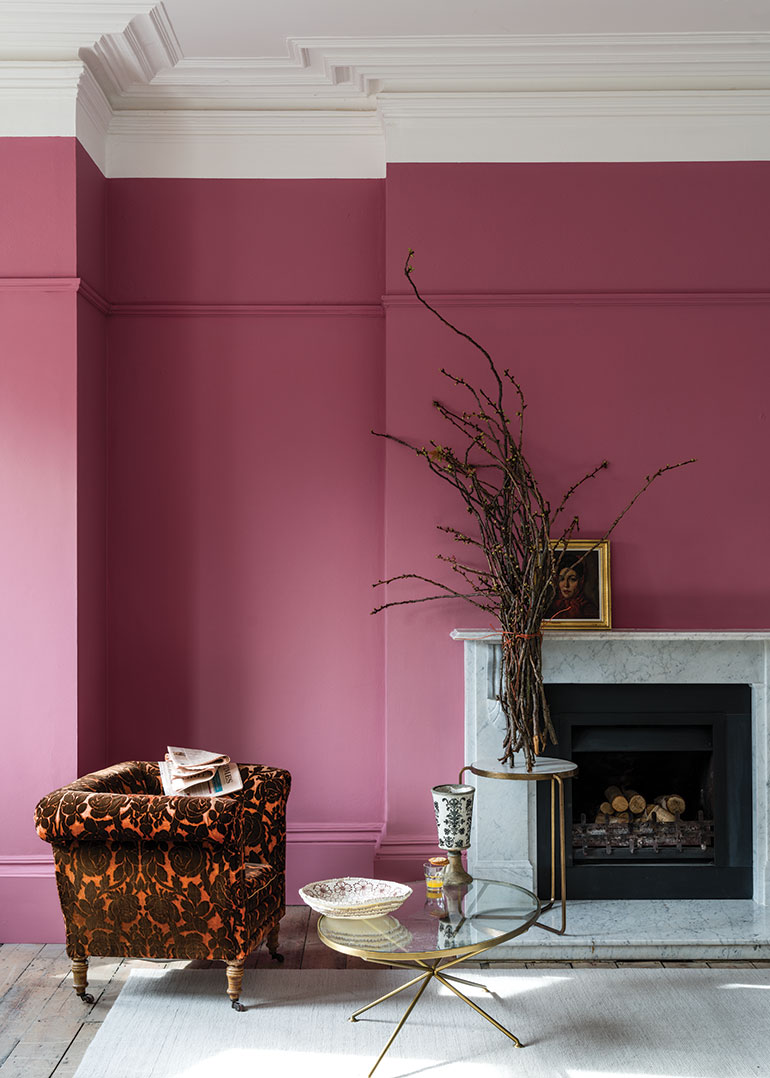 Farrow & Ball's Preference Red No. 297
Deep and rich, Preference Red suits modern dwellings and is named after Farrow & Ball's original trade name, Preference Paints.
Bancha No. 298
A darker version of the archived color Olive, Bancha's sober tone channels serenity while evoking mid-century modern.
Farrow & Ball's De Nimes No. 299
Inspired by the cloth of everyday workwear made in the French City of Nimes, this stately light blue is rooted in a regency palette.