Fast Take With… Markus Benesch at Heimtextil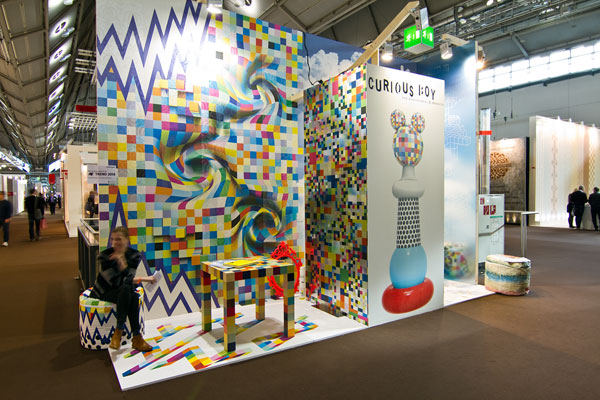 Markus Benesch in his stand at Heimtextil. Photography by Kenn Busch.
Here's a question that seems to burn its way into many conversations about interior finishes and designs:

Is this for commercial or residential use?

"I don't think that way," responds designer Markus Benesch. Benesch is founder of

Markus Benesch Creates

(architecture, products and surfaces) and Curious Boy (fine wallcoverings and products). His digitally surreal concepts could be found throughout

Heimtextil

in Frankfurt earlier this month, thanks to his design management of the HP stand and his design contributions to

Rasch

wallcovering.
"What's important to me is that my work is innovative," he says. "My two criteria are, it has to be new, and I don't want to be a bore. I want my audience to feel enriched when they see my products or a space I've designed."



One of Benesch's designs for Rasch Wallpaper, inspired by zippers. Photography by Kenn Busch.
"Most of my work finds its biggest success in the contract world, because I like to be eye-catching. Maybe the duty of contract design—restaurants, hotels, lobbies, waiting rooms—is to create a special environment for people, something with soul, passion, energy, not something everybody's used to seeing everywhere else. In most of these places, people are just passing through, not spending the whole day, so it's okay to be a little over the top."
Benesch grew up in Germany, but was drawn to Milan from an early age.
"I started going to German furniture fairs when I was 13, and year after year the changes were too small. One year it's grey; the next year it's a lighter grey, the year after that it's a darker grey—then it's a grey with a beige. Seriously? I thought maybe they were making fun of me; I'd paid 40 bucks to get in, and somehow I was still missing 'the show.'"
Benesch made his way to the Milan fair at the tender age of 15, and was inspired. "This felt more like home to me than Germany. They're much more open to experimentation."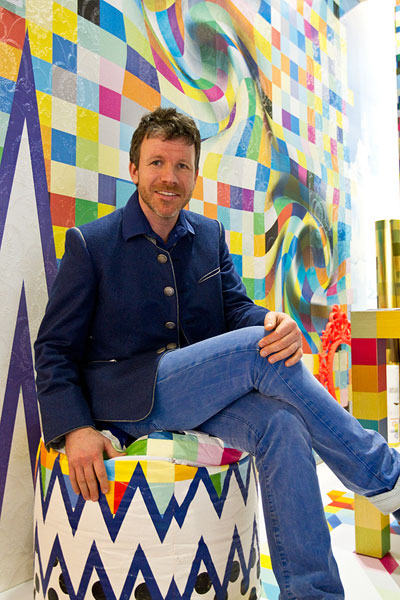 Markus Benesch and his stand at the Heimtextil Fair.



By 2005, he had been invited to work with

Abet Laminati

, and his collection of furniture, objects, stools, carpet, wallpaper and pajamas for Memphis Gallery was featured at the Galleria Post Design during Milan design week.
"When I started with wallpaper I approached the company Rasch. The guys I talked to there said, 'No, that's not wallpaper.' A few years later Mr. Rasch himself saw my work and said 'I have to have this.'" Benesch says he began with digital wallpaper to save money, and many of his designs are still digitally produced.
"Right now I'm very interested in the fusion between digital and natural, like digital printing on veneer, or stucco. But I always start designing with pen and paper, not with a computer. The computer is not the idea. The idea is the idea, and the computer is just a tool, like a hammer. Sometimes we use it, sometimes we don't, but it's not the first thing."



One of Benesch's designs for Rasch Wallpaper, inspired by strings and thread. Photography by Kenn Busch.