Fast Take with Space Matrix Design Consultants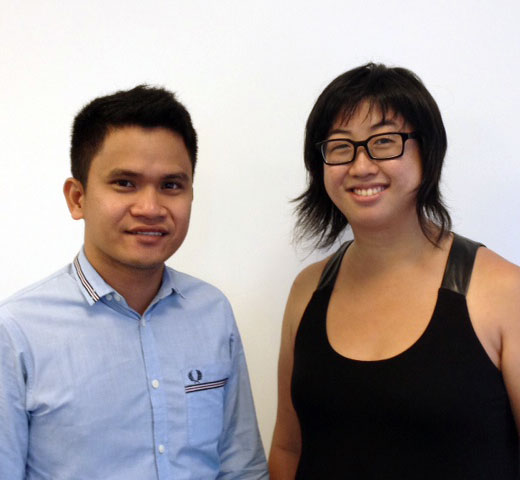 Archie Cruda and Vanessa Lin of Space Matrix Design Consultants.



Singapore-based

Space Matrix Design Consultants

is one of the largest and fastest-growing, multidisciplinary design firms in Asia. Founded  in 2001, the firms now has over 500 employees working in 12 offices across Asia Pacific, and they are

currently ranked as

Interior Design

Giant #28

. During the firm's recent visit to New York,

Interior Design

sat down with the firm's designers Archie Cruda and Vanessa Lin to get their Fast Take on designing for a global clientele.

Interior Design: What design trends do you see on the horizon?

Archie Cruda: Space planning and open space environments. Offices are beginning to incorporate collaborative workspaces instead of the traditional workstations.
Vanessa Lin: Vibrant colors in the corporate environment, especially in Singapore, are becoming more popular.

ID: What is your main source of inspiration?

AC: Delivering quality designs to our clients and understanding their vision.
VL: Staying true to our clients' brands and maintaining individualism.

ID: What completed or current project are you most excited and proud of?

AC: The head office of law firm Clifford Chance. Here we created a colorful and collaborative work environment, which was very different from the other offices. We did research and traveled to their offices in different countries in order to get a feel for their traditional work environments. We pushed the boundaries by introducing vibrant colors to the office palette instead of the traditional palette used in many law offices. This helped give them modern, more up-to-date look.
VL: Another project was Cisco. Instead of traditional workstations we created an open workspace where there are no assigned seats. You know where your department sits using the Virtual Hello device, which is a monitor that tells you who has plugged into what stations and when they check out. This way you know what neighborhood your department is in. Connected to the Virtual Hello is the Community Wall where news and awards are displayed. For meetings and those who want privacy there is an APR (audio privacy room) separate from the open workspace.

ID: What advice would you give a young, just starting designer?

AC: I would say, be open-minded and be able to adapt to the needs of your client. Keep your identity as well as the clients identity in mind.
VL: Don't be afraid to push boundaries but pull back a little if necessary.

ID: What—in your opinion—is the biggest challenge designers face today?

VL: A big challenge is trying to be more adaptive and getting your client to be more open minded and believe in your ideas.
AC: Your client already believes in you when they choose you but you have to get them to be open to your ideas that may go against traditional corporate ways.