Gensler Named AIA New York State Firm of the Year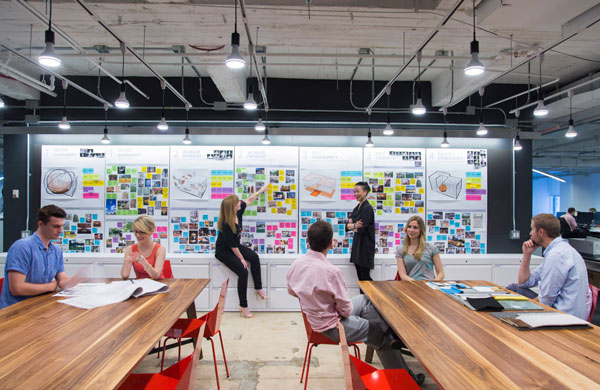 Gensler's New York office. Photo by Chris Leonard.




Last week, the

American Institute of Architects (AIA)

named supersize design firm

Gensler

as the 2014 New York State Firm of the Year at the AIA New York State Design Conference gala in Saratoga Springs, New York. Gensler's recent office design for Morrison & Foerster in New York was featured on the September cover of

Interior Design

in

"The Mojo at Mofo."


"The purpose of the award, established only ten years ago, is to recognize notable achievements in design, community service, education, and service to the profession and the AIA by an architectural firm within the State," said Rick Bell, AIA New York executive director, in a statement released by the AIA. "The AIA New York Chapter was proud to nominate Gensler because of the high quality of its projects around the world, its accomplishments in setting new standards for corporate social responsibility and civic engagement, and its service in creating and animating the Center for Architecture."

"Gensler is well-known for the wide-scale, wide-range, and extensive research it does and resulting innovation that serves its goal of 'creating a better world' through recognized, excellent design," added Lance Jay Brown, president of AIA New York.

Currently

ranked as #1

in

Interior Design's

Top 100 Giant research, Gensler's New York office was established in 1979 and now comprises 500 professionals specializing in master planning, strategic consulting, entertainment, hospitality, retail, sports, transportation, and workplace design.

The AIA New York State Firm of the Year Award recognizes Gensler's impact on the industry and also the community, including its commitment within New York via major contributions to Rebuilding Together NYC, New York Center for Sustainable Energy and St. Francis Food Pantries and Shelters as well as the 250 other organization partnerships worldwide.

"At Gensler we continually strive to provide best-in-class service and counsel to our clients; it is an honor to be recognized with this prestigious award from AIA," said Joseph Brancato, AIA, regional managing principal at Gensler, in a statement released by the AIA. "Without the trust and collaboration of our clients, and the talented group of architects and designers committed to client service and to innovation, this success would not be possible."