George Yabu and Glenn Pushelberg: 2002 Hall of Fame Inductees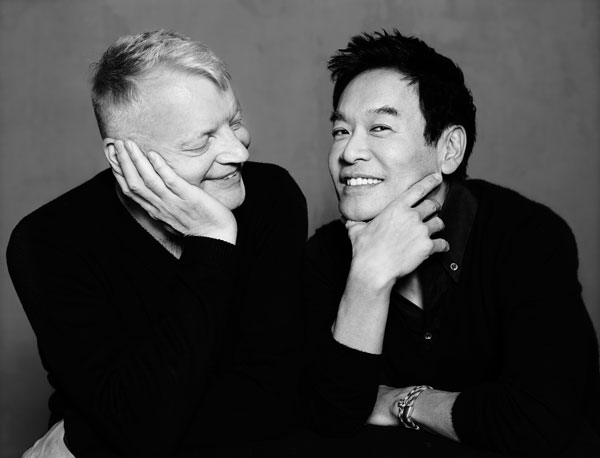 Partners Glenn Pushelberg and George Yabu, shot by Thomas Whiteside
Walking a fine line between edgy and elegant, Yabu Pushelberg artfully reconciles opposites. "All our projects, even when executed in a modern style, have a definite twist, so they don't read as cliche," says George Yabu, who founded the Toronto firm with Glenn Pushelberg in 1980. As shown in "Uptown Girl" (September 2000, page 262), the sweeping spiral staircase at their New York boutique for Carolina Herrera melds the Guggenheim Museum's elemental geometry and Grand Hotel's ornate sets. At New York restaurant Blue Fin, featured in "On the Town" (September, page 230), cowhide-covered walls and glowing resin bar tables balance icy cool and cozy chic. "We make a conscious effort to have no singular style," says Pushelberg. "We'd get really bored repeating ourselves."
The duo's design compatibility is grounded in a shared commitment to experimenting with materials, processes, and ideas. Each project becomes a design laboratory, a work in progress. "In our minds, nothing is ever truly finished," says Yabu. The firm is equally committed to collaborating with independent artisans who bridge the gap between art and craft. "We like to explore the permutations and possibilities of what's outside the white box," Yabu continues. At Blue Fin, for instance, he and Pushelberg decided against using a plain plaster wall; instead, they hired Canadian company Moss & Lam to create a dramatic, sculptural wall treatment with the material.
This innovative approach has garnered numerous accolades for Yabu Pushelberg. Most notably, these include a coveted James Beard Foundation design award for Toronto's Monsoon Restaurant and Lounge, published as "Dining With Discretion" (June 1998, page 124). Just last month, Blue Fin won the International Hotel/Motel & Restaurant Show's Gold Key Award for Excellence in Hospitality Design.
Yabu Pushelberg is particularly adept at hot retail and hospitality destinations that patrons return to again and again. For proof that this firm has mastered the formula for drawing repeat business and generating a buzz, just drop by New York department store Bergdorf Goodman's basement New Level of Beauty, presented in "Let Beauty Awake" (April 2000, page 190). And the partners have continued to attract the attention of big-name clients. Among recent projects are the new Four Seasons hotel in Tokyo, a redesign of Neiman Marcus in Las Vegas, and the much-competed-for renovation of Tiffany & Co.'s New York flagship. In addition, when time has permitted over the past decade, the duo has designed furniture for the Canadian manufacturer ICF Group .
Having opened an office in New York this year, the partners still maintain a Canadian connection that dates to their days as design students at Ryerson Polytechnic in Toronto. Both launched their careers with private practices: Yabu in residential design and Pushelberg in retail, each working from his respective home. When they fortuitously bumped into each other later, they decided to find studio space together and share the cost. Little did they know that they'd end up assisting each other on various projects and subsequently formalizing the simpatico arrangement. "We've never had an argument in 21 years," Pushelberg says, then waits a beat. "Just kidding!"
Headquartered in New York, there is also a location in Canada at 55 Booth Avenue, Toronto, Ontario M4M 2M3. 416-778-9779 phone 416-778-9747.