Girl Power: Built By Women New York City Heats Up
A view of 200 Eleventh Avenue in New York, designed by Selldorf Architects. Photo by Nancy Nguyen/Beverly Willis Architecture Foundation.
The Beverly Willis Architecture Foundation (BWAF) is now accepting nominations for its new initiative, Built By Women New York City (BxW NYC) . Industry members are invited to submit contemporary or historic projects, including their own, in which a woman was "directly responsible for leading the design (architecture, engineering, or landscape) or construction." In order to be considered, the structures or environments must be located in New York City and should be completed or have broken ground. Nominations will be accepted online until October 31, and the finalists will be announced in late November.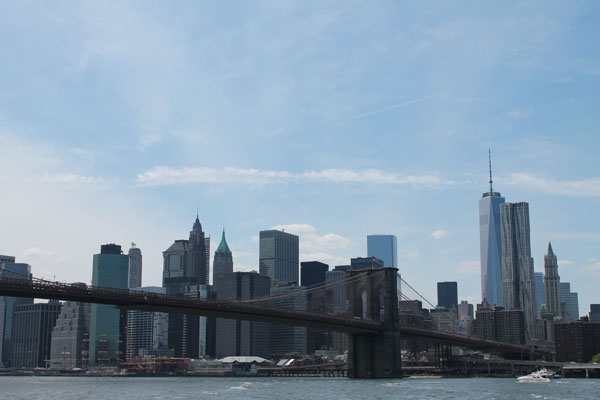 NYC skyline with Brooklyn Bridge, a project by Emily Warren Roebling, one of the city's first female engineers. Photo by Nancy Nguyen/Beverly Willis Architecture Foundation.
The 100 finalists will be chosen by an impressive panel of jurors including Deborah Berke, principal, Deborah Berke Partners; Joan Blumenfeld, principal and global interior design director, Perkins + Will; Aine Brazil, managing principal, Thornton Tomasetti; Fiona Cousins, principal, ARUP; Cheryl McKissack Daniel, president & CEO, McKissack & McKissack; Andrea Leers, principal, Leers Weinzapfel Associates; Audrey Matlock, principal, Audrey Matlock Architects; Laura Starr, partner, Starr Whitehouse Landscape Architects and Planners.
BWAF plans to spotlight the selected projects throughout the coming year with maps, walking tours, educational materials, and local events. "[The program] will help to energize and inspire young women who may be considering entering the construction industry," says juror Joan Blumenfeld. "They will become aware of the substantial contributions that women have made, as well as the progress in integrating women as equal and valued partners in the building process." And for female professionals outside the Big Apple, Blumenfeld says BWAF is interested in expanding the program to other cities in the future.