Google Taps Heatherwick Studio and BIG for Next HQ
Google has named

Heatherwick Studio

and

Bjarke Ingels Group

(BIG) as the two architecture firms designing its new headquarters in Mountain View, California. In a

statement

released last week by David Radcliffe, vice president of real estate and workplace services at Google, Radcliffe said that the firms have submitted the 3.4-million-square-foot plan to the Mountain View City Council and are awaiting approval. If given the green light, the project will redevelop four existing sites on the Google campus (aka the Googleplex), and will include a "series of canopy-like buildings," cafes, shops, green spaces, and pedestrian pathways that will weave in and out of the buildings.



Google's proposed Charleston South building will feature a translucent canopy with views of outdoor pedestrian pathways. Image courtesy of Bjarke Ingels and Heatherwick Studio.



Although both firms are remaining tight-lipped, from Radcliffe's statement we can deduce that the project will focus on community and sustainability. He says: "This project is about much more than just office space; it's about doing more with the local community as well. So we're adding lots of bike paths and retail opportunities, like restaurants, for local businesses. We also hope to bring new life to the unique local environment, from enhancing burrowing owl habitats to widening creek beds. And we're committed to do everything we can to save energy—our recent agreement to offset our energy consumption in North Bayshore with renewable energy includes the development of this proposal."

British firm Heatherwick Studio's design credits include the Olympic Cauldron for the 2012 Olympic Games and the Bombay Sapphire Distillery. Danish firm BIG's past projects include the Denmark Pavilion and 8 House.



The entry lobby of the proposed Landings building. Image courtesy of Bjarke Ingels Group and Heatherwick Studio.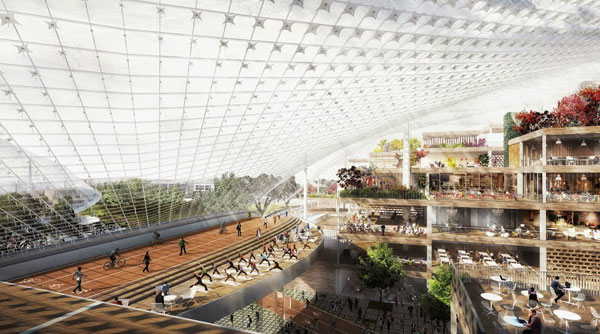 The exterior pedestrian paths will meander through the proposed Charleston South building. Image courtesy of Bjarke Ingels Group and Heatherwick Studio.