Grohe and Designers Question Future of Bathroom Design
Left: Grohe's showroom in New York. Right: Jaime and Ghislaine Viñas flanking their daughters in front the installation "A Drop in the Bucket" by Ghislaine Viñas.
"The bathroom is one of the last rooms of sanctuary left in the house," stated Paul Flowers, head of design for Grohe , as he opened a discussion at the manufacturer's showroom in New York on Tuesday night. And though not everyone will agree with such a strong claim about respite within the home, most will say that bathrooms are still, ahem, a private matter. But that doesn't mean that bathroom design should be discussed in hushed tones and whispers. Moderated by journalist Melissa Feldman, Flowers discussed current and future trends in bathroom design alongside Ghislaine Viñas of Ghislaine Viñas Interior Design and James and Hayes Slade of Slade Architecture .
The designers honed in on two main themes: the rise of technology and customization. The four unanimously agreed that technology has come to saturate all parts of our life, to the point that we cannot escape it even in the bathroom. Smart features are constantly being incorporated into the modern bathroom. Hayes Slade, however, pointed out that "technology also allows us to more readily customize spaces." Individual, tailored rooms are increasingly popular. People no longer simply want a standard bathroom; they want something that is unique to their needs and eccentricities.
In addition to the talk, the two firms each conceived a bathroom installation for Grohe, constructed by Situ Studio . The Slades collaborated with their daughter, Ana Slade, to make a multimedia installation with a pulsating video and mirrors. Viñas created "A Drop in the Bucket," inspired by the luxury of clean water. As people approached her installation, Viñas reminded them, "It's an incredible luxury to have water and in such quantities—to turn on the tap or flush the toilet. These are simple things that many do not have at all."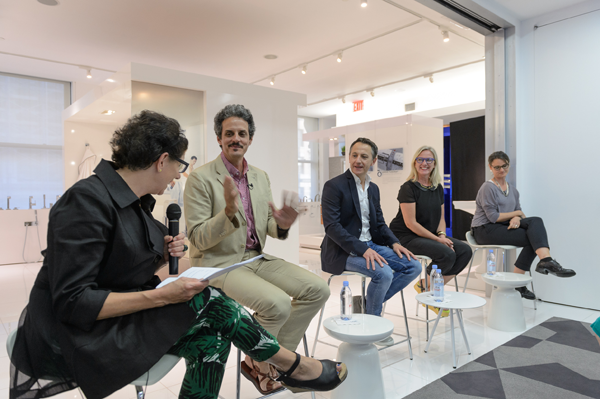 Moderator Melissa Feldman and panelists James Slade, Paul Flowers of Grohe, Ghislaine Viñas, and Hayes Slade.