Hall of Fame Honoree Marcel Wanders Celebrates Humanity with Artistic Freedom and Whimsy
He's been called an enfant terrible and a provocateur. The New York Times pronounced him the "Lady Gaga of the design world." But the iconoclastic and sometimes controversial Dutch designer Marcel Wanders has always considered himself in much softer terms. "A designer for a new age." A preacher of a "contemporary re­naissance of humanism."
"A lot of people thought I was nuts," Wanders says, recalling his decision to quit Rotterdam and the prevailing design philosophy of the 1990's—he found it suffocatingly rational, cold, and ahistorical—to pursue a kinder, gentler vision of design in Amsterdam. "I was looking to make work that would connect my daughter to my mother," the 55-year-old designer and entrepreneur explains of his desire to create a visionary, future-minded portfolio that still respects and references the past.
Wanders's esthetic conversion started when his then-girlfriend was diagnosed with breast cancer, and the couple turned to alternative medicine and spirituality. "It became difficult to find a common ground between design and what I believed life is about," Wanders states. "I hit on a very clear idea: to do work that celebrates humanity, to build a philosophy and a design vocabulary that was more near to my heart." In 1996 he made the move to Amsterdam. "It's a city of poetry, love, and freedom, of creative thinking," he notes. "I needed surroundings that were sweeter, more lovable, more nurturing."
The change paid off. Wanders has flourished in Amsterdam over the past 22 years, becoming one of the most prolific designers of his generation. He and his staff, which now numbers 60, have brought to life his joyous, optimistic, sometimes quirky, often fantastical, visual style in more than 1,900 designs. Wanders has worked with some of Europe's most important design houses—Alessi, Cappellini, Poliform, and Flos, to name a few—as well such luxury brands as Christofle, Louis Vuitton, and Baccarat, Dutch airline KLM, Puma, and dozens of other household names. His prodigious output runs the gamut, from the obvious—furniture, lighting, tabletop—to the not-so-obvious: luggage, eyeglasses, and makeup, even air-pollution masks. And that's not counting his contributions to Moooi, the design company Wanders co-founded in 2001, where, as creative director and product designer, he oversees a staff of 85. Moooi manufactures and sells furniture designs by Wanders as well as by his important peers, including Maarten Baas, Jurgen Bey, and Piet Boon.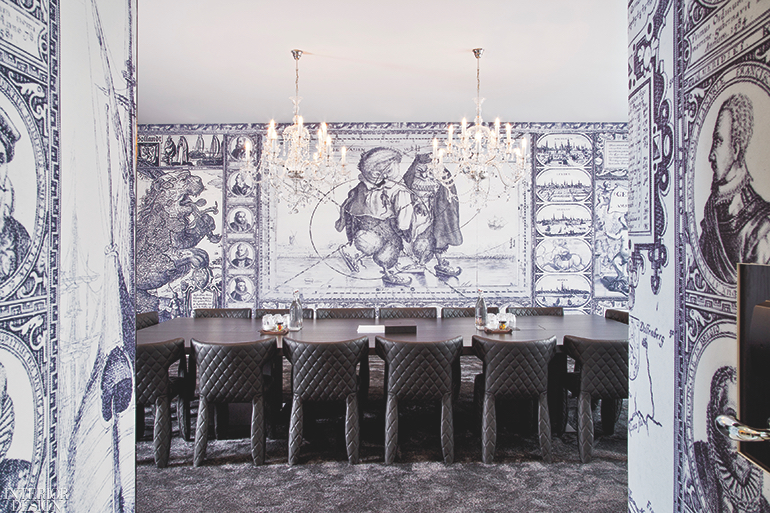 In the early years, Wanders never thought much about interiors; industrial design was firmly his calling. But when he got the itch to create spaces, in the early 2000's, four major commissions quickly came his way: the Rotterdam restaurant Blits, the Lute Suites inn near Amsterdam, a London flagship for Mandarina Duck, and a VIP lounge for the Dutch pavilion at Expo 2000 in Hanover, Germany. Since then, he has crafted memorable interiors for numerous shops, eateries, and, especially, hotels, the Andaz Amsterdam Prinsengracht and Mondrian properties in Miami Beach and Doha, Qatar, among them. Residential interiors, however, remain a precious commodity. "It's hard for us to do a private house, because it takes a lot of time to do what we do," he says. "We work, work, work, to get everything right." Still, the studio has done remarkable residences in Mallorca, Taipei, and Jakarta, as well a pair of apartment towers called Oh in Quito, Ecuador, for British property developer Yoo. Wanders is also conceiving Eden, a line of prefab homes for Revolution Precrafted that are, for him, the perfect synthesis of resi­dential and product design.
Looking back on his decades of work, Wanders is pleased with his accomplishments, even though, in true Dutch style, he's hesitant to toot his own horn. "Sometimes I allow myself to feel proud that I've done so much and been part of many movements," he says. "I've pushed. I've pulled. I've done a ton of work." Still, there's plenty more he'd like to do. "To create an opera, to design a mosque, and to set up a ceramics workshop purely for myself, to make beautiful, little objects." As if he hasn't already given the world so many of those.