A Tale of Two Cities—and Two Carpet Patterns by Mannington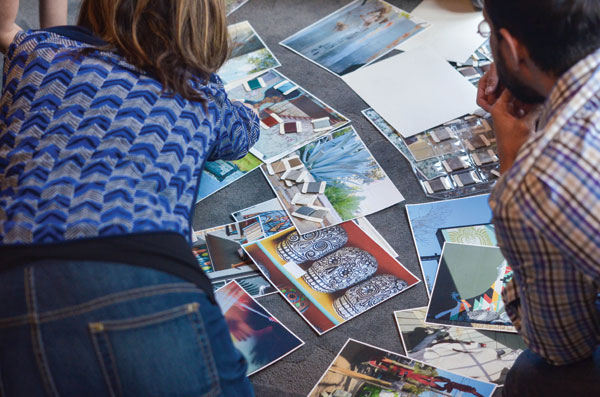 Sponsored by Mannington
Two new products from Mannington tell the story of how people—designers, architects, students, artists, you, me—stand behind the inspiration and artistry of the very best products in our industry.
For Urban Patina modular carpet, Mannington's product design group teamed up with six interior designers and architects in perfectly weird Austin, Texas, for a 24-hour design blitz. What emerged from the team's marathon of brainstorming and sketching was a unique layering of texture and color—complex, weathered, and anything but ordinary. A visual snapshot of the city that inspired it. Can't you tell?
Next, the manufacturer partnered with 15 students in the seventh grade at the Ron Clark Academy in downtown Atlanta. It's a one-of-a-kind school that raises the bar for academic rigor and innovation, bringing students together with dynamic teachers to create a vibrant, imaginative learning environment. During construction of the school's new campus, Mannington invited the students to find inspiration in their surroundings, then designed new patterns personalized for their classrooms. The patterns are now production—introducing Urban Grid .
Both Urban Patina and Urban Grid are constructed of a textured patterned loop in ECONYL®, the company's 100-percent regenerated nylon that is solution-dyed for the ultimate in durability. The carpet tiles are 18 by 36 inches.
Wherever Mannington goes, it is the people they meet who drive their designs.
For more product information, call 800-241-2262.
Urban Patina and Urban Grid
? Construction: Textured Patterned Loop
? Face fiber: ECONYL® 100% regenerated Type 6 Nylon
? Dye method: solution
? Gauge: 5/64 (50.39 per 10 cm)
? Stitches per inch: 10.66 (41.97 per 10 cm)
? Pile thickness: 0.104″
? Density: 5,538 (205.78 Kg/m3)
? Secondary backing: UltraBac® RE, Integra® HP
? Width: 12′ 6″ (3.81 cm)
? Pattern repeat: Random Pattern Match