Hi-Tech NODE+chroma Device Identifies Color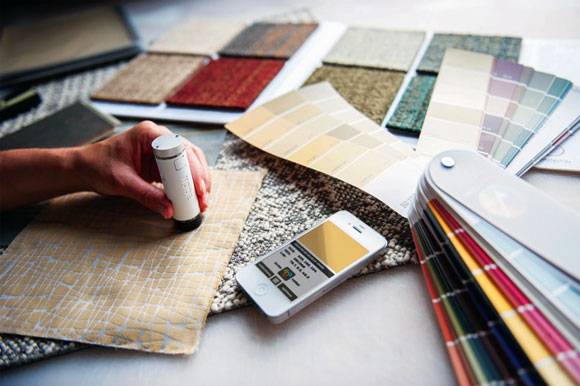 Just larger than a tube of lipstick, the

NODE+chroma

sensor by developer

Variable

uses white LED light to sense the color of an object—be it a swatch of fabric or a bathroom tile—and identify it using any variety of color palettes including CMYK and sRGB.

The device is ideal for interior designers, manufacturers, contractors, and other members of the A&D industry, as it also has an option to program in custom color palettes. Imagine having a portable device that can scan and read virtually any color of the rainbow from any surface and churn out results in a split second.

The $99 device, which is the brainchild of George Yu, CEO and founder of Variable uses Bluetooth 4.0 technology to send information to iOS devices such as an iPhone or iPad from up to 250 feet away.

"I came up with the idea while painting my newborn's room, and selecting the right color was a hassle," Yu says. "Last fall I looked around the web to see if there were better solutions out there, and I was shocked that nothing was available. I think there's great value in a device like NODE+chroma for design professionals."

Jonathan Bragdon, chief business officer of Variable agrees, adding, "I've worked with a lot of interior designers, and we would measure color using spectrometers worth thousands of dollars. With NODE+chroma you can carry it around with you, instead of having to be in the lab. It's pretty powerful. You no longer have to bring along samples."

The NODE+chroma sensor requires the NODE Sensor Platform to work; both are iOS compatible and are available to order. Android versions will be available later this year. This is the fifth sensor module released for the NODE sensor platform.