Highlights from the New Book "Out In The World With Gaetano Pesce"
Styles bloom, fade, and return, all while Gaetano Pesce remains timeless. At 81, the Italian designer continues to tap into the human condition with his malleable forms and daring colors. As trends shift and evolve, there is a Pesce for every wave. Whether the bulbously inviting Up chair from 1969 or 2012's skin-like statuesque Jefferson chair, his radical amalgamation of synthetic materials with corporeality defies generational codings.
It was this timelessness in the Brooklyn-based designer's oeuvre that prompted creative director Matthew Bannister and his editor sister Laura Bannister to explore Pesce from an uncharted angle. Out In The World With Gaetano Pesce, which was published by Literal Matter this spring, approaches the designer's half-century practice with an outwardness, both in literal and inspirational sense. True to its title, the 120-page book eschews sterile and categorical representation of design catalogs to capture iconic Pesce pieces surrounded by real life.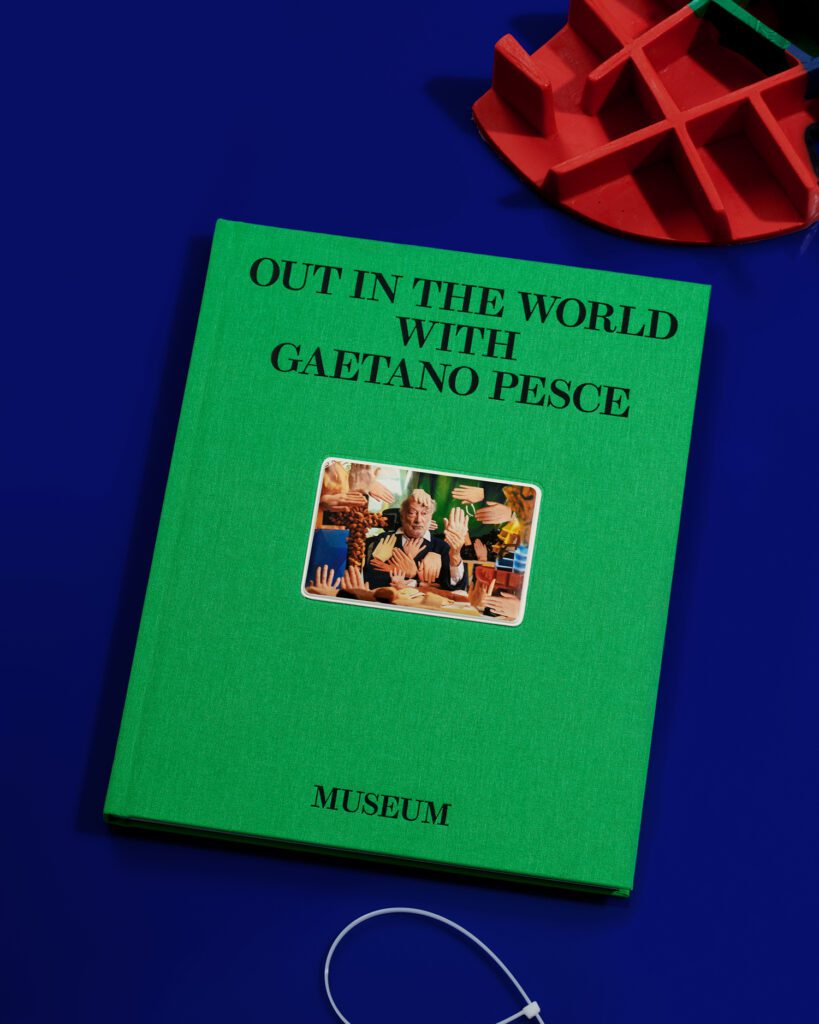 "The book is not anchored in any one part of Pesce's practice, or any specific time, but comprises a series of features," Bannister tells Interior Design. The siblings' former experience in publishing through their biannual Museum magazine helped them craft a particular vision to narrate Pesce through art of photography. "The auction houses and galleries do a good job of cataloging Pesce's work, so more conventional documentation was not something we set out to do," Bannister notes. "Pesce's chairs in particular are both a furniture item and art object, so capturing them in both of these contexts made sense." For the designer himself, timing was critical. "The making of the book came in a moment when I was working about the crisis of manuality, which in my opinion is very important because the hands are capable of developing and making more innovative the process suggested by the brain," Pesce says.
Bannister believes that the book coincides with a growing interest in innovative design. "In the last two years, we have seen an increased interest in interiors and furniture design from a younger generation, so the book also serves as an introduction to Pesce to a less-familiar audience," he says. A hybrid between a long-form magazine and a high-end fanzine, the book includes an essay by writer Sophie Haigney and commissioned photography by 20 photographers, including a cover shot by Duane Michals. Pesce himself is a fan of the textured 3D puffy sticker cover image, "because it is tactile, not only visual—I believe tactile has a future because it has not been yet sfruttato [tapped]," he says.
The pictures are harmonized with Pesce's radical biomorphic creations that inherently build whimsical connections between the body and objects. Chairs seem to stand on limbs or carry faces on their backs. The longest photographic series is dedicated to 19 chairs shot by 18 photographers. "We wanted to include a breadth of works—from the iconic Up series to lesser-known works, as well as prototypes and scale models," says Bannister who co-produced the book during the pandemic when travel and production faced serious halts.
Still prolific, the designer will exhibit his newest creations in an upcoming solo show at Salon 94 gallery's Upper East Side location this September. In the meantime, here are Interior Design's eight chair highlights from Out In The World With Gaetano Pesce.
La Sorgente by Benjamin Prabowo Sexton
Prabowo took a painterly approach to capture the dimorphic chair with a leathery seat and an oozing back with three holes. That both sections are rendered in epoxy resin, but have strikingly distinct textures and formations somewhat explains the chair's title, which translates to "source." Sexton painted over his initial print to add a dreamlike finish to the juxtaposition that shows the chair from 2010 amidst a medley of geometric and loose brushstrokes. The specific chair in the picture is one of a set of four owned by a Melbourne-based collector and was exhibited at the Triennale in 2010 on the floor and suspended upside down from the ceiling.
Nobody's Perfect by Thomas Brown
Brown looked no further than his own son to put into the sitter role to shoot this early 2000s piece. Responding to the era's fascination for post-New Age spiritualism with its title, the polyurethane resin chair pokes at the human imperfection with its abashedly freeform and liquid presence, almost as if a painter's watercolor experiments solidified into an object. Two eye-like holes adorn the seat's back, as they do in numerous Pesce designs, and attributes a humanoid accent to the otherwise otherworldly chair.
Dalila Uno by Lorna Bauer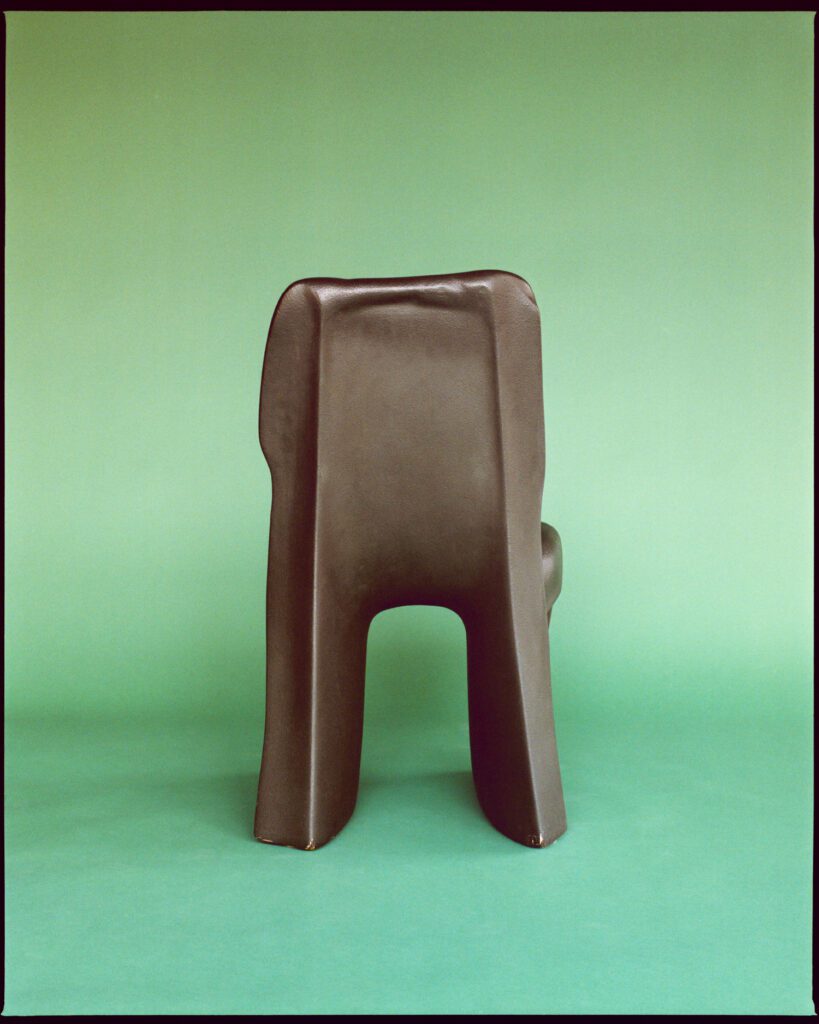 Demure and mysterious, the beige version of this black polyurethane foam and epoxy resin design from 1980 was on the cover of France Vanlaethem's 1989 book, Gaetano Pesce: Architecture Design Art. Bannister approached Montreal-based multimedia artist Lorna Bauer to elevate the chair's hefty almost bronze-like quality while attributing a sculptural stillness to its silhouette. "Bauer's art practice incorporates photography and sculpture, so it was interesting to see how she chose to portray the chair's looser form," he says. The edition in the photograph came from the permanent collection of the Montreal Museum of Fine Arts.
Gli Amici by Esther Theaker
This impossibly flamboyant chair is upholstered cotton fabric, a soft and more conventional offering compared to Pesce's epoxy resin pieces. The quintet of cartoonish characters—"friends" as the title suggests—are formed to convey a lounge experience in which an elephant is the seat and the belly of a pig offers the back. Figures, however, can be separated and the elephant becomes an ottoman. Theaker shot this image at the home of collector Valeria Napoleone, who is Pesce's close friend and an owner of few editions produced before the manufacturer Meritalia closed. Besides Gli Amici, Bannister is a fan of another upholstered Pesce chair, Montanara, a two-piece seat covered entirely with images of mountain landscapes from 2009.
Jeanne chair by Stephen Lewis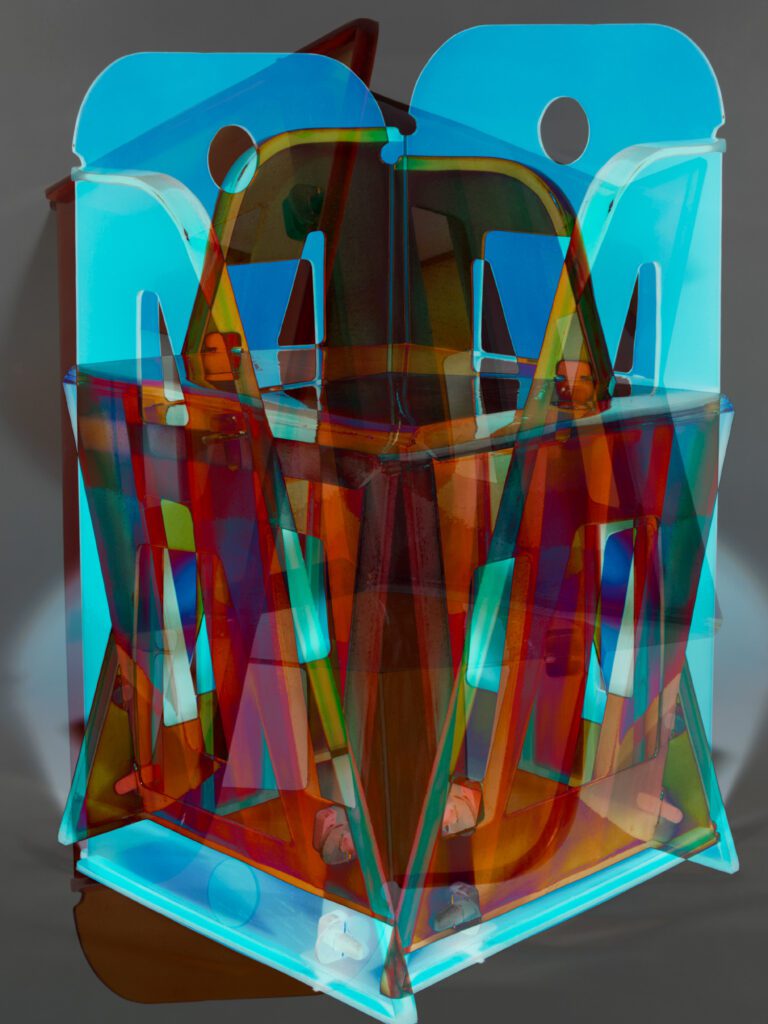 One of the book's most recent designs, Jeanne chair from 2018 has an unexpectedly geometric frame and defined colors. A signature eye-like hole on the back humorously turns the chair into a cyclops. Lewis disrupts the standard design photography by multilayering his frames. The process turns the chair's original green, red, and yellow colors to a fiery medley of hues in addition to a teal shade of blue. The final image is an homage to the photographic medium and its technical possibilities, as much as Pesce's mastery to balance precision with whimsy. Bannister notes that the photograph highlights the handmade chair's irregularities although its silhouette is much more geometric than others in the book.
Grown chair by Charlie Engman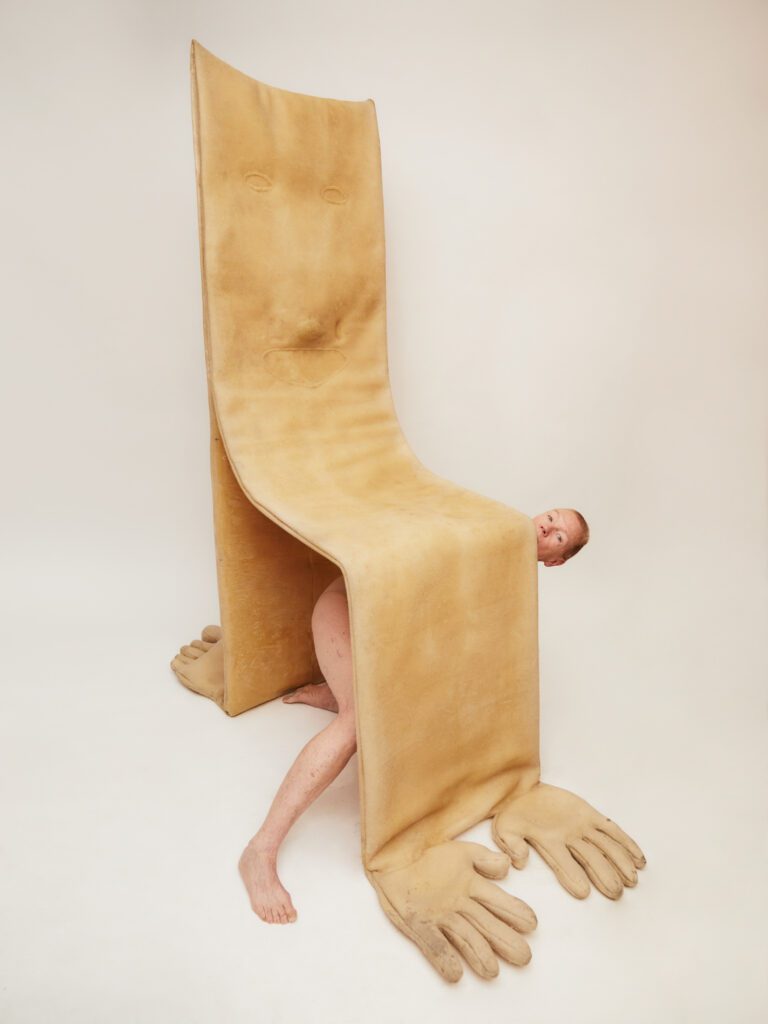 Charlie Engman photographed his mother Kathleen for a decade and recently turned the series into a monograph, titled MOM. Therefore, it is no surprise that the photographer brought in his mother to capture Pesce's 2012 Grown chair which fittingly alludes to adulthood with a child-like twist. The 86-foot-tall felt-covered epoxy resin form resembles a monster with its limbs that substitute for the chair's legs. Two hands, rather than feet, sit where the legs meet the floor on the front and the back. The image shows the woman, nude, taking refuge beneath the chair with her head curiously poking from behind the seat.
Umbrella chair by Parker Woods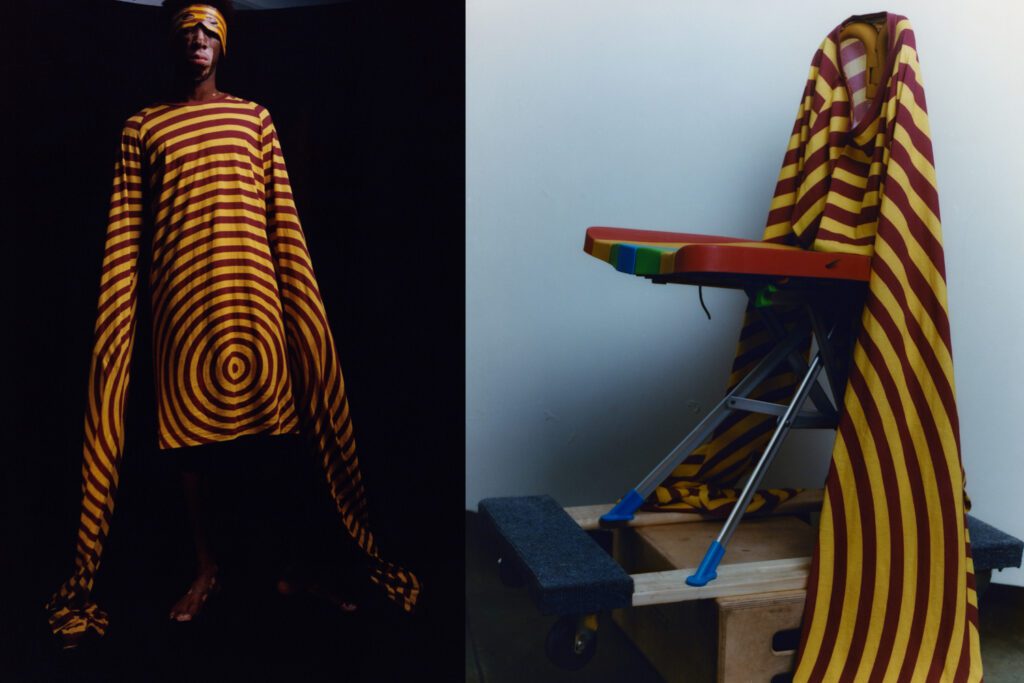 One of the most iconic Pesce chairs and the winner of the Interior Design Award in 1995, Umbrella chair contains many cues from the designer's philosophy. Humor and function are married with bright colors and contemporary materials, while a performative element is not compromised. Closed, the chair functions as a cane, and when opened with a button, just like an umbrella, it blossoms into a chair. The umbrella aesthetic is still maintained with a handle on the chair's back. Performance echoes in Parker Wood's three images of the chair, which show a model and the chair itself donning a JW Anderson shirt with a hallucinatory pattern and extremely long sleeves.
Shadow armchair by Sarah Pannell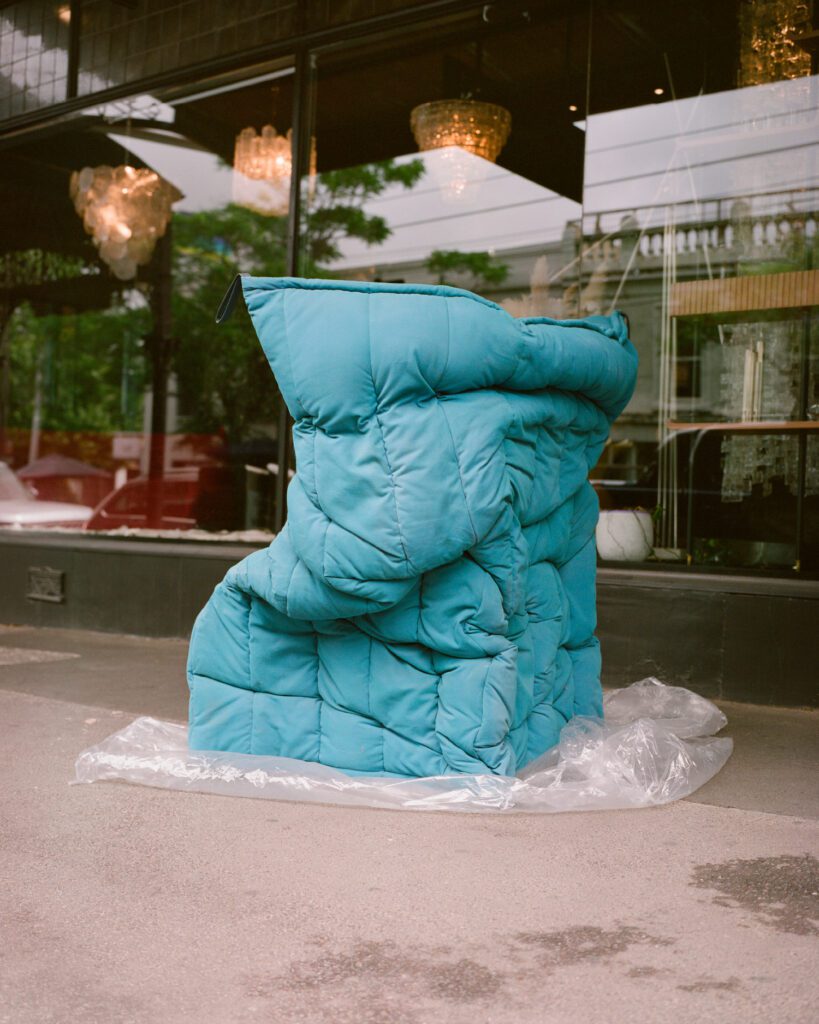 Melbourne-based photographer Sarah Pannell takes the iconic Shadow armchair from 2007 outside. The shot shows the puffy blue chair from its back as it sits alone on the street in front of shopping windows. The design is particular for combing Pesce's two crucial mediums, epoxy resin and upholstered fabric, in a singular body. Unique in each rendition, the process includes injecting polyurethane into the fabric and let the synthetic material fill the textile in distinct shapes. Soft and loose on the surface, each resin-filled chair embraces the chance element against the typical precision in design.