HOK's Pam Light Receives IIDA Circle of Excellence Award



Wi-Fi cafe at a confidential financial company, an HOK project led by Pam Light.



Long-time member and supporter of the

International Interior Design Association

Pam Light, senior vice president at

HOK

in Los Angeles, was unanimously selected by the IIDA Southern California Chapter board of directors as the 2014 recipient of the IIDA Circle of Excellence Award. The award was presented at this year's IIDA Calibre Awards last month and honors Light's continuous dedication to leadership, innovation and excellence in interior design.

Light is an active member of the HOK Sustainability Task Force and an dvocate for sustainable design and architecture. Throughout her career, she has demonstrated a commitment to design as a transformative tool for social and environmental welfare. Under her leadership, the Symantec Corporate Headquarters in Culver City, CA achieved LEED Gold status. She often speaks publicly on the power of design, and recently partnered with

Shaw Contract Group

to develop a carpet collection that will benefit the organization

ARZU

, which supports women in Afghanistan. Light has also donated her time in projects which support the Dolores Mission School and the Homeboy program, founded by Father Ted.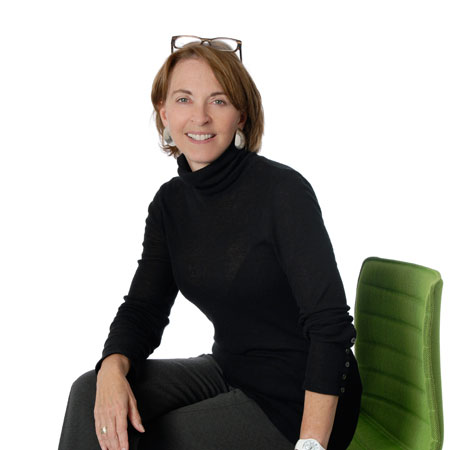 "We've been working for years with clients that some might say are "left brain"—accountants, financial institutions, etc.—and others would say are "right brain" companies—media/PR like MediaEdge and RPA, and entertainment like NBC and Sony," she says. "What we've found is that all companies are really both. The nuts and bolts, schedules and budgets are of course important, but the real differentiator is the right brain influence of the space." The majority of her clients are asking for open, fun, creative space that supports interaction, employee engagement, flexibility, and better health. Her firm reports that a recent introduction of a Wi-Fi café at an accounting firm increased employee satisfaction so dramatically that they are now redesigning two other floors, resulting in a 30 percent reduction of real estate in that city. Says Light, "Great design does make a difference in the value the space brings to a company!"

Light has been an active member of the IIDA since 1982. She has served as the association's international president and in 2002 she received the IIDA's highest honor and was inducted into the IIDA College of Fellows. She has served on the Board of Directors of the Architectural Foundation of Los Angeles and has provided numerous lectures on topics including industry trends, productivity, sustainability, branding, and the power of design. She is known as a mentor, a leader, and an innovator.