Holt Quentel's Comeback at Aspen Art Museum



Holt Quentel exhibit. Photography courtesy of Holt Quentel.



The

Aspen Art Museum

is hosting an exhibition of work by Holt Quentel through January 19, 2014. A full 21 years have passed since Quentel's last show, making the Aspen show the artist's first reentrance into the art world. Working with familiar forms, Quentel takes iconic chairs—such as those designed by Charles and Ray Eames and mass-produced by Herman Miller—as her canvases, adding eccentric fabric coverings, stickers, and decals.
Quentel hit the New York art scene in the late 1980s, achieving a surprising and rapid success. Her large-scale works appealed to the postmodernist movement of the time, blurring the relationship between process and appearance. However, as the art world shifted in the 90s, critical attention to Quentel's work faded and, shortly after an exhibition at the Stux Gallery in New York in 1992, the artist seemingly disappeared.
Recognizable in the current body of work is the iconic Molded Plastic Side Chair, even if it is covered in an unconventional covering. It's among 17 noteworthy new works total appearing in the show.




Leather Lined Wire Shell Chair Prototype Rocker Base, Eames for Herman Miller / Clear Plastic Liner, 1990. Private Collection. Photo by Tony Prikryl.







White Plastic Side Chair Caster Base, Eames for Herman Miller/Foam with Duct Tape, 1990. Photography courtesy of Holt Quentel.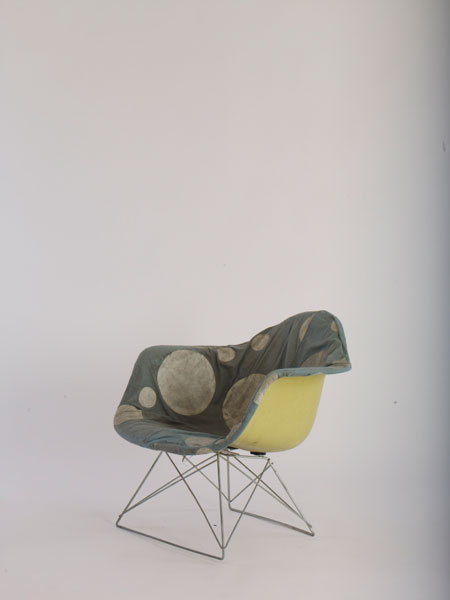 Bright Yellow Plastic Armchair Low Base, Eames for Herman Miller / Light Blue Polka Dot Paper Liner, 1990. Collection of Lawrence and Lucy Caroll. Photography by Tony Prikryl.