How Did We Get Here? NYC Design: 1780-2012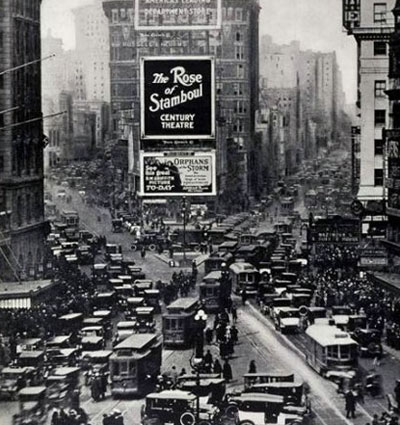 Times Square in 1902. Courtesy of ablarc on Wired New York.




New York City became a true design capital not by fiat but by growing up, big and brassy. A solid foundation in colonial times drew directly from neoclassical forebears in Europe, maturing into some of America's best specimens of Greek Revival and Second Empire buildings and interiors, the latter favored by General Grant.
Lavish interiors, funded by magnates of industry and finance, filled big rooms with lush fabrics and ornate furnishings. But the city quickly honed in on its own style: echoes of London and Paris heavily dosed with a fine hand, the latest technology, and supersize scale. Classic examples include Manhattan Arte Nouveau and, much more so, our muscular, radio-era Art Deco. Chevrons and sunbursts in lacquer, aluminum, and chrome took the city by storm, topping off such monuments as Radio City Music Hall and the Chrysler Building.
When former Macy's window dresser Raymond Loewy unveiled his Streamline Moderne office concept in midtown in 1934, executives everywhere chased the mode. Yet its heyday ended with the 1939 World's Fair, when high modernism took rein: Mies and Skidmore, Knoll and Herman Miller presided over decades of straight-edged thinking. It was hip to be square – until the next world's fair, that is.
The year 1964 ushered in mid-century Space Age and groovy, Buckminster Fuller-inspired shapes and modern art. The door slightly ajar, New York came to welcome Postmodern, punk and disco. The global scene flourished with the 1988 debut of the International Contemporary Furniture Fair and seminal MoMA exhibits like "Mutant Materials" in 1995.
New York remains a laboratory of design, with the blobbies and minimalists all running amok. Yet the holdout traditonalists have never left either, stoking a brilliant collection of Euro-inspired décor, and keeping it forever young.
For a  pictorial timeline of New York from 1780 to 2012, click

here

.