How Kari Pei Transposes Abstract Expression from Canvas to Carpet
"Picturing things, taking a view, is what makes us human; art is making sense and giving shape to that sense." – Gerhard Richter
Staring into a Gerhard Richter abstract is sort of like looking into some divinely inspired oil slick or seeing a split second of colorful sublimity in the oppressive monotony of TV static. It draws you in with its suggestion of vivacious movement trapped forever in time — like a photograph, but somehow rendered more real by its frenetic expression than anything captured by a camera alone. Richter's experiments with pure abstraction, which followed his earlier transformations of photography into blurred figural paintings, shot him into the stratosphere of the art world, with many lauding him as one of the greatest living artists of our times. It's little wonder then that his influence penetrates into the design industry, as well.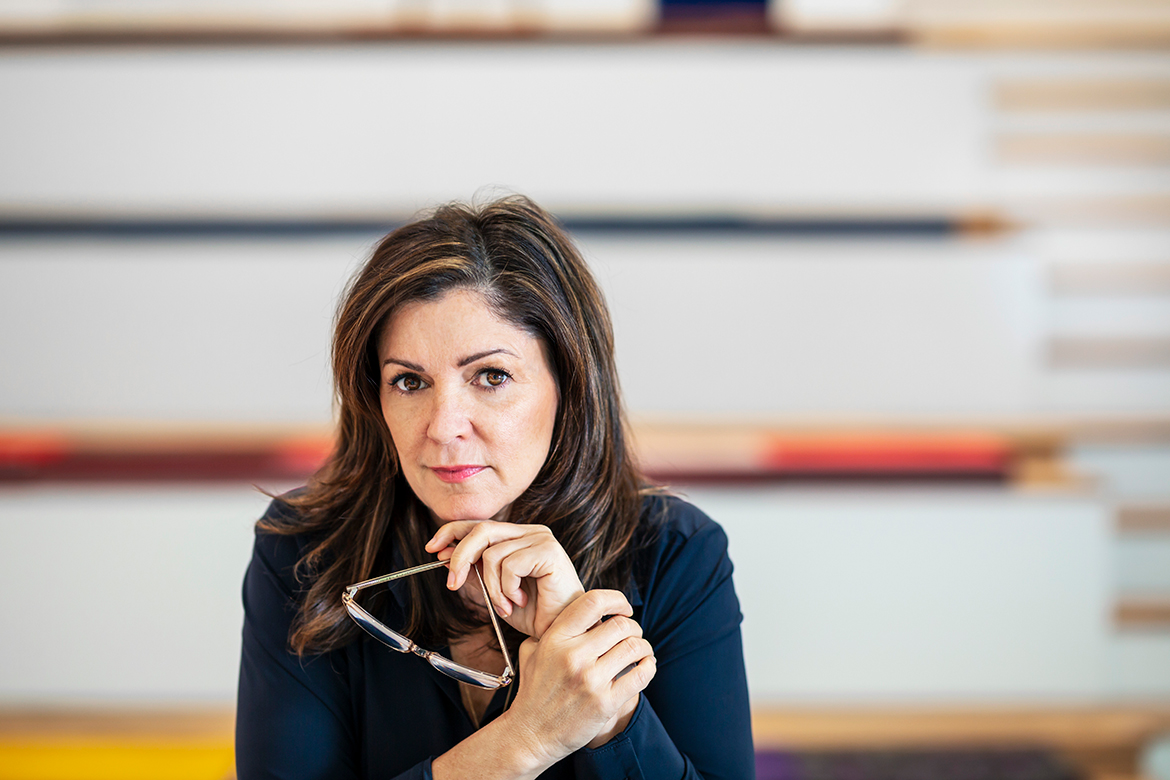 "Richter is the Picasso of our times – by far my favorite artist," says Kari Pei, the esteemed lead product designer for Interface's Americas region. Her latest collection, Simple Abstraction, translates Richter's painterly language into a carpet collection that highlights just how thin the border between art and design really is. Pei is an artist by training, skilled in printmaking and weaving, which gave her a keen advantage in adapting another artist's work into a commercial product. Rather than fixating on the surface-level aesthetics of Richter's oeuvre, Pei wove his painterly techniques into Simple Abstraction. The result is a carpet collection that evokes the soft surface of a canvas, the quiet noise of stippled paint or the textural drama of an impasto application.
"You know, art and design mirror each other in many ways," says Pei. "A lot of artists are very technical and precise. It's the same for designers. Mixing pigments for a painting and mixing yarns for a carpet isn't that different – it's all about chasing after shades, contrast, chiaroscuro."
Comprised of five looks, Simple Abstraction encourages designers to tap into their artistic instincts while simultaneously doing good for the planet. All of the colorlines – Veiled Brushwork, Video Spectrum, Shaded Pigment, Painted Gesture, and Digitized Tuft – are manufactured with 100-percent recycled nylon and come with Interface's carbon neutral flooring guarantee. This allows designers to satisfy clients' environmental concerns and create spaces that perform and inspire. And what's more inspiring than art and design coming together?
"My goal was to blend Richter's best-known techniques with solid design thinking," Pei explains. "For instance, the Shaded Pigment and Painted Gesture color lines borrow from Richter's iconic squeegee paint applications. They're also purposefully in communication with one other. Every background color in Painted Gesture is a solid neutral in Shaded Pigment, while the vibrant accent colors in Painted Gesture match with a vivid Shaded Pigment plank. The purpose of this was to provide an intuitive and beautiful way-finding option for designers working in commercial or contract spaces."
Pei of course would be the person to devise a collection that blends the best of art, design, and sustainability into one product. After graduating with a BFA from University of Michigan-Ann Arbor, she traveled to New York to work with fashion and textile designer Jhane Barnes. This experience working for Barnes stimulated Pei's interest in contract interiors and how to manufacture textiles in a way that delivered an earth-friendly, luxury product for these spaces. She built on that curiosity at Maharam and put it into action at Wolf Gordon, where she created the company's materials reclamation program and championed non-PVC products. When Interface came calling in 2015, Pei saw a tremendous opportunity to put her skills and her passions to good use.
"One of the things I love most about working for Interface is our commitment to bettering human experience and the planet. It's for this reason I think of Interface as a mission-based company. We stand high and proud as an industry leader because we stick to our goals and pioneer better ways of manufacturing, but we never let arrogance cloud our real mission–to bring the whole industry, including competitors, along with us."
This appreciation for the need to better the human experience is something Pei and Richter share. Even as far back as 1982, Richter was expressing his belief in the ability of art to inspire change. "Art is the highest form of hope," Richter said. With Simple Abstraction, which showcases Pei's inspired alchemy of clear design thinking, artistic talent, and commitment to sustainable solutions, Pei elevates Richter's sentiment to an actionable maxim for the 21st century.