How Software Fundamentally Changed Design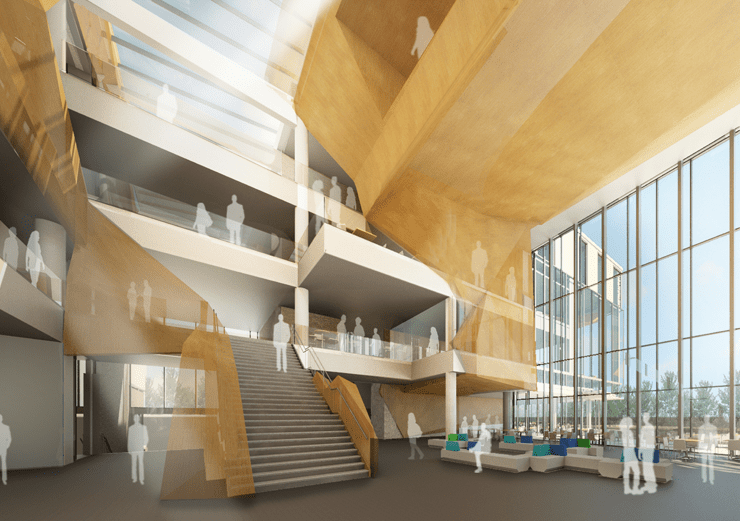 UMass Lowell University Crossing Student Center. Photography by Perkins + Will.





Software has fundamentally changed the way we design as a profession, say designers at five major firms. We're talking design technology—AutoCAD, Autodesk 3dsMax, BIMLink, Google SketchUp, Revit, Rhino, Trelligence Affinity—and all the plugins and personalization that makes these programs the most helpful. Firms like

5+design

even work directly with software engineers, tweaking programs to best suit working architects and designers. "Nothing can replace a good idea," says Craig Kolstad, Dallas-based Design Director for

Gensler

, "but the software available today has become increasingly intuitive and has unleashed the potential of the designer to express and achieve those ideas, whether they're sitting in a large office or working at their kitchen table."
Technology, we're hearing, can bring about efficiency. "Architects and project teams use various tools throughout the building lifecycle to accomplish different tasks, which previously resulted in a segmented process," says Larry Ciscon, president, Trelligence. "Newer software delivers programming and functional design tools that help to ensure the initial program information is accurate and consistent." Software integration has also become more widely available, Ciscon explains. Synchronization between software tools and the use of open standards enable communication of relevant information between various stages of the process, resulting in more accurate design validation.
"The envelope of design services has expanded, especially in regard to data," says Guy Messick, director of

Design Intelligence, IA

. "Find the tools that allow you manage this sea change in our profession." The advanced software platforms used today are not only sophisticated drawing tools, they are ways of thinking and seeing into the design process, then communicating that vision through multiple data output streams. Kolstad considers multiple feedback loops of information to be perhaps the largest advance in design technology, as they can provide immediate responses to design investigations, ensuring important design decisions are made early to coordinate design performance.

Like many of their peers, Gensler is working to become fully Revit-capable, exploring the program's advanced capabilities, while remaining AutoCAD-available for clients who need that. "To become fluid within Revit as an advanced design platform, you really need to be a power user," says Kolstad. "Companies like

CASE

have been developing script/app programs to take advantage of these advanced capabilities while remove the learning curve for the end user. Revit: There's an App for that."

Joking aside, Kolstad says, designers within the industry are well aware of the possibilities and limitations of Revit, but they still see a steady move towards BIM as the standard of architecture production. Cicson is one of many who agrees. "Direct plug-ins and attachments will resolve the data consistency and accuracy issues [of BIM workflows] by allowing functional information like staffing plans, room data sheets, spatial layouts, and furniture and equipment requirements to be maintained and linked to the spatial/design model throughout the building lifecycle."
Designers seem to agree that there must be more interoperability in the future to truly achieve lean processes and ensure that each step of the process is meaningful to guiding the final design. Here's a look at today's use of some of the newest design technologies on the market: